James R. Elkins
"Decoration Day"
(1990)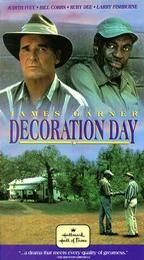 When "Decoration Day" opens, we find Judge Albert Sidney Finch, retired from the bench, seemingly enjoying his days fishing. As he puts it: "a man, a dog, and all kinds of quiet." What happens to Albert Sidney's "quiet" retirement? What makes it so difficult for lawyers to walk away from the world of law (and its entanglements)? Albert and Rowena have a friendly disagreement about exactly how Albert Sidney has walked away from his work. Albert Sidney says he retired; Rowena says he quit.
In Albert Sidney's case, he makes it quite clear he wants to be left alone. Why don't those around him simply take the man at his word? When Billy Wendell, Albert Sidney's godson, comes to visit and ask for help in dealing with the government on behalf of "old Gee," he doesn't get all that warm a welcome. (Albert Sidney says that Billy's visit is "trespassing.") Billy asks Albert: "You okay Uncle Albert?" Albert Sidney tells him: "Just fine Billy, just fine." But we know that things are not "fine" in quite the sense Albert Sidney would have Billy believe.

In what sense is the intrusion upon the "quiet" world, central to the lawyer film genre? How is the "quiet" world of Amanda and Adam Bonner ("Adam's Rib) upended? And Paul Biegler ("Anatomy of a Murder"), and his quiet (seemingly enjoyable days trout fishing)? (Both Albert Sidney and Paul Biegler are fisherman, men who know how to enjoy their own company. When you see the world the way lawyers and judges do, you may be forced to rely upon your own good company. The more corrupt and insane the world around us the more we need to cultivate an intelligence that will see us through the day alone if it comes to that.) And what happens to the quiet existence of Atticus Finch ("To Kill a Mockingbird")?
What conclusions about a life in law is one to draw from these film lawyers who seem to have so little control over their "quiet" lives?

Albert Sidney Finch may be the kind of man who knows something about the world but he's still got some things to learn. (For some reason, judges often assume that they, by decree of their office have absolutely nothing to learn about anything.) What does Albert Sidney learn about himself in "Decoration Day"?
Michael Waring, the young lawyer who represents the government and its efforts to bestow a Congressional Medal of Honor on Gee, has some things to learn as well. How does his involvement in the Gee case change him? If we change when we learn something important about ourselves, what has Michael Waring learning that might have brought about the change?
A student in the Lawyers and Film course, discussing "Anatomy of a Murder" found the film to be about loyalty. Can we say, in a similar way of "Decoration Day," that it is a film about secrets?
How is a man's secret connected to what he most needs to learn about his own life?

What role does Rowena, Albert Sidney's cook and housekeeper, play in his life? (One colleague, reading "Decoration Day," claimed to find Rowena more interesting than Albert Sidney!)