Thomas Kerrigan
aka TS Kerrigan



(1939- )
California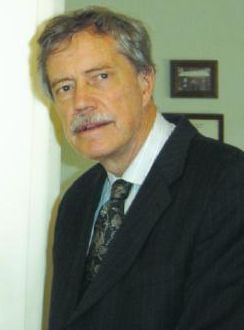 [Photograph used with the permission of TS Kerrigan]
T.S. Kerrigan was born March 15, 1939 in Los Angeles. He attended the University of California, Berkeley and received his law degree from Loyola University in Los Angeles. Kerrigan is not only a poet, but a playwright. He is the author of "Branches Among the Stars" (Louisville, 1990). His plays have been produced in Los Angeles at the Ensemble Studio Theatre (where he served formerly served as a member of the Board of Directors) and at the Globe Playhouse.
Kerrigan's poetry has appeared in various periodicals, both in the United States and in Europe, including: Southern Review, International Poetry Review, Poetry Monthly, Kansas Quarterly, Pacific Review, Tennessee Quarterly. Another Bloomsday at Molly Malone's Pub, a collection of poetry, was published by Inevitable Press in 1999. Kerrigan's work has recently been included in Good Poems, a new anthology by Garrison Keillor, published by Viking-Penguin in 2002.
Kerrigan has also been a theater critic, a member of the Los Angeles Drama Critics' Circle, and participated in the UCLA National Playwrights' Conference.
Kerrigan, past president of the Irish American Bar Association, in 2001 argued Lujan v. G&G Fire Sprinklers, Inc. in the U.S. Supreme Court, and won the case decisively. [See T.S. Kerrigan, Before the Supreme Court, 27 Legal Stud. F. 277 (2003)]
TS Kerrigan Interview
with
James R. Elkins, Editor, Legal Studies Forum
TS Kerrigan
Wikipedia
Poems
T.S. (Tom Kerrigan)
The Hypertext
Poems
Able Muse
"The Jargon of Lovers"
Best Poem
Poetry
T.S. Kerrigan, Another Bloomsday at Molly Malone's Pub and Other Poems (Laguana Beach, California: The Inevitable Press, 1999)
___________, The Shadow Sonnets and Other Poems (Louisville, Kentucky: Scienter Press, 2006)
___________, My Dark People (Central Avenue Press, 2008) [forthcoming]

Research Resources
Kerrigan (Thomas)/Hierophant Papers
Department of Special Collections
University of California, Santa Barbara
[The Hierophant papers consist of correspondence and manuscripts (poetry and prose) submitted to Thomas Kerrigan, attorney, poet, and editor of Hierophant (a Los Angeles magazine of new poetry and fiction), ca. 1969-1972. Correspondents include Charles Bukowski, Robert Creeley, Louis Simpson, Anthony Kerrigan (no relation), Thom Gunn, and Jacque Prevert.]