James Thomas Cotton Noe



(1869-1953)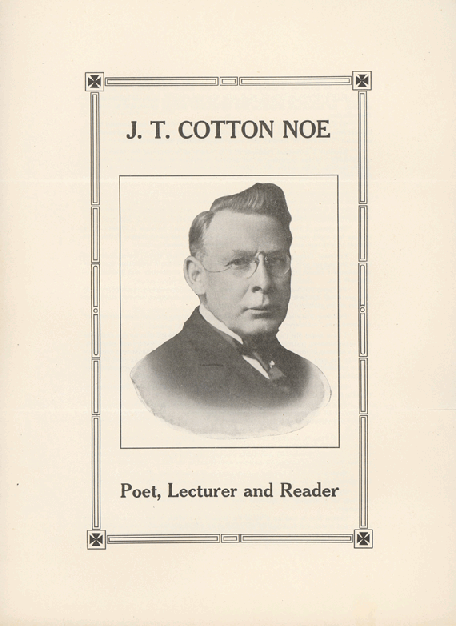 Redpath Chautauqua Collection
Special Collections Department
University of Iowa Libraries
Iowa City, Iowa
James Thomas Cotton Noe was born in 1869 in Washington County, Kentucky near Springfield. He was educated in the schools of Springfield and Perryville, Kentucky and then attended Franklin College (Indiana) where he received his A.B. degree in 1887. After his graduation from Franklin he taught school and was principal of high schools in Kentucky and Indiana from 1887 to 1992. He obtained his A.M degree in 1890. In 1891-92 he studied at Cornell University (literature and philology). In 1893 he taught at Williamsburg Institute in Kentucky and it was in Williamsburg that he married Sidney Stanfill on May 2, 1894. Noe practiced law in Springfield, Kentucky from 1894 to 1898. (Noe papers archived at the University of Kentucky provide no information as to his involvement in the legal profession.) Noe gave up the practice of law to resume his studies at the University of Chicago in 1899. He then returned to teaching in Hartsville, Tennessee; Pineville, Kentucky and Lincoln Memorial University and in 1908 became an assistant professor of education at the University of Kentucky. He was on the faculty of the College of Education for nearly thirty years and was head department from 1912 until his retirement in 1934.
Noe was Kentucky's first poet laureate, an honorary title he held from 1926 until his death in 1953.
Noe was also a lecturer on the Redpath Chautauqua Circuit. He published eight volumes of poetry before his death in Beverly Hills, California on November 9, 1953. Noe is buried at the Lexington Cemetery in Lexington, Kentucky.
[Sources: Mary Carmel Browning, Kentucky Authors: A History of Kentucky Literature 58-61 (Evansville, Indiana: Keller-Crescent Co., 1968); Dorothy Edwards Townsend, 3 Kentucky in American Letters 1913-1975 258-59 (Georgetown, Kentucky: Georgetown College Press, 1976)(information attributed by Townsend to the Louisville Courier-Journal, Nov. 10, 1953 and Browning's Kentucky Authors); Mary Young Southard (ed.), Who's Who in Kentucky: A Biographical Assembly of Notable Kentuckians 301 (Louisville, Kentucky: The Standard Printing Co., 1936); "James Thomas Cotton Noe," in J.T.C. Noe (ed.), A Brief Anthology of Kentucky Poetry 161 (Lexington: University of Kentucky Department of University Extension, 1936); James R. Elkins examination of J.T. Cotton Noe Papers, University of Kentucky, May, 2001]
Note: Two other Kentucky Poet Laureates were lawyers: Edward G. Hill (1928) and Richard Taylor (1999).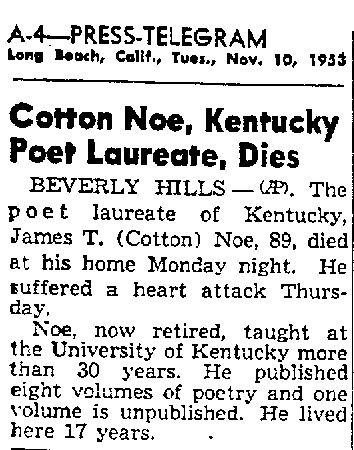 Long Beach Press-Telegram
Nov. 10, 1953, p. A.4

Poetry
J.T. Cotton Noe, The Loom of Life (Boston: R.G. Badger, 1912)(R.G. Badger, 1917)
____________, The Blood of Rachel: A Dramatization of Esther; and Other Poems (Louisville: John P. Morton & Company, 1916)
____________, Lincoln and Twenty Other Poems (Lexington, Kentucky, 1922)
____________, Tip Sams of Kentucky and Other Poems and Dramas (Lexington, Kentucky: Canterbury Club,1926)
____________, Uplift, a Poetic Fantasy (Lexington, Kentucky: Canterbury Club, 1926)
____________, The Valleys of Parnassus (Louisville: John P. Morton & Company, [n.d.])
____________, The Valleys of Parnassus: A Selection from the Poetry of J.T. Cotton Noe (Louisville, Kentucky: J.P. Morton & Co., 1935)
____________, The Legend of the Silver Band, a Tale of Kentucky in the Eighties, a Novelette in Verse (Louisville: John P. Morton & Co. 1932)
____________, Oolooloon (called) Fleeting Doe, A Romance of Pioneer Kentucky (Lexington, Kentucky: Kentucky Kernel Press, 1938)
____________, In Kentucky (Lexington: Kentucky: Kernel Press, University of Kentucky, 1940)
____________, Tip Sams Again: A Selection of Poems (Lexington: University of Kentucky Press, 1947)
____________, Banquet In Elysium And Other Poems (Northridge, California: Poets' Corners Press, 1951)
Poems
Cotton Noe, "Sunset in Breathitt," in Josiah Henry Combs (ed.), All That's Kentucky 123 (Louisville: John P. Morton & Company, 1915) [online text]
Writings
J.T. Cotton Noe (ed.), A Brief Anthology of Kentucky: Selections of Poetry Written by Ninety-Three Persons Closely Identified with Kentucky, Most of Them Native Born (Lexington: Department of Extension/University of Kentucky, 1936)
Research Resources
J.T. Cotton Noe Papers
University of Kentucky
Lexington, Kentucky
Cotton Noe & J. Lewie Harman (1874-1960)
Correspondence
Bowling Green Business University Collection
Library Special Collections
Western Kentucky University
Bowling Green, Kentucky
Cotton Noe Poems and Letters
Special Collections and Archives
Eastern Kentucky University
Richmond, Kentucky
Betty J. Sparks, Poets Laureate of Kentucky (Nicholasville, Kentucky: Wind Publications, 2004)