John Quincy Adams



(1767-1848)
Massachusetts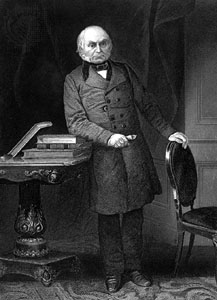 Library of Congress
John Quincy Adams was the sixth President of the United States (1825-1829) and lifetime diarist. His father, John Adams, helped draft the Declaration of Independence and was the second President of the United States (1797-1801). John Quincy was born in Braintree (now Quincy), Massachusetts in 1767. His early education, in mathematics, languages, and the classics, was by way of his father. He graduated from Harvard College in 1787 and studied law in Newburyport, Massachusetts under the tutelage of Theophilus Parsons. In 1790, he began the practice of law in Boston. He was elected to the U.S. Senate in 1802, served in various diplomatic posts and was President James Monroe's Secretary of State (1817-1825), and in the opinion of many, one of the best to ever serve in that post. Adams was an abolitionist and opposed slavery in the newly admitted states. After completing his Presidency, Adams served as a member of the U.S. House of Representatives from 1831 until his death in 1848.
[See: Guy R. Woodall, "John Quincy Adams," in Eric L. Haralson (ed.), Encyclopedia of American Poetry: The Nineteenth Century 5-9 (New York: Routledge, 1998)
Adams as Poet
Library of Congress
John Quincy Adams
The White House Biography
John Quincy Adams
Wikipedia
John Quincy Adams
Biographical Directory of the United States Congress
Adams National Historical Park
John Quincy Adams and "The Monumental City"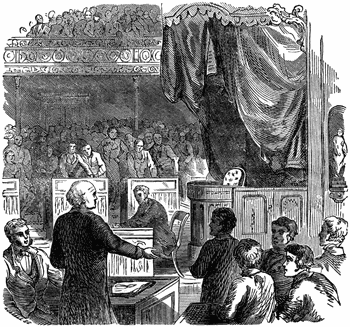 John Quincy Adams in the House of Representatives

Source: John S. C. Abbott, Lives of the Presidents, A Graphic History
of the United States (Chicago: J. M. Towers & Co., 1902)
--------------------------------------------------
[Used with permission of the Florida Center for Instructional Technology]
The Amistad Case
Argument Before the Supreme Court
Famous American Trials: Amistad Trials 1839-1840
Professor Douglas O. Linder
University of Missouri-Kansas City School of Law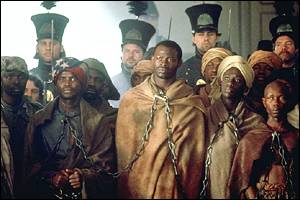 John Quincy Adams, Argument of John Quincy Adams, Before the Supreme Court of the United States: Argument in the case of United States vs. Cinque (New York: Arno Press, 1969)
Alexis D. Pate, Amistad: A Novel (DreamWorks, 1997)(based on the screenplay by David Franzoni and Steven Zaillian)
Michele Valerie Ronnick, Virgil's Aeneid and John Quincy Adams's Speech on Behalf of the Amistad Africans, 71 New England Quarterly 473-477 (1998)
Howard Jones, "All we want is make us free!": Amistad Revolt, 32 (6) American History 22-28 (January/February, 1998)
Poems
[To Sally] [The Lip and the Heart] [To the Sun-Dial] [The Wants of Man]
Poetry
John Quincy Adams, Poems of Religion and Society (New York: William H. Graham, 1848)(With notices of his life and character by John Davis and T. H. Benton) [online text]
________________, Dermot MacMorrogh, or, The Conquest of Ireland. An Historical Tale of the Twelfth Century. In four cantos (Columbus, Ohio: I. N. Whiting, 1849) [online text]
Diaries
The Diaries of John Quincy Adams
Massachusetts State Historical Society
Allan Nevins (ed.), Diary, 1794-1845: American Diplomacy and Political, Social, and Intellectual Life from Washington to Polk (New York: Scribner, 1951)
David Grayson Allen (ed.), Diary of John Quincy Adams (Cambridge: Harvard University Press, 1981)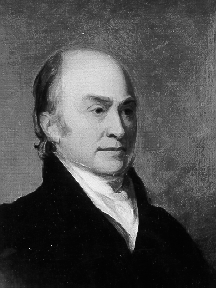 Correspondence
John Adams, Letters of John Adams and John Quincy Adams, 1776-1838 (New York: 1906)
Walter LaFeber (ed.), John Quincy Adams and American Continental Empire: Letters, Papers and Speeches (Chicago: Quadrangle Books, 1965)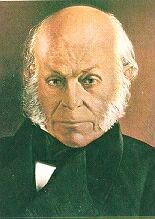 Writings
Orations
(1839)
John Quincy Adams, Narrative of the Life of John Quincy Adams, When in Slavery, and Now as a Freeman (1872) [online text]
Adrienne Koch & William Peden (eds.), The Selected Writings of John and John Quincy Adams (New York: A.A. Knopf, 1946)
Worthington C. Ford (ed.), The Writings of John Quincy Adams (New York: Macmillan, 1913-1917)(7 vols.)
Adrienne Koch & William Peden (eds.), The Selected Writings of John and John Quincy Adams (New York: Alfred A. Knopf, 1946)
Walter LaFeber (ed.), John Quincy Adams and American Continential Empire (Chicago: Quadrangle, 1965)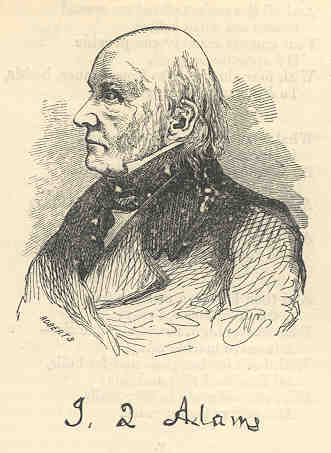 Evert A. & George L. Duyckinck, The Cyclopaedia of American Literature 579
(Philadelphia: William Rutter & Co., 1880)(Vol. 1)
Bibliography: Law
William G. Ross, The Legal Career of John Quincy Adams, 23 Akron L. Rev. 415-53 (1990)
George Anastaplo, John Quincy Adams Revisited, 25 Okla. City U.L. Rev. 119 (2000)
Bibliography
Samuel Flagg Bemis, John Quincy Adams and the Foundations of American Foreign Policy (1949)(Greenwood Press, 1981)
_______________, John Quincy Adams and the Union (New York: Knopf, 1956)
Robert A. East, John Quincy Adams: The Critical Years, 1785-1794 (New York: Brookman Associates, 1962)
Mary Hargreaves, The Presidency of John Quincy Adams (Lawrence: University Press of Kansas, 1985)
Marie B. Hecht, John Quincy Adams: A Personal History of an Independent Man (New York: Macmillan, 1972)
James E. Lewis, John Quincy Adams: Policymaker for the Union (Wilmington, Delaware: SR Books, 2001)
George A. Lipsky, John Quincy Adams: His Theory and Ideas (New York: Thomas Y. Crowell, 1950)
John Torrey Morse, John Quincy Adams (Boston: Houghton Mifflin, 1882)(New York: AMS Press, 1972)
Paul C. Nagel, John Quincy Adams: A Public Life, A Private Life (Cambridge: Harvard University Press, 1999) [book promo]
___________, Descent From Glory: Four Generations of the John Adams Family (New York: Oxford University Press, 1983)
Leonard L. Richards, The Life and Times of Congressman John Quincy Adams (New York: Oxford University Press, 1986)
William Henry Seward, Life and Public Services of John Quincy Adams (Port Washington, New York: Kennikat Press, reprint, 1971)(1849)
Jack Shepherd, Cannibals of the Heart: A Personal Biography of Louisa Catherine and John Quincy Adams (New York: McGraw-Hill, 1980)
Bibliography: Biographical Entries
Guy R. Woodall, "John Quincy Adams," in Eric L. Haralson (ed.), Encyclopedia of American Poetry: The Nineteenth Century (Chicago: Fitzroy Dearborn, 1998)
Brooks D. Simpson, "John Quincy Adams 1767-1848," in Robert Muccigrosso (ed.), 1 Research Guide to American Historical Biography 25-30 (Washington, D.C.: Beacham Publishing, 1988)
Bibliography: Articles
Greg Russell, John Quincy Adams: Virtue and the Tragedy of the Statesman, 69 New England Quarterly 56-74 (1996)
Henry Adams, "Harvard College, 1786-1787," in Historical Essays 80-121 (New York, 1891)
Bibliography: The Armistad Case
Sean Patrick O'Rourke, Cultivating the 'Higher Law' in American Jurisprudence: John Quincy Adams, Neo-Classical Rhetoric and the 'Amistad' Case, 60 Southern Communication Journal 33-43 (1994)
Jerald L. Banninga, John Quincy Adams on the Right of a Slave to Petition Congress, 38 Southern Speech Communication Journal 151-163 (1972)
A. Cheree Carlson, John Quincy Adams' 'Amistad Address': Eloquence in a Generic Hybrid," 49 Western Journal of Speech Communication 14-26 (1985)
Marouf Hasian Jr. & A. Cheree Carlson, Revisionism and Collective Memory: The Struggle for Meaning in the 'Amistad' Affair," 67 Communication Monographs 42-62 (2000)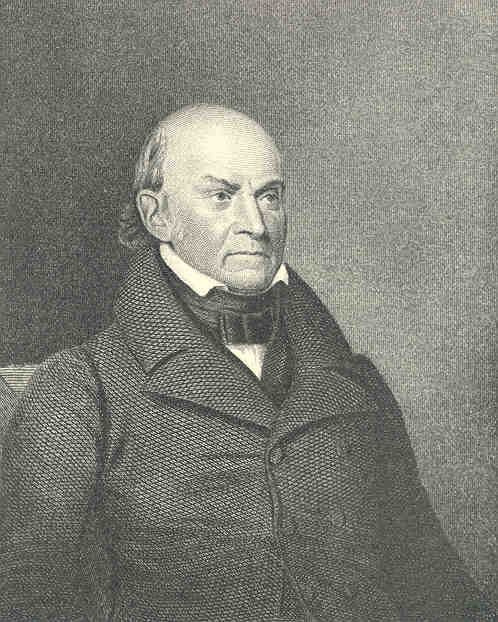 Sallie E. Marshall Hardy, The First Ten Secretaries of State (pt. II)
12 Green Bag 18-28, at 23 (1900)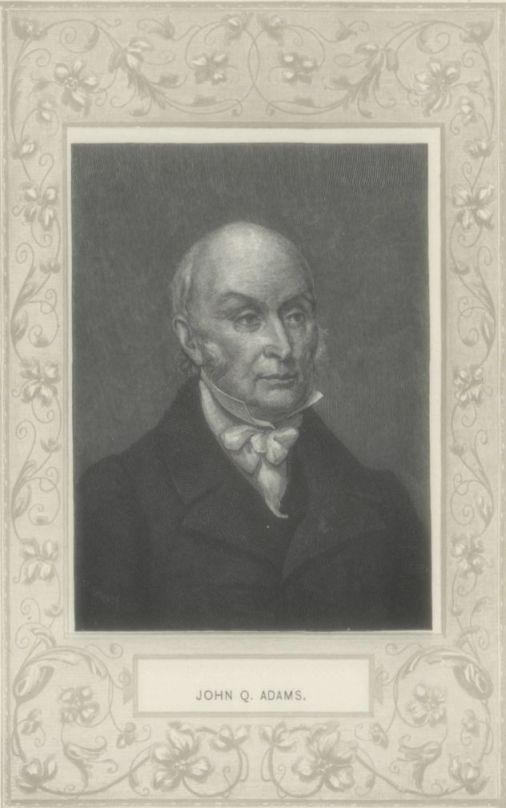 "John Quincy Adams," in Charles Dudley Warner (ed.), Library of the World's
Best Literature Ancient and Modern (vol. 1) [online text]

Research Resources
John Quincy Adams Papers
Massachusetts Historical Society
Boston, Massachusetts