Arthur Williams Austin



(1807-1884)
Massachusetts
"A lawyer of Boston."
[Oscar Fay Adams, A Dictionary of American Authors 13 (Boston:
Houghton, Mifflin and Company, 1899)]
Arthur Austin was born in 1807 at Charleston, Massachusetts. He graduated from Harvard College in 1825. [John Foster Kirk, A Supplement to Allibone's Critical Dictionary of English Literature and British and American Authors 62 (Philadelphia: J.B. Lippincott Co., 1891)(vol. 1)]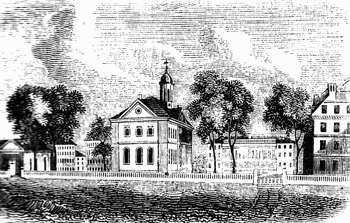 Harvard University

S. Augustus Mitchell A System of Modern Geography, Comprising a Description
of the Present State of The World, and Its Grand Divisions
(Philadelphia: E. H. Butler and Co., 1867)


The UNITED STATES DEMOCRATIC REVIEW.
NEW SERIES.
Volume XLI.
New York: Conrad Swackhamer, Editor and Proprietor.
1858 (pp. 307-310)


HON. ARTHUR W. AUSTIN.
COLLECTOR OF THE PORT OF BOSTON AND CHARLESTOWN
ARTHUR WILLIAMS AUSTIN was born at Charlestown, Mass., on the 16th of March, 1867.
His father, William Austin, was a Counsellor at Law, practising mostly in the counties of Suffolk and Middlesex. A man of great energy of character, he wrote frequently on political subjects, and in 1812-14, he was one of the few pillars of patriotism that sustained and defended the administration of Mr. Madison and the righteous war with Great Britain. To the end of life he was a firm and consistent Democrat.
The principles of Democracy, therefore, were a part of the inheritance of the subject of our sketch, who, at the age of fourteen, entered Harvard University; and before he was sixteen, met successfully a severe test of ability in teaching a District School. The two succeeding winters the experiment was repeated with increased reputation.
His law studies were commenced with his father and finished with that distinguished jurist, the Hon. Eli K. Price, of Philadelphia. At twenty-one, he entered upon his profession at Charlestown and Boston. For ten years, labor, time, thought, enthusiasm, were all concentrated in an earnest and eminently successful practice of the profession, which was not then divided as it now is; but every practitioner was expected to be equally ready in titles of conveyance, mercantile and marine law, and suits in chancery. Mr. Austin made himself familiar with every branch of the profession.
His influence with juries, as well as his power to cope with the strong men of his profession, is well illustrated by an anecdote. The Hon. Saml. D. Parker was defending a suit in which the evidence left the character of his client rather "tattered and torn." Mr. Austin was counsel for the plaintiff. Mr. Parker said in conclusion, that he had only one thing to fear in the case, and that was the well-known character of the opposing counsel, and his great influence with the jury. Mr. Austin's reply was, that he thought his brother Parker was more anxious about one other thing than he was about his character; and that was the character of his own client.
As evidence of the amount of labor Mr. Austin is capable of performing, it may be stated that for most of the time while engaged in a constantly increasing practice, he was postmaster of Charlestown, frequently a member of the Democratic town, county, and State committees. He was honored by Gen. Jackson with appointment to office, confidence, and friendship.
In 1836, the task of re-organizing the Fire Department in Charlestown devolved upon Mr. Austin as chairman of the Selectmen. A reform had long been desired. A fire-department, like fire itself is a good servant but a bad master. Mr. Austin disbanded two rebellious companies in one week; and the authorities in the neighboring towns and cities, taking courage by his example, and copying his ordinances, reformed their systems, and the public found that there could be efficiency without riot and energy without tumult.
In 1839, Mr. Austin visited Europe and the islands of the Mediterranean. After his return, he never fully resumed the practice of his profession.
With a sufficient fortune, the result of his own persevering labor, he indulged in the dream of poets and philosophers, and sought recreation amid well-tilled fields, orchards planted by his own hands, waving harvests and pastures dotted over with flocks and herds.
He accordingly selected one of the most wild, unsubdued, and romantic spots in the town of West Roxbury. Here the wilderness has been changed into the fruitful field. Everything, the massive, smooth-faced, cemented wall, the solid stone-posts at the gate-ways, the winding roads, the elliptic ponds, the well trimmed grove, the drained and renovated meadow, all show the thoroughness and the good taste of the Norfolk Farmer. The enriched acres, cattle of select and choice breeds; horses of renowned sires; these are all here, but not the repose which crave enchantment to the dream.
Mr. Austin has voluntarily contributed years of labor for the interests of West Roxbury. He is very properly styled the Father of this town. It was separated from the city of Roxbury mainly by his exertions, and ever since its incorporation he has had the principal management of its municipal affairs.
In politics, Mr. Austin has never deviated from Democratic principles, and with a single exception, has uniformly supported Democratic nominations. Dissatisfied with the character and administration of Martin Van Buren, he joined the opposition and aided in his overthrow, in 1840. He has never regretted it, and the subsequent career of the nominee of the Buffalo Convention has justified his sagacity.
He was again in his own natural armor, in the democratic ranks, under the standard of Mr. Polk, Texas, and the Mexican War, and gave to Mr. Cass his decided support in 1848.
The coalition in Massachusetts, which inaugurated the not yet finished, but most corrupt era of State politics, never received countenance or toleration from him. When the mutual exchange of party votes for the sake of power culminated in that great national calamity, the choice of Charles Sumner for Senator, Mr. Austin felt called upon to take a more active and decided position in State and National politics.
He was one with a few others, "faithful among the faithless found," that put the winnowing machine in motion at the Fitchburg Convention in 1852. The Democratic party there resumed its national position. From that day to this, it has been building upon a solid foundation. It has been purifying its doctrines, breathing the air of genuine patriotism, resisting sectional claims and issues, and is sure, ere many years shall pass, to place Massachusetts in communion and fellowship with National standards and Constitutional doctrines. When this result shall be reached, no man can claim a larger share of the honor than Arthur W. Austin.
In 1852, and again in 1856, Mr. Austin was a candidate for Congress in the Norfolk District. The vote grew from 2,222 to 5,077 in four years. Half that increase in another contest will give the District of the Adamses a Democratic Representative in Congress.
Descended from ancestors whose fame was National, educated among the true prophets of the Democracy, his speeches, writings, and acts are all in harmony with a genuine love for all parts of the Union.
Mr. Austin is of sanguine temperament, elastic and quick in step and motion, courteous in manner, abstemious in habit, generous in disposition, but inflexible in purpose; cautious and careful in the formation of his opinions, bold and fearless in their assertion and defence.
The character of Mr. Austin is almost entirely of the Roman type; it may truly he said of him, that "modern degeneracy has not reached him." He is neither effeminate, corrupt, nor idle. Firm, bold, direct, with quick perceptions, he reaches results with great rapidity, and is capable of accomplishing an amount of labor that would crush any but a man of iron mold. Well versed in all kinds of business, he brings to the Collectorship, to which he has been appointed by Mr. Buchanan, talents, experience, and integrity, which promise the highest satisfaction to the mercantile community. His administration we have no doubt will be honorable to himself, salutary to the public, and will reflect credit upon the government and the country. May all the offices of the republic be as well filled and as faithfully administered.

Poetry
Arthur W. Austin, The Woman and the Queen, a Ballad, and Other Specimens of Verse (Cambridge: Press of John Wilson and Son, 1875) [online text]
_______________, Immortality: A New Year's Poem (Buffalo, New York: Printing house of Matthews and Warren, 1875)
Orations
Arthur Williams Austin, Speech of Arthur W. Austin, of West Roxbury, at Charlestown, Mass., Nov. 1, 1856 (Charlestown, Massachusetts: [s.n.], 1856)
________________, Address at Dedication of the Town-house at Jamaica Plain, West Roxbury (Boston: A. Mudge & Son, 1868) [online text]