Albert Trovillo Siders Barnitz



(1835-1912)
Ohio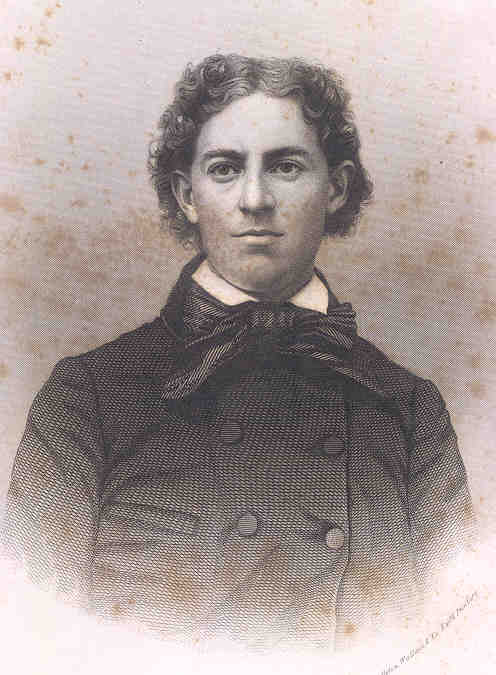 frontispiece

Albert Trovillo Siders Barnitz, The Mystic Delvings
(Cincinnati: A. Watson & Co., 1857)

We learned first of Barnitz's study of law from William Turner Coggeshall's The Poets and Poetry of the West: With Biographical and Critical Notices 682 (Columbus, Ohio: Follett, Foster and Company, 1860):
As a young man Barnitz read literature and spent a year at Kenyon College in 1851 and two years of intermittent study at Cleveland Law College in 1858 and 1859. It is unclear, based on the biographical accounts to which we have availed ourselves, whether the young Barnitz ever had occasion to practice law.
His professional and literary life was interrupted by the Civil War. Barnitz enlisted in the Second Ohio Cavalry and spent 1862 on the Missouri-Kansas border. He was commissioned as an officer and in 1863 became the regiment captain. After assignment in East Tennessee, the Second Ohio Cavalry joined the Army of the Potomac in the spring of 1864. Barnitz was wounded at Ashland Station in June, 1864, recovered and rejoined his regiment, which was in the Shenandoah Valley, where he served under General George Armstrong Custer (who at first he greatly admired but would later view with disdain). Barnitz was given command of the Second Ohio and fought with distinction at Saylor's Creek and Appomattox Station before Lee's surrender.
After the war, Barnitz was unable to get his footing as a civilian and in 1867 accepted a commission in the Army as a captain assigned to the Seventh Cavalry, where he would again serve with General Custer. The Seventh Cavalry under the command of Barnitz was involved in action against the Cheyenne Indians at Fort Wallace, Kansas in 1867. Wounded in a Custer action against a Cheyenne village in November 1868, Barnitz received a disability discharge and left Army service. After leaving the army he worked primarily as a newspaper columnist. He died in Asbury Park, New Jersey and is buried in Arlington National Cemetery.
[Source: Robert M. Utley, "Barnitz, Albert Trorillo Siders," in Allen Johnson & Dumas Malone (ed.), 3 Dictionary of American Biography 209-210 (New York: Charles Scribner's Sons, 1959)(1930)]
[Note: William Turner Coggeshall in The Poets and Poetry of the West: With Biographical and Critical Notices has Barnitz's birth date as 1833. We have followed Robert M. Utley's dating of Barnitz's birth. Utley edited Barnitz's letters and had access to the Barnitz papers at Beinecke Library at Yale University and as a result should have been able to provide a more authoritative dating.]
Albert Barnitz, The Mystic Delvings (Cincinnati: A. Watson & Co., 1857)
Journals & Letters
Robert Marshall Utley (ed.), Life in Custer's Cavalry: Diaries and Letters of Albert and Jennie Barnitz, 1867-1868 (Lincoln: University of Nebraska Press, 1987)(New Haven: Yale University Press, 1977)
_________________, Campaigning with Custer: Letters and Diaries Sketch Life in Camp and Field During the Indian Wars, 14 (4) American West 4-9 (July/August 1977)

Research Resources
Albert Trovillo Siders Barnitz Papers
Western Reserve Historical Society Library
Barnitz Papers
Beinecke Library
Yale University