Joseph Bartlett



(1762-1827)
Massachusetts
Joseph Bartlett was born in Plymouth, Massachusetts in 1762. He graduated from Harvard in 1782, and studied law at Salem. He was admitted to the Suffolk Bar. He ventured off to London, ran up a gambling debt and was imprisoned. While in prison he wrote a play to make enough money to get himself out of prison; he then ended up in Scotland. Back in the United States he volunteered as a Captain to serve in Shay's Rebellion.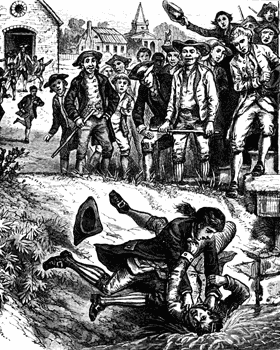 "A scene at Springfield, during Shay's Rebellion, when the mob attempted
to prevent the holding of the Courts of Justice."
[E. Benjamin Andrews, History of the United States from the Earliest Discovery of American to the Present Day (New York: Charles Scribner's Sons, 1895)(vol.2)]
[Used with permission of the Florida Center for Instructional Technology]
After soldiering, he practiced law in Woburn. In 1799 he delivered an address to the Phi Beta Kappa Society of Harvard in the form of a satirical poem, "Physiognomy." Bartlett moved to New Hampshire to practice law and to write, but moved back to Boston near the end of his life. [Source: Priscilla Juvenlis Inc, a book seller, Cambridge, Massachusetts][See: William Thomas Davis, Bench and Bar of the Commonwealth of Massachusetts 189 (Boston: Boston History Co., 1895)(vol.1)][The law office in Woburn was painted black and named "the coffin" to attract notice. See "Joseph Bartlett," in Francis S. Drake, Dictionary of American Biography 68 (Boston: James R. Osgood and Co., 1872)(Supplement). Bartlett let Woburn for Cambridge, and then moved on to Maine. "While in Saco, in 1805, he dited the Freeman's Friend, and , July 4, delivered an oration at Biddeford. He finally closed his improvident life in Boston." Id.]
Bartlett is described by one bookseller as an "eccentric lawyer, occasional poet and wit" who was "one of three charter members of the Phi Beta Kappa Society and author of the famous Harvard poem 'Physiognomy.'" [Brick Row Book Shop, San Francisco, California]
Writings
Joseph Bartlett, Aphorisms on Man, Manners, Principles & Things (Portsmouth, New Hampshire: Printed at the Oracle Office for the Author, 1810) [online text]
[The 2nd edition, Aphorisms on Man, Manners, Principles and Things . . . Physiognomy, A Poem: And the Blessings of Poverty was published in Boston; Printed by Jonathan Howe, 1823)]