Orie Bower



(1850-1901)
Georgia
"The lawyer poet of the Rockies"

[from the title page of Dixie Poems: or, 'Twas '64 in Dixie: A Digression
([S.I.: s.n.]: 1890)(12 pgs.)]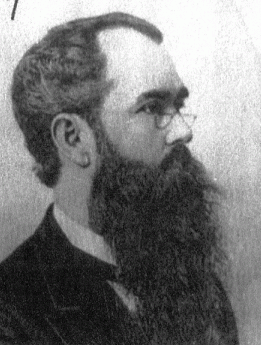 Orie Bower, Lawyer, Poet
by
Elizabeth Tang
[Editor's Note: Elizabeth Tang is Orie Bower's great-granddaughter. She resides in Anaheim, California]
Orie Bower is eleven years old when the Civil War begins. He is too young to serve, but old enough to remember what happened when Sherman's troops came through his family's plantation. He is very much aware that his "fate of birth" left him with mixed allegiance. His father, Judge James Cuthbert Bower is opposed to secession, but just as Robert E. Lee could not side against his fellow Virginians, Judge Bower's loyalty remains with his fellow Georgians. In his introductory poem from his book Dixie Poems, "'Twas '64 in Dixie," the third verse reads:
A Southerner? Yes; by fate of birth,
And rearing, true, and of it proud;
Yet Yank enough the "Stars and Stripes"
To raise and praise in any crowd.
At the end of the Civil War, Mr. Bower entered Washington College (now known as Washington and Lee University). Prior to that, he was a student of Talmage Institute in Irwinton, Georgia. By the age of nineteen he was admitted to the bar at Milledgeville, Georgia. He practiced law with his father for a number of years before he became a part of America's Westward Movement.
On July 29th, 1893, the Rocky Mountain Sentinel published a long article about Bower. They ran his illustrated story, "Of Blowse and Wife" on the first page of that issue. In it they declared, "By prominent journals Mr. Bower has been styled 'The Lawyer Poet of the Rockies,' and 'The Dixie Poet.'" The Sentinel continues, quoting another critic, "In glancing at Mr. Bower's work, what first impresses us is its versatility."
Many of Mr. Bower's poems carry sub-titles, which help explain where he is and what is happening in history at that time. It's interesting to note how his prejudices moderate, or simply get replaced with new ones. He becomes happy the slaves are freed, but as he moves westward, he assumes the local passion against the Indians when he is living in New Mexico. When Denver becomes inundated with immigrants he rails that they had better "become 'Mericanized' . . . before we all become 'Foreignized.'"
There are 173 poems in Dixie Poems divided between "'Twas '64 in Dixie," and "Miscellaneous Poems." Mr. Bower writes poems of the Generals, both north and south, but of them all, I found his tribute to Gen. Grant the most touching.
U. S. Grant
Brave Grant, our wise and noble foe,
Found fighting Dixie fraught with woe.
He picked up Lee, exhausted, bled,
As hunters pick up game when dead.
He fought the South as soldier brave,
Then eased her kindly to her grave.
In vict'ry's whitest heat unharmed,
This oft-tried diamond glittered, charmed.

Due to Orie Bower's westward migration, my grandfather was born in Clebourne, Texas. By the time Orie Bower reached California or Denver, my great grandmother had taken the children and returned to Georgia. His poem, "Out West Adrift," expresses a wistful longing for his Southern home. The last verse reads:
The mirror sky, with stars asprinkle —
Why does it not our homes reflect?
And why do stars say naught but "twinkle?"
And why does Echo so neglect
The old-home fireside talks to send
In whispers on the roving wind?
Most of "Miscellaneous Poems" speak of love gone right or love gone wrong. The critics expressed a particular liking for "The Old Horse Shied," but it left me wondering who "Sue" was. Sue was not the name of my great grandmother!
The Old Horse Shied
The old horse shied,
And though I tried
To grab the reins to steer,
The wheels did threat
To soon upset,
And filled poor Sue with fear,
Lest we'd be spilled
And maybe killed;
So, bravely to prevent,
With arms, in haste,
She clasped my waist,
And on my bosom leant.
As I'm not wood,
I felt quite good,
And fears all dissipated
By hugging tight,
Till Love, the sprite,
Our souls with love inflated.
Thence on, the nag
Did graze and swag
At will, and — Sue's a bride,
For since that day
She's mine for aye —
Because the old horse shied.
[I'd like to thank James Elkins, Professor of Law at West Virginia University for copying Dixie Poems from microfilm for me. My father had hand copied a few of the poems from the original manuscript, so I knew the book was out there somewhere. I just couldn't find it.]
The Lawyer Poet of the Rockies
[The National Magazine, vol. 17, 1892-1893][the source where we learned that Judge James C. Bower, Orie Bower's father was also a poet]
Poetry
Orie Bower, Dixie Poems (Denver, Colorado: The Bower Book Company, 1893)