Hugh Henry Brackenridge



(1748-1816)
Pennsylvania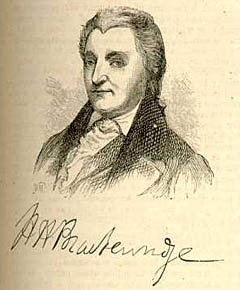 Evert A. & George L. Duyckinck, The Cyclopaedia of American Literature 305
(Philadelphia: William Rutter & Co., 1880)(Vol. 1)
Hugh Henry Brackenridge was born in 1748 in Scotland. He came to America with his father, a poor farmer, at the age of five to settle on a leased farm in York county, Pennsylvania, west of the Susquehanna, near Maryland. He was educated in local schools and studied Greek and Latin with local clergymen.
The mother encouraged the bookish efforts of her son, who would travel during the Sunday's intermission from work, twenty or thirty miles, to secure a volume or a newspaper. A copy of Horace, of which he came into possession, he left one day in the field, when it was munched by a cow. Meeting with a young man possessed of some knowledge of mathematics, he exchanged with him his Latin and Greek for that acquisition. At the age of fifteen he applied for the situation of teacher at a free school in Maryland, and secured the position. His juvenile older pupils, one of whom resisted his authority by force. Brackenridge "seized a brand from the fire, knocked the rebel down, and spread terror around him." With the small means which he laid up in this employment, he made his way to the college at Princeton, then under the charge of President Witherspoon. He was admitted, and supported himself in the higher classes by teacher the lower. His name appears on the list of graduates in 1771, with Gunning Bedford, Samuel Spring, James Madison, and Philip Freneau. In conjunction with the last, he delivered at the Commencement a poem in dialogue between Acasto and Eugenio, on the Rising Glory of America, which was published the next year in Philadelphia. . . .

Brackenridge continued a tutor in the college after taking his first degree, and studied divinity. He was licensed to preach, though not ordained, and undertook at a profitable remuneration, for several years, the charge of an academy in Maryland. [Evert A. & George L. Duyckinck, The Cyclopaedia of American Literature 302-303 (Philadelphia: William Rutter & Co., 1880)(Vol. 2)]
In 1776 Brackenridge took up residence in Philadelphia and became editor of a periodical, the United States Magazine. During the Revolutionary War he served as a chaplain (as did Joel Barlow). After the war he gave up the pulpit and resumed his study of law with Samuel Chase in Annapolis, Maryland.
In 1781, Brackenridge took up residence and sought to establish himself in Pittsburgh. He was soon thereafter elected to the state legislature. In 1799 Brackenridge was appointed as Judge in the Supreme Court, a position he held until his death in 1816.
Brackenridge is known as the Father of Allegheny County and as a founder of the Pittsburgh Post-Gazette.
Hugh Henry Brackenridge
George & Evert Duyckinck, Cyclopedia of American Literature
(1856)
Hugh Henry Brackenridge
Early American Fiction
University of Virginia
Hugh Henry Brackenridge
Cambridge History of English and American Literature
Hugh Henry Brackenridge
Wikipedia
Hugh Henry Brackenridge: Free-Lance Democrat
from Vernon Louis Parrington, Main Currents in American
Thought: The Colonial Mind 1620-1800 (1927) [online text]
Hugh Henry Brackenridge-Our Local Founding Father
Pittsburgh Post-Gazette
Early Printing in Pittsburgh, 1786-1856
History of Westmoreland County
History of the Princeton English Department
Princeton Fellow Student: James Madison
The Brackenridge and Stieren Families
Henry Marie Brackenridge (1786-1871)
son of Hugh Henry Brackenridge
Poetry
Hugh Henry Brackenridge, A Poem, on the Rising Glory of America; being an exercise Delivered at the Public Commencement at Nassau-Hall, September 25, 1771)(co-authored with Philip Freneau)(Philadelphia: Printed by Joseph Crukshank [etc.], 1772)
____________________, A Poem on Divine Revelation (Philadelphia: Printed by R. Aitken, 1774)(subtitled: "being an exercise delivered At the Public Commencement at Nassau-Hall, September 28. 1774. By the same Person, who on a similar occasion. Sept. 25. 1771. delivered a small Poem on the rising Glory of America)
Writings
Hugh Henry Brackenridge, The Battle of Bunkers-Hill (Philadelphia: Printed and Sold by Robert Bell [etc.], 1776)(subtitled: "a dramatic piece of five acts, in heroic measure. By a gentleman of Maryland")
____________________, The Death of General Montgomery, in Storming the City of Quebec. A Tragedy (Norwich: Printed by J. Trumbull 1777)(subtitled: "With an Ode, in honour of the Pennsylvania Militia, and the small band of regular Continental Troops, who sustained the Campaign, in the depth of winter, January, 1777, and repulsed the British Forces from the Banks of the Delaware. BY the author of a dramatic piece, on the battle of Bunker's-hill. To which are added, elegiac pieces, Commemorative of distinguished Characters, By different Gentlemen")
____________________, Gazette Publications (Carlisle: Alexander & Phillips, 1806)
____________________, An Epistle to Walter Scott (Pittsburgh: Franklin Head Printing, 1811)
____________________, Law miscellanies containing an introduction to the study of the law, notes on Blackstone's Commentaries, shewing the variations of the law of Pennsylvania from the law of England, and what acts of Assembly might require to be repealed or modified, observations on Smith's edition of the laws of Pennsylvania, strictures on decisions of the Supreme Court of the United States, and on certain acts of Congress, with some law cases, and a variety of other matters, chiefly original (Philadelphia : P. Byrne, 1814) [online text]
____________________, Modern Chivalry: Containing the Adventures of Captain John Farrago and Teague O'Regan, his Servant (originally published as 4 vols., 1792-1797, rev. ed. in 1805, and final ed. in 1815)(New Haven: College & University Press, 1965)
Modern Chivalry . . . Second Edition Since the Author's Death. With a Biographical Notice, a Critical Disquisition on the Work and Explanatory Notes . . . (Philadelphia: Carey and Hart, 1846)

Modern Chivalry . . . Edited, with Introduction, Chronology, and Bibliography (New York: American Book Company, 1937)(Claude M. Newlin ed.)
____________________, History of the Western Insurrection in Western Pennsylvania (Pittsburgh: Printed by W.S. Haven, 1959)
Daniel Marder (ed.), A Hugh Henry Brackenridge Reader, 1770-1815 (Pittsburgh: University of Pittsburgh Press, 1970)
________________, Incidents of the Insurrection (Philadelphia: Printed and Sold by John M'Culloch, 1795)(New Haven, Connecticut: College and University Press, 1972)
Hugh Henry Brackenridge & Philip Freneau, Father Bombo's Pilgrimage to Mecca (Princeton, New Jersey: Princeton University Library, 1975)(Michael Davitt Bell ed.)(written in 1770)
Bibliography
"Hugh Henry Brackenridge 1748-1816," in Jacob Blanck (compiler), 1 Bibliography of American Literature 261-268 (New Haven: Yale University Press, 1955)
Charles F. Heartman, Bibliography of the Writings of Hugh Henry Brackenridge (New York: The Compiler, 1917)(New York: Burt Franklin, 1968)
Daniel Marder, Hugh Henry Brackenridge (New York: Twayne Publishers, 1967)(New Haven, Connecticut: College and University Press, 1967)
Claude Milton Newlin, The Life and Writings of Hugh Henry Brackenridge (Princeton, New Jersey: Princeton University Press, 1932)
Nicholas Rombes, "Dark Reflections: The Terrors of Enlightenment in Early American Fiction" (Ph.D. Pennsylvania State University, 1994)
Bibliography: Articles
Stephen Crocco, Hugh Henry Brackenridge: Priest and Prophet of the American Enlightment, 70 (4) American Presbyterians 211-221 (1992)
Wendy Martin, On the Road with the Philosopher and the Profiteer: A Study of Hugh Henry Brackenridge's Modern Chivalry, 4 (3) Eighteenth-Century Studies 241-256 (1971)
Bibliography: Law Articles
Paul D. Carrington, Law and Chivalry: An Exhortation from the Spirit of the Hon. Hugh Henry Brackenridge of Pittsburgh (1748-1816), 53 U. Pitt. L. Rev. 705 (1992)