John Gardiner Calkins Brainard



(1796-1828)
Connecticut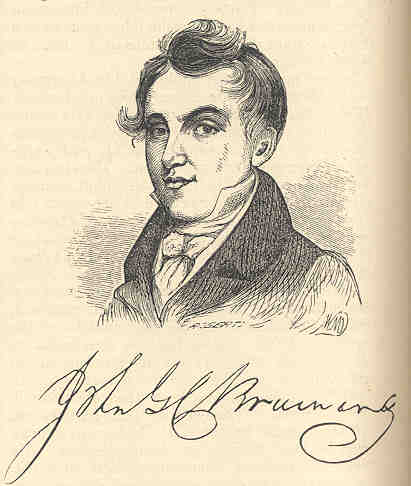 Evert A. & George L. Duyckinck, The Cyclopaedia of American Literature 966
(Philadelphia: William Rutter & Co., 1880)(Vol. 1)
Poet, attorney and journalist
John G.C. Brainard was born in Connecticut at New London, on October 21, 1796. His father was a state court judge. Brainard was educated at Yale and then took up the study of law. But law seems to have been
little adapted to his tastes and constitution, and after a brief trial of its practice at Middletown he abandoned it in February, 1822, for the editorship of a weekly paper at Hartford, the Connecticut Mirror. He is said to have neglected the politics of his paper, dismissing the tariff with a jest, while he displayed his ability in the literary and poetical department. His genius lay in the amiable walks of the belles-lettres, where the delicacy of his temperament, the correspondence of the sensitive mind to the weak physical frame, found its appropriate home and nourishment

* * * *

In 1825 a first volume of Poems was published by Brainard at New York, mostly made up from the columns of his newspaper, which was favorably received. Not long after, in 1827, the poet was compelled by the inroad of consumption on his constitution to retire from his editorship. He went to the east end of Long Island for his health, and has left a touching memorial of his visit to the sea, in which the animation of his genius overcomes the despondency of his broken frame. He suffered and wrote verses till his death at his father's home, at New London, September 26, 1828.

After his death a second edition of Brainard's poems appeared in 1832, enlarged from the first, with the title Literary Remains, accompanied by a warmly written sketch of the poet's life by Whittier. This has been since followed by a third edition, with a portrait, an elegant and tasteful volume, published by Edward Hopkins, at Hartford, in 1842.
[Source: Evert A. & George L. Duyckinck, The Cyclopaedia of American Literature 966-67 (Philadelphia: William Rutter & Co., 1880)(Vol. 1)]
John Gardiner Calkins Brainard
Early American Fiction
University of Virginia
John Gardiner Calkins Brainard
The Poets of Connecticut
( New York: A.S. Barnes and Co., 6th ed., 1873)
John Gardiner Calkins Brainard
Wikipedia
A Few Words About Brainard
Edgar Allen Poe (1842)
Poems
[The Fall of Niagara] [Epithalamium] [Epithalamium] [Mr. Merry's Lament for "Long Tom"] [The Deep] [The Indian Summer] [The Two Comets] [Stanzas]
Poetry
John Gardiner Calkins Brainard, Occasional Pieces of Poetry (New York: Printed for E. Bliss and E. White, Clayton & Van Nordern, Printers, 1825) [online text]
________________________, The Poems of John G. C. Brainard (Hartford: S. Andrus and Son, 1841) [online text] [online text]
________________________, The Poems of John G.C. Brainard: A New and Authentic Collection, With an Origian Memoir of His Life (Hartford: S. Andrus and Son, 1847) [online text] (Hartford: Edward Hopkins, 1862)
Writings
John Gardiner Calkins Brainard, Letters Found in the Ruins of Fort Braddock including an interesting American Tale (Brooklyn, New-York: O. Wilder and J.M. Campbell. A Spooner, Printger, 1824) [online text]
Fort Braddock Letters; or a Tale of the French and Indian Wars, in America, at the Beginning of the Eighteenth Century (Worcester: Published by Dorr & Howland, 1827)
Bibliography
James Gardiner Calkins Brainard 1796-1828," in Jacob Blanck (compiler), 1 Bibliography of American Literature 269-274 (New Haven: Yale University Press, 1955)
J.G. Whittier, The Literary Remains of J.G.C. Brainard: With a Sketch of His Life (Hartford: P.B. Goodsell, 1832) [online text]