Charles William Buck



(1851-1932)
Kentucky
U.S. minister to Peru (1885-1889) during the administration of President Grover Cleveland; of Louisville, Kentucky, referred to by one source as a "distinguished Kentuckian"; LL.B. Kentucky University awarded by the College of Law, January 26, 1867. [source of law degree awared: Catalogue of Kentucky University 99 (Lexington, Kentucky: Transylvania Co., 1901)]
Biographical information about Charles W. Buck has been difficult to find. We were set up this search by an ad that appeared in Albert Shaw's The American Monthly Review of Reviews, at p. 1: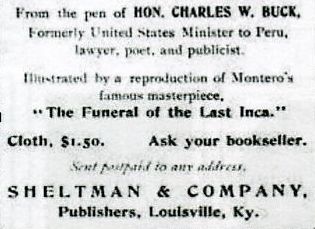 Albert Shaw, The American Monthly Review of Reviews, vol. 26 (Jul-Dec), 1902)(1901)
Of late, we found, a short biographical entry in Lucian Lamar Knight (ed.), Library of Southern Literature: Biographical Dictionary of Authors 61 (Atlanta: martin & Hoyt Co., 1907):
Buck, Charles W. Lawyer. He was born in Vicksburg, Miss., March 17, 1849, the son of John W. and Mary Bell Buck, married Elizabeth Crow Bullett, and was an ardent Democrat until 1896, when he adopted an independent course in politics. He is an able lawyer and a man of culture. Besides an interesting volume entitled 'Under the Sun,' he has frequently contributed to the periodicals. He resises in Louisville, Ky.
Writings
Charles W. Buck, Under the Sun; or, The Passing of the Incas: A Story of Old Peru (Louisville, Kentucky: Sheltman & Co., 1902) [online text]
_____________, Colonel Bob and a Double Love: A Story From the Civil Side Behind the Southern Lines (Louisville, Kentucky: The Standard Press, 1922)