Robert Milledge Charlton



(1807-1854)
Georgia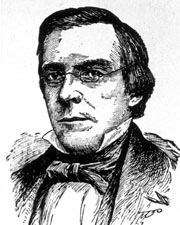 Biographical Directory of the United States Congress
Robert M. Charlton was born in Savannah, Georgia on January, 19 1807. His father, Thomas U.P. Charlton, was also a lawyer. The young Charlton studied law, was admitted to the bar, and in 1828 he was elected to the Georgia legislature. He was subsequently appointed United States District Attorney by President Jackson, and in 1834, at age twenty-seven was appointed, and afterward elected, Judge of the Supreme Court of the Eastern District of Georgia. Charlton served as United States senator in 1852-1853 and was twice elected mayor of Savannah. He was widely praised for his oratory. Charlton wrote poetry and prose, essays and sketches, lectures and literary addresses, many of which appeared in the Knickerbocker Magazine.
[Sources: Evert A. & George L. Duyckinck, The Cyclopaedia of American Literature 265 (Philadelphia: William Rutter & Co., 1880)(Vol. 2); Edwin Anderson Alderman & Joel Chandler Harris (eds.), Library of Southern Literature 79-80 (New Orleans: Martin & Hoyt Co., 1910)(1907)(Vol. 15, Biographical Dictionary of Southern Authors, 1929, Lucian Lamar Knight ed.)]
Charlton's son, Walter Glasco Charlton (1854-1917) was a lawyer, judge, and writer of occasional poetry.
Robert Milledge Charlton
Biographical Directory of the United States Congress
Robert M. Charlton
The South in History and Literature
Robert M. Charlton
Wikipedia
Charlton County State Historical Marker
Poetry
Robert M. Charlton & Thomas J. Charlton, Poems (Boston: Charles C. Little and James Brown, 1839)(Boston: Otis, Broaders & Co., 2nd ed., 1842) [online text]
Law Poetry Anthologies
R.M. Charlton, "Law of Husband and Wife," in Ina Russelle Warren (ed.), The Lawyer's Alcove: Poems by the Lawyer, for the Lawyer and about the Lawyer 223-227 (New York: Doubleday, Page & Company, 1900)(Buffalo, New York: William S. Hein & Co., 1990)
Writings
Robert M. Charlton, Reports of Decisions Made in the Superior Courts of the Eastern District of Georgia (Savannah: Thomas Purse & Co., 1838)
________________, Leaves from the Portfolio of a Georgia Lawyer (1839) [There is no OCLC listing of a library holding of this book.]
Writings: Lectures
______________, The Romance of Life, a Historical Lecture (Savannah: Printed by E.C. Councell, 1845)(delivered before the Georgia Historical Society, on the 14th January, 1845)(19 pgs.)
_______________, The Poetry of Death (Savannah: Edward J. Purse, 1849)(A lecture delivered before the Young Men's Library Association, in the city of Augusta, December 21st, 1848)
Biographical Sketches
Josephine Mellichamp, "Robert Charlton," in Senators From Georgia 131-33 (Huntsville, Alabama: Strode Publishers, 1976)
Eulogy
Edward Jenkins Harden, A Eulogy on the Life and Character of the Late Hon. Robert M. Charlton ... (Savannah, Georgia: N. Nichols, book and job printer, 1854)
Research Resources

Legal Briefs & Poems
Hand written briefs, 1824-1831, and several poems
Hargrett Rare Book and Manuscript Library
University of Georgia
Athens, Georgia