Salathiel C. Coffinberry



(1809-1889)
Ohio & Michigan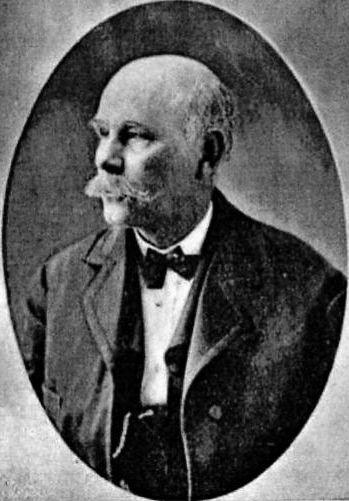 The Magazine of Poetry: A Quarterly Review 466
(Buffalo, New York: Charles Wells Moulton, 1890)(vol. 2)

Salathiel Coffinberry was born at Lancaster, Ohio on February 26, 1809. His father, George L. Coffinberry published a paper, the Olive Branch, the first paper in Lancaster, but soon moved to Chillicothe, Ohio, and then on to Mansfield where Salathiel studied law with his brother, Andrew. He was admitted to practice in 1829.
"After a time he moved to Canal Dover, Tuscarawas County, Ohio, where he opened an office and remained a short time. From there returned to Mansfield, where he practiced law most of the time, until he came to Michigan.
In 1832 he married Miss Catherine Young at Martinsburg, Va. In 1843 he was married to Miss Artemisia Cook, at Mansfield. By the former marriage he had three children, by the latter six. . . .
Mr. Coffinberry was an officer in the war of the patriots in Canada, on the part of the patriots; took part with his men in battle, and with his American comrades narrowly escaped capture by crossing to the American side and hiding when closely pressed. He came from Ohio to St. Joseph Count, Mich., in 1843, where he has resided ever since, and where he had all along been engaged in the practice of his profession, until failing health compelled him to give it up tow or three years before his death. He was a prominent member of the Masonic fraternity, a Knight Templar, and has taken all consistory degrees in Masonry up to the thirty-second. He was Grand High Priest of the Grand Chapter of Michigan, and also Grand Master of the Grand Lodge of the state, respectively, for many years. . . . He was for many years a prominent Democrat of the state, and the candidate of that party for national and state offices of high rank. He was enthusiastic in his love of the fine arts, was proficient in music, painting and poetry." [Charles Wells Moulton, The Magazine of Poetry: A Quarterly Review 467-469 (Buffalo, New York, 1890)(vol. 2)] [online text]