Marvin Hill Dana



(1867- )
Vermont & New York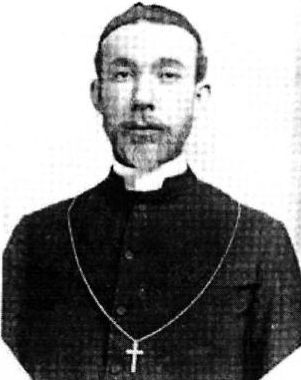 Jacob G. Ullery,
Men of Vermont: An Illustrated Biographical History
of Vermonters and Sons
93 (Brattleboro: Transcript Publishing Co., 1894)
"Marvin Hill Dana, of Stillwater, New York, was born 02 March 1867 in Cornwall [Vermont], son of Edward Summers and Mary Howe Squier Dana. Having obtained his preliminary education at Beeman Academy, he afterwards graduated at Middlebury College, the Sauveur School of Languages, the law department of Union University, and the General Theological Seminary in New York City. He also took a post graduate course at the University of New York. He received the degrees of A.B. and A.M. from Middlebury College and L.L. B. from Union University. After studying law in the office of Judge Lyman E. Knapp, Mr. Dana practiced his profession in Missouri and Malone, New York but was subsequently ordained in All Saints' Cathedral, Albany, by Bishop Doane, 11 June 1893, and is now pastor of St. John's Episcopal Church, at Stillwater, New York.
As an author he has contributed to various periodicals, both in prose and verse . . . . He has frequently been selected as class poet at the institutions where he has been a student, and he was chosen by the alumni of Middlebury College to deliver the annual poem at the commencement of 1894."
Jacob G. Ullery, Men of Vermont: An Illustrated Biographical History of Vermonters & Sons of Vermont of Vermont 93-94 (Brattleboro: Transcript Pub. Co., 1894)]
Poetry
Marvin Dana, Mater Christi and Other Poems (Malone, New York: Franklin Gazette, 1890)
Writings
Marvin Dana, The Woman of Orchids (London: Anthony Treherne & Co., 1901)
__________, A Puritan Witch; a romance (New York / London: The Smart Set Pub. Co., 1903)
__________, Within the Law (New York: Grosset & Dunlap, 1913)(Marvin Dana from the play of Bayard Veiller)(New York: The H.K. Fly Co., 1913)(London: Mills 1917) [online text] [Project Gutenberg edition]
__________, The Master Mind (New York: Grosset & Dunlap, 1913)(New York : The H.K. Fly Co., 1913)
__________, The Shooting of Dan McGrew; a novel (New York: Grosset & Dunlap 1915)(based on a poem of Robert W. Service)
__________, A Perfect Memory, How to Have and Keep It (New York: E.J. Clode 1917)
__________, How To Train Your Mind; a practical method for the development of mental power (New York: E.J. Clode, 1918)
__________, Spelling Made Easy (New York: E.J. Clode, 1919)
__________, Shorthand Made Easy (New York: E.J. Clode 1919)(New York: E.J. Clode 1921)(New York: Pioneer Publications Inc., 1936)
__________, Grammar Made Easy, with complete examination questions and answers (New York: E.J. Clode 1919)(New York: E.J. Clode, 1921)(New York: Books Inc., 1939)
__________, A Complete Course in Memory Training (New York: E.J. Clode, 1919)
__________, Law at a Glance (New York: E.J. Clode, 1920)
__________, Spelling Made Easy, with complete examination questions and answers (New York: E.J. Clode, 1921)
__________, Arithmetic Made Easy: with complete examination questions and answers (New York: E.J. Clode, 1921)
__________, The American Encyclopedia of Etiquette and Culture ([New York]: Eilert Printing Co., 1922)
__________, Chemistry for Beginners, with questions and answers (New York: E.J. Clode, 1923)
__________, The Lake Mystery (Chicago: A.C. McClurg & Co., 1923)(New York: A.L. Burt Co. 1923)
__________, The Mystery of the Third Parrot: relates how a mystery that baffled the New York City police gave an eminent psychologist an opportunity to test his skill (Chicago: A.C. McClurg & Co., 1924)(New York: A.L. Burt, 1924)(New York: A.L. Burt Co., 1926)