Richard Henry Dana, Jr.



(1815-1882)
Massachusetts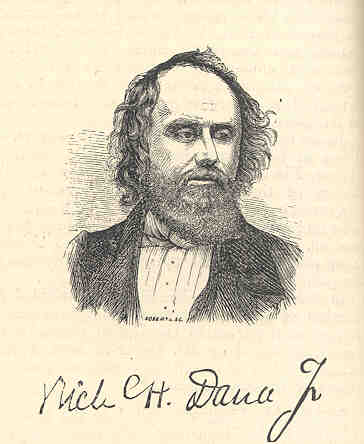 Evert A. & George L. Duyckinck, The Cyclopaedia of American Literature 259
(Philadelphia: William Rutter & Co., 1880)(Vol. 2)
Richard Henry Dana was born in Cambridge, Massachusetts and grew up in Boston. His father, Richard Henry Dana, Sr., was a lawyer and poet. Dana attended Harvard (1831-1833), but left school in 1834 because of his failing eyesight. He embarked upon a two year sea voyage by working as a common seaman on board the brig Pilgrim which sailed around Cape Horn to California. Dana returned to Harvard to complete his education. He studied law and entered law practice, drawing on his travel experience to acquire maritime law clients. In 1841 he published The Seaman's Friend, a standard manual on the law of the sea. Dana was also active in politics. Two Years Before the Mast, the writing for which he now so well known, is based on the diary he kept while at sea, and is considered a classic text on life aboard the old sailing ships.
Richard Henry Dana, Jr.
Wikipedia
Richard Henry Dana (1815-1882)
San Diego Historical Society

Journals & Autobiography
Robert F. Lucid (ed.), The Journal of Richard Henry Dana (Cambridge: Belknap Press/Harvard University Press, 1968)(3 vols.)
Richard Henry Dana, An Autobiographical Sketch (1815-1842)(Hamden, Connecticut: Shoe String Press, 1953)(Robert F. Metzdorf ed., Norman Holmes Pearson introd.)
Speeches & Correspondence
Richard H. Dana, Jr., Remarks of Richard H. Dana, Jr., esq. before the Committee on federal relations, on the proposed removal of Edward G. Loring, esq. from the office of judge of probate. March 5, 1855 (Boston: Printed by A. Mudge & Son, 1855) [online text]
Richard H. Dana (ed.), Speeches in Stirring Times, and Letters to a Son (Boston: Houghton Mifflin Co., 1910)(edited by Dana's son) [online text]
Writings
Richard Henry Dana, Jr., The Seaman's Manual (1841)
__________________, The Ether Discover (Boston: Littell, Son & Company, 1848)
Washington Allston, Lectures on Art, and Poems (New York: Baker and Scribner, 1850)(Richard Henry Dana, Jr. ed.)
Richard Henry Dana, Jr., To Cuba and Back (Boston: Ticknor and Fields, 1859)
__________________, The Seaman's Friend (Boston: T. Groom & Co., 1863); Two Years Before the Mast: A Personal Narrative of Life at Sea (New York: Harper & Brothers, 1840)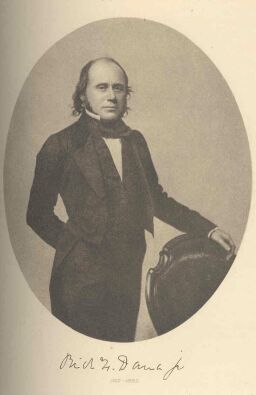 Edward Waldo Emerson, The Early Years of the Saturday Club 1855-1870
(Boston: Houghton Mifflin Co., 1918)(pg. 40)
Bibliography
Robert L. Gale, Richard Henry Dana, Jr. (New York: Twayne Publishers,1969)
Samuel Shapiro, Richard Henry Dana, Jr. (East Lansing, Michigan Michigan: State University Press, 1961)
Charles Francis Adams, Richard Henry Dana, a Biography (Boston: New York, Houghton, Mifflin and Company, 1890)(2 vols.) [vol. 1: online text] [vol. 2: online text] (Detroit: Gale Research Co., 1968)