The ancient town of Athlone is situated upon the bank of the great river Shannon. Here Charles Francis Donnelly was born October 14, 1836. He did not grow up, however, in this historic locality, for in 1837 when he was less than one year old his father removed with his family to Canada, and established their home in St. John, New Brunswick.
Soon after their arrival a disastrous fire destroyed Mr. Donnelly's place of business, and his health also failing he went to Nova Scotia where Mrs. Donnelly's two uncles . . . were men of property and position.
Young Charles received his elementary education in private schools and at the Presbyterian Academy at St. John. He was a studious, meditative lad, with a quiet, retiring disposition. After school hours his time was usually occupied in reading, and, having a most retentive memory, the story of knowledge then acquired lasted him a lifetime.
. . . .
In 1848 Hugh Donnelly [Charles Francis Donnelly's father], having recovered his health, removed with his family to Providence, Rhode Island, where other relatives were prosperously settled. Here Charles Francis continued his classical studies, and having decided to follow the profession of law, went to Boston, Massachusetts, in 1856 and entered the law offices of the Hon. Ambrose A. Ranney. . . . .
Mr. Donnelly also attended the Harvard Law School and was graduated with the degree of LL.B. in 1859. In September of the same year he was admitted to the Suffolk County bar and at once entered upon the active practice of his profession.
At the time of his admission to the bar Mr. Donnelly had already shown much taste for literature, had acquired a broad knowledge of the English classics, and has also received a religious training uncommon in a young layman.
We find him contributing editorial articles and special correspondence to the local press in 1859 under the non-de-plume of 'Vindex.' . . .
During the summer of 1859, Mr. Donnelly spent the months of August and September in Nova Scotia and New Brunswick. Letters from him, signed 'Viator,' appeared in the Boston newspapers [with] observations regarding the places he visited, and the manners and customs of the men with whom he came in contact. The impressions made on him during this trip to the land of Longfellow's Evangeline found expression in the very beautiful poem, 'The Acadians' Hymn,' that appeared in the New York Leader, August 9, 1862.
For about two years from the early part of 1860 he was a resident of New York, engaged in the practice of his profession, and in his free time contributing editorials, prose sketches, and correspondence to the New York Tribune, New York Leader, Journal of Commerce, Morning Freeman and other journals, and to the Knickerbocker Magazine. These contributions were variously signed 'Lex' and 'Scribe,' but he finally adopted the pen-name of 'Schuyler Conway,' under which he exercised his notable poetic gift.
. . . .
Mr. Donnelly considered James Russell Lowell to be the foremost American poet, and one of his latest poems was the following sonnet on Lowell's death that appeared in the Boston Advertiser in August, 1891.
Towards the end of 1862 we find Mr. Donnelly again in Boston active in recruiting for the Fifty-fifth Regiment, which had been organized with the distinct understanding that it should go to the front for nine month's service as an Irish-American regiment. In this regiment he held the rank of lieutenant, and within a few months six companies had been drafted and a good beginning made towards the formation of the seventh. [The regiment did not, however, proceed to the front as originally planned.]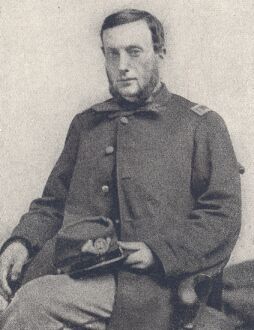 "Mr. Donnelly at the Age of 26"

Katherne E. Conway & Mabel Ward Cameron, Charles Francis Donnelly: A Memoir (New York: James T. White, 1909)
In the spring of 1863, while on a visit to Washington, Mr. Donnelly sent some pen portraits of 'People One Meets on Pennsylvania Avenue,' to the New York Leader. These sketches related to soldiers, statesmen, and sages . . . . In Washington, as during his longer sojourns in New York, he was fortunate in meeting the great men of his profession, and had also much pleasant intercourse with the literary men and eminent journalists of a period peculiarly rich in characters of interest.
In 1864 we find Mr. Donnelly associated with James Gerrish as counsel for the Commonwealth in the case of two little children in the public school in Shirley, Massachusetts, who had been punished with great severity because they declined to read from the Protestant version of the Bible. Mr. Donnelly appealed to the existing law as sufficient to protect Catholic rights, and on these grounds won the case.
. . . .
[Donnelly continued to practice law and] "early on the morning of Sunday, January 31, 1909, without premonition of any kind, he passed to his well-earned rest."
Poetry