Richard Thomas Walker Duke, Jr.



(1853-1926)
Virginia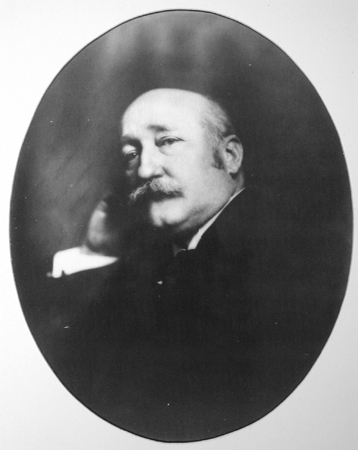 Photograph used with the Permission of the University of
Virginia Law Library Special Collections
Tom Duke was born in Charlottesville, Virginia on August 27, 1853. He was a lawyer, judge, and Commonwealth Attorney of Albermarle County. His poetry appeared in popular journals and magazines. [Source: Armistead C. Gordon, Jr., Virginian Writers of Fugitive Verse 120 (New York: James T. White & Co., 1923)]
The following biographical sketch of Tom Duke accompanies the Tom Duke papers housed at the University of Virginia Law Library and appears here with the permission of the Curator of Special Collections:
Richard Thomas Walker Duke, Jr. (Tom) witnessed the Civil War during his impressionable boyhood years and later wrote about those experiences. A gifted writer and student of languages, Tom studied classics, French, German and English literature when he entered the University of Virginia in 1870. He was awarded the Thomas Jefferson Prize for the best essay in 1872 and then turned his attention to the study of law in 1873-74. It is likely that he later read law for a time in his father's office before passing the bar. Although the practice of law became his career, Duke wrote prose and poetry the rest of his life and was published in the New York Herald and such magazines as Century, Lippincott's, and Illustrated American.

Throughout his long career Tom was active in town, university, and state affairs. Among the organizations in which he held office were the Masons, Zeta Psi fraternity, the Sons of the American Revolution, the Sons of Confederate veterans, the Miller Board, the U.Va. Alumni Association, and the state Democratic Committee. He served from 1886 to 1901 as judge of the Corporation Court (now called the Circuit Court), and as Commonwealth's attorney from 1916 to 1920. In addition he sat on the boards of a variety of corporations, including the Charlottesville Ice Company, the First National Bank, and a number of Kentucky and West Virginia coal development companies in which his family had invested. From 1907 to 1910 Tom edited the Virginia Law Journal.

Tom Duke married Edith Ridgeway Slaughter in 1884, and they produced six children of whom five grew to maturity: Mary, R.T.W. III (Walker), John Flavel Slaughter (Jack), William Eskridge, and Helen Risdon. He built a spacious home for his family at 616 Park Street. A frequent traveller because of his practice, Duke also travelled for pleasure. As the children grew up, Edith often accompanied him to New York or Washington to shop, visit friends and attend plays, or she took journeys alone to visit children and other relatives. All the Duke children, as they reached their teens, attended boarding school, and all received at least some college education. Edith Duke died suddenly in 1921, and two years later, Tom married Maymee Richardson Slaughter, his wife's sister-in-law from Lynchburg. In March of 1926 Tom died at the age of 76.
While Duke's published poetry appeared in various periodicals, it has not been collected into a published volume.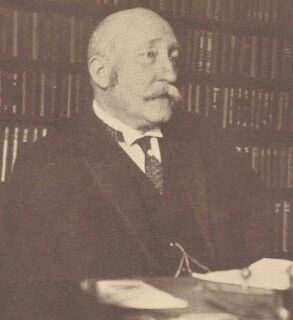 frontis photograph
R.T.W. Duke, Jr., In My Library And Other Poems
(Charlottesville, Virginia: Printed by The Michie Company, 1927)
Judge Duke began his education "at the famous preparatory school of Major Horace V. Jones in Charlottesville. After completing preparatory training he entered the University of Virginia. . . . At the age of 20 he came under the tutelage of that great teacher in the University's law School, John B. Minor, and in 1875 he began the practice of his chosen profession in his native city . . . .
"From 1881 until 1901 he served with distinction as Judge of the Corporation Court of Charlottesville. In 1911 he became Commonwealth's Attorney for Albemarle County which office he held at the time of his death. . . .
"For a long time he was a powerful factor in the political affairs of the State . . . . He was for many years a member of the Democratic State Committee and also served as Democratic National Elector. A prominent figure at the State conventions of his party, on more than one occasion he was chosen to deliver the key-note speech. . . .
"In literary circles he was widely and favorably known as a writer of fugitive verse and of learned articles for the more prominent magazines." ["Death of Editor-in-Chief," 11 Virginia Law Register 757-758 (1926)]
"Richard Thomas Walker Duke, Jr."
in
Lyon G. Tyler, Men of Mark in Virginia 100-1-2 (Washington, D.C.: Men of Mark Publishing Co., 1907)(vol.2)
Poetry
R.T.W. Duke, Jr., In My Library and Other Poems (Charlottesville, Virginia: Michie Co., 1927)
Anthologies
R.T.W. Duke, Jr., "Sayonara," "Lilies of the Valley," and "The Hills of Dream" in Armistead C. Gordon, Virginian Writers of Fugitive Verse 295-296 (New York: James T. White & Co., 1923)
Bibliography
"Death of Editor-in-Chief" [Judge R.T.W. Duke, Jr.], 11 Virginia Law Register 757 1926)