George Washington Dunn



(1815-1891)
Kentucky & Missouri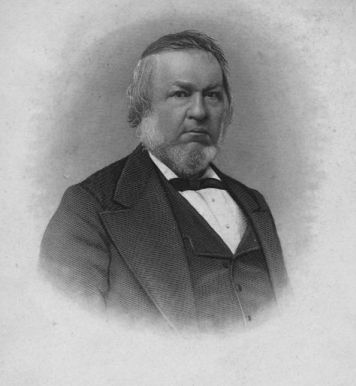 frontis photograph

George W. Dunn, The Temple of Justice and Other Poems
(Kansas City, Missouri: Ramsey, Millett & Hudson, 1882)

George Washington Dunn was born near Harrodsburg, Kentucky, October 15, 1815. He was admitted to the bar in 1838, and in 1839 moved to Missouri. He was appointed circuit attorney in 1861. He also served for various years as circuit judge. [James Samuel Snoddy, A Little Book of Missouri Verse, Choice Selections from Missouri Verse-writers 180 (Kansas City, Missouri: Press of Hudson-Kimberly Pub. Co. [1897])]

[We learned about George W. Dunn's association with poetry from J. Wesley Miller's introductory essay on "Legal Poetry" in Ina Russelle Warren (ed.), The Lawyer's Alcove: Poems by the Lawyer, for the Lawyer and about the Lawyer i-xii, ix (Buffalo, New York: William S. Hein & Co., reprint ed., 1990)(The Lawyer's Alcove was originally published by Doubleday, Page & Company in 1900).]
Poetry
George W. Dunn, The Temple of Justice and Other Poems (Kansas City, Missouri: Ramsey, Millett & Hudson, 1882) [online text]

In a preface to the poems in The Temple of Justice and Other Poems, Dunn writes:
I have collected and now republish in this volume, poems written by me at irregular intervals during the last forty-five years and heretofore published from time to time as they were written.

When I commenced my career as a lawyer, I determined to devote myself wholly to my profession; and I wrote the poem entitled 'The Harp—My Last,' believing at the time that it was the last piece of poetry that I would ever write. But neither the fascinations of the practice of law, with its sharp conflicts of discipline legal minds, nor the grave and responsible duties of a position on the Bench for nearly a quarter of a century, were sufficient to extinguish altogether my early love of poetry and song. Accordingly, writing occasional poems has furnished many pleasant episodes in my busy professional and official life. And this was no waste of time, because the same mental processes are called into requisition in tracing the beautiful shades of thought that find expression in poetical language, as in exploring the elementary principles of the law as a science, and in determining the logical relations of its fundamental truths.

GEORGE W. DUNN

RICHMOND, MISSOURI
January 30, A.D. 1882.