Reuben Thomas Durrett



(1824-1913)
Kentucky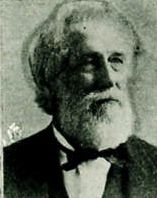 Thomas William Herringshaw, Herringshaw's Encyclopedia of American Biography
of the Nineteenth Century 322 (Chicago: American Publishers' Assoc., 1898)
Lawyer, editor, historian, book collector,
a founder and first president of the Filson Club
"Born in Henry County, Kentucky, January 22, 1824. After two years at Georgetown (Kentucky) College he went to Brown University, Providence, Rhode Island, where he graduated in 1849. The same year he entered the Law Department of the University of Louisville and graduated with the degree of LL.B. in 1850. After thirty years of successful practice at the Louisville bar he was able to retire . . . .
In his earlier years Mr. Durrett yielded to an imagination which demanded the expression of thoughts in verse, and had he not acquired distinction in other lines he might have been widely known as a poet. . . .
It is as a prose writer, however, that Mr. Durrett will be most favorably and most enduringly known. After retiring from the bar in 1880, he devoted much of his leisure to historic studies, for which he always had an inclination. . . .
In 1884 a few of his associates of similar tastes joined Mr. Durrett in establishing an association in Louisville for co-operative effort in the collecting and preserving and publishing of historic matter relating to Kentucky. This association was named the 'Filson Club,' in honor of John Filson, the first historian of Kentucky, and Mr. Durrett, who was made its president, prepared and read the first paper before it. This paper was the 'Life and Times of John Filson,' which was published as number one of the series of Club publications. It is a quarto of 132 pages, so full of original matter and so beautifully written that it at once gave the Club a prominent stand among kindred associations.
In his literary studies Mr. Durrett has always bought the books he needed, and in thus purchasing from year to year he has accumulated a large and valuable library. The volumes and pamphlets and papers and manuscripts upon his shelves number more than fifty thousand, and he is adding to them every day."
[W.H. Perrin, "Reuben Thomas Durrett," in Fannie Porter Dickey (ed.), Blades o' Bluegrass: Choice Selections of Kentucky Poetry, Biographical Sketches and Portraits of Authors 305-307, at 305-306 (Louisville: John P. Morton & Company, 1892)] [online text]
Durrett during his years in Louisville acquired a half-interest in the Louisville Courier and served as city councilman. He was jailed, briefly for his pro-Southern editorals for the Courier. [Source: Bio/History note, Reuben T. Durrett Papers, Kentucky Historical Society, Frankfort, Kentucky]
Founding of the Filson Historical Society
Sign of History
historical marker
Poem
Reuben Thomas Durrett, "The Old Year and the New in the Coliseum at Rome," in Bennett H. Young (ed.), Kentucky Eloquence. Past and Present. Library of Orations, After-Dinner Speeches, Popular and Classic Lectures Addresses and Poetry 452-454 (Louisville, Kentucky: Ben LaBree, 1907) [online text]
Writings
Reuben T. Durrett, John Filson, the First Historian of Kentucky. An account of his life and writings, principally from original sources (Louisville: The Filson Club & Cincinnati: R. Clarke & Co., 1884)(prepared for the Filson club and read at its meeting in Louisville, Ky., June 26, 1884, by Reuben T. Durrett)(Filson Club publications, no. 1)
The Centenary of Kentucky: Proceedings at the Celebration by the Filson Club, Wednesday, June 1, 1892, of the one hundredth anniversary of the admission of Kentucky as an independent state into the Federal Union (Louisville, Kentucky: John P. Morton & Cincinnati: Robert Clarke, 1892)(including: "President Durrett's Address. The State of Kentucky," pp.9-104; "Kentucky," a poem by Henry T. Stanton, pp. 106-118) [online text]
Reuben T. Durrett, An Historical Sketch of St. Paul's Church (Louisville, Kentucky: J.P. Morton and Co., printers, 1889)(prepared for the semi-centennial celebration, October 6, 1889, by Reuben T. Durrett)(Filson Club publications, no. 5) [online text]
______________ (ed.), Bryant's Station and the Memorial Proceedings held on its site under the auspices of the Lexington chapter, D.A.R., August the 18th, 1896, in honor of its heroic mothers and daughters (Lousville, Kentucky: J.P. Morton and Co., printers, 1897)(including: Durrett's "The First Act in the Siege of Bryant's Station"; "The Women of Bryant's Station," a poem by Henry T. Stanton) [online text]
______________, Traditions of the Earliest Visits of Foreigners to North America, the first formed and first inhabited of the continents (Louisville, Kentucky: J.P. Morton & Co. (Incorporated) printers to the Filson Club, 1908) [online text] [online text]
Papers, Articles & Orations
Reuben T. Durrett, The Centenary of Louisville: a paper read before the Southern Historical Association, Saturday, May 1st, 1880, in commemoration of the one hundredth anniversary of the beginning of the city of Louisville as an incorporated town, under an act of the legislature of Virginia (Louisville, Kentucky: J.P. Morton and Co., printers, 1893) [online text]
______________, The Romance of the Origin of Louisville, 4 (2) Southern Magazine 445-463 (June,1894)
______________, Drennon Springs ([n.p.]: 1903)
Research Resources
Reuben T. Durrett, Misc. Papers
Special Collections
Filson Historical Society
Louisville, Kentucky
Reuben T. Durrett Papers
Kentucky Historical Society
Frankfort, Kentucky
Reuben T. Durrett Papers
Department of Special Collections
University of Chicago Library
Chicago, Illinois
[About the Durrett Collection] [Constructing a Western Past]
A History of the Filson Club
Otto Arthur Rothert, Filson Club and its activities, 1884-1922: A History of the Filson Club, including lists of Filson Club publications and papers on Kentucky history prepared for the Club, also names of members (1922)
The Filson Historical Society
Wikipedia