James Bowen Everhart



(1821-1888)
Pennsylvania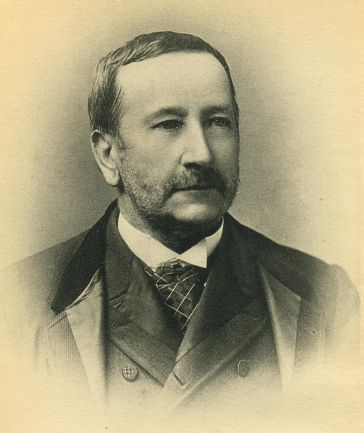 James B. Everhart, Speeches, Etc.
(New York: G.P. Putnam's Sons, 1888)
James Bowen Everhart was born near West Chester, Pennsylvania in West Whiteland Township on July 26, 1821. His grandfather, James Everhart, was a soldier in the Revolutionary War. His father, William Bowen, was for some years, justice of the peace, a merchant in West Chester, and was elected to serve in the Thirty-third Congress in 1852. Everhart attended Bolmar's Academy, in West Chester and graduated from Princeton College in 1842 (with a graduating class of sixty) where he was a founder of the college literary periodical. [Source: Biographical Directory of the United States Congress; George Johnston (ed.), The Poets and Poetry of Chester County, Pennsylvania 70 (Philadelphia: J.B. Lippincott Co., 1890)]
"After his graduation he returned to West Chester and commenced the study of law, under the preceptorship of Joseph J. Lewis, Esq., one of the prominent members of the bar of Chester country; he remained with Mr. Lewis for one year and then entered the Harvard Law School at Cambridge, Massachusetts, where he passed a year, and then returned home, but to better perfect himself in his chosen calling he became a student of the late Hon. William M. Meredith, a leading attorney of the bar of Philadelphia. On February 4, 1845, he was admitted to practise his profession at the bar of Chester country and of Philadelphia.
"For three years he applied himself to the law with such care that he became recognized as one of the most thoughtful and painstaking attorneys at the bar. He then relinquished practice and went upon an extended foreign tour. During that time he was for several months a student at the University of Edinburgh, Scotland, from which he went to the University of Berlin, and there studied International Law, receiving diplomas from both these universities. On his return home he resumed his practice, which avocation he pursued for nine years, retiring in 1861." [Thos. Louis Ogier, A Memorial of the Life and Character of James Bowen Everhart 8-9 (New York: G.P. Putnam's Sons, The Knickerbocker Press, 1889)]
"Mr. Everhart was eminently patriotic, and during the War of the Rebellion raised two companies of volunteers, of each of which he was elected captain, and served in Maryland and on the southern border of Pennsylvania in the campaigns of 1863-64. He was elected to the State Senate in 1876, and continued to be a member of that body until he resigned to take his seat in Congress in 1883. He was twice elected to Congress [from 1883 until 1887, failing to secure renomination in 1886] . . . ." [George Johnston (ed.), The Poets and Poetry of Chester County, Pennsylvania 70 (Philadelphia: J.B. Lippincott Co., 1890)] [online text] After his years he Congress, he again took up the practice of law. He died in West Chester, Pennsylvania on August 23, 1888.
James Bowen Everhart
Biographical Directory of the United States Congress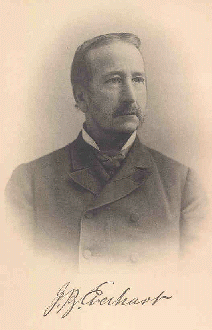 James B. Everhart, Poems
(Philadelphia: J.B. Lippincott, 1868)

Poetry
James B. Everhart, Poems (Philadelphia: J.B. Lippincott, 1868) [online text]
______________, The Fox Chase (Philadelphia: Porter & Coates, 1874)(1873) [online text]
Writings
James B. Everhart, Miscellanies (West Chester [Pennsylvania]: E.F. James, 1862)(1876)(1880)(1882) [online text] (includes some of Everhart's poetry)
Speeches
James B. Everhart, Speeches, etc. (New York: G.P. Putnam's Sons, 1888)
Bibliography
Thos. Louis Ogier, A Memorial of the Life and Character of James Bowen Everhart (New York: G.P. Putnam's Sons, The Knickerbocker Press, 1889) [online text]