Notice in the Daily Times Davenport, Scott, Iowa. Monday, 14 July 1890: "Miss L. Blanche FEARING, born and raised in this city, known as the blind poetess, has graduated with the highest honors of her class from the Union Law School at Chicago, and entered upon the practice of her profession in that city."
One news account of Ms. Fearing's law studies, notes that "During the course of her study, her mother was her constant companion and read books to her. The blind student was among the leaders of her class . . . ." [Wellsboro Agitator (Pennsylvania), Aug. 19, 1890, p.3] Fearing's magazine articles and poems were, according to another news account, "well known" and were so at the time she graduated from law school. [Lowell Sun (Massachusetts), Sept. 4, 1890, p. 7]
Fearing became blind at the age of 6 as a result of an accident while playing with other children. She grew up in Davenport, Iowa. Her first poems were published when she was eight years old. When Fearing was 18 years old she entered the Iowa college for the blind at Vinton, Iowa and she remained there for four years. She then returned to Davenport where she remained for some years. It was during this period that her first book, The Sleeping World was published. Fearing learned to type, and was given a typewriter. After getting the idea that she might study law, books were acquired, and she wrote to Judge Henry Booth, then Dean of the law school at Northwestern about attending law school. Knowing her limitations, he encouraged her to do so. She enrolled as a student in 1889. Fearing graduated in a class with 54 other students. She was then joined in Chicago by her sister, Marion E. Fearing, and they did graduate work together, and then opened an office and worked together for 8 years, at which time her health failed. It was during the first year of her law practice that Fearing published In the City by the Lake. After spending time in Boston and on the Isle of Shoals, she published The Island Lily, an Idyl o the Isles of Shoals in 1897. Mildred was prepared for publication only shortly before her death. Marion, her sister, had taken up court reporting so that she could work with her sister. [The Iowa State Register, Feb. 17, 1905, p. 5] [She is reported to have died in eureka Springs, Arkansas. See, Thomas William Herringshaw, Herringshaw's National Library of American 429 (Chicago: American Publishers' Assoc., 1909)(vol. 2). Herringshaw places Fearing's birth date as 1870, and her death on August 15, 1900.][online text]
L. Blanche Fearing
Women's Legal History Biography Project
Stanford Law School
Poem
"The Bivouac of Sherman's Army"
8 (6) New England Magazine 661-665 (1890)
Poetry
Blanche Fearing, The Sleeping World: And Other Poems (Chicago: A.C. McClurg and Company, 1887)(1886) [online text]
____________, In the City by the Lake; in two books, The Shadow and The Slave Girl (Chicago: Searle & Gorton, 1892) [online text]
____________, The Island Lily, an Idyl of the Isles of Shoals (Chicago: Donohue & Henneberry, 1897)
____________, Mildred (Chicago: M.A. Donohue & Co., 1901)
Writing
Blanche Fearing, Asleep and Awake (Chicago: Kerr, 1893)([pseud.] Raymond Russell) [online text]
____________, Roberta: A Novel (Chicago: C.H. Kerr, 1895)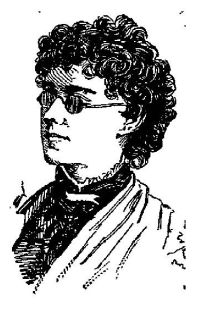 Lillian Blanche Fearing

Newark Daily Advocate, Nov. 27, 1905, p. 7

Lessons From a Beautiful Life
Bessie L. Putnam
Hammonsburg, Pa.
Education, a Monthly Magazine
vol. 21, pp. 565-568, May, 1901
"Men and women Who set us palpitating with the thrill Of something loftier than we yet have dreamed Are God's sublimest poems." WHAT poet has more forcibly, succinctly and clearly summarized the highest ideal of the true teacher than Blanche Fearing in the above lines? By the world she will be remembered as a lawyer, a poet and a woman; yet in whichever phase her character is analyzed, the power as teacher and leader becomes paramount, though ofttimes the extreme earnestness with which she entered into her work rendered her seemingly oblivious of her position. Her eloquence at the bar when the cause of a helpless prisoner was at stake has, on numerous occasions, caused judges as well as jurors to marvel; the vivid descriptions, rich imagery, practical philosophy and tender pathos of her literature have charmed the ablest critics; while the gentle persuasiveness and utter unselfishness of her own personality have endeared her to all whose privilege it was to know Miss Fearing personally. Yet all these levers, diverse though they be in form, material and method of application, converge in a common center—the upraising of humanity.
The noble soul called but a short time ago from our midst well knew the hardships of this world ; and though struggling against circumstances which have baffled strong men, courage never failed her. " Not one woman in ten thousand would accomplish what she has done," said the president of her alma mater, ere her career was scarce begun; and the Chicago Legal News accords to her the rare distinction of being in some respects the most remarkable woman lawyer in America, if not in the world.
When her mates were still engrossed in the domestic duties of the doll nursery, poems from the pen of Blanche Fearing were finding their way into such publications as the Boston Transcript, the extreme youth of the writer being unsuspected. Her first book, The Sleeping World and Other Poems, called forth the highest commendation from Whittier, Stedman, Joaquin Miller, and other masters in the art. The beauty in expression, rich imagery, range of thought, variety in style and lofty purpose are illustrated by the following extracts:
The first selection is from Claude and Eloise, a tender little love story with the Tennysonian cadence.
"Human pride and human anger, ye are bitter foes of ours; Ye can blight our joys seraphic, as the north wind blights the flowers."
Here is the keynote of her own life clearly sounded:
"Each heart has its full-measured woe
No other heart can fully know;

And yet methinks it would be less
If more true hearts would but declare,
' I grieve for you;
oh, let me share

A part of your heart's bitterness!
'Oh, let us have more human faith,

More sympathy of brain and breath!
We talk of faith that's deep and broad
In God the Father; we shall find
A broader faith in human kind
Will give us stronger faith in God."
Experience gained from legal practice is interwoven in the volume which appeared a few years later, In the City by the Lake. This tale, in two books, the second in a certain sense a sequel of the first, is a touching appeal for a revolution in our social system; and the pure motives of the author, as well as the fitting manner in which her appeal is made, elicited some hearty words of approval from prominent persons, including such a champion in reform as Frances Willard. Aside from the interest which centers in her characters as those in the drama of real life, there is scarce a page devoid of passages worthy to be enshrined among our memory gems.
"So easy 'tis to glad the heart of man!
For, like a golden sunbeam through the dark,
One smile can make life sweet and livable."
If this be true in mature life (and who will question it?), how infinitely greater is the power of a smile, a kind word, upon the friendless waif!
Again is the lofty mission of the teacher set forth in
"Oh, then, teach
All capable of bearing the bright arms
Of reason, fearless, independent thought!
If you would lead men surely angelward
Teach them to think—not what to think, but how."
While this volume reflects professional experience, in her first novel, Roberta, appears a direct application of court-room machinery. The heroine is made to suffer the injustice too often meted out, and the pathos attending some of these scenes before the bar which the world calls justice is that of real life rather than fiction. An illustration of Miss Fearing's astute delineation of character is found in her analysis of laughter, practical application of which may not come amiss in schoolroom work.
"There is no truer exponent of the human soul than laughter. If you are a student of human character, and have a practiced ear, you will recognize the cringing laugh, the frank, hearty laugh, the sensual laugh, the sweet, calm laugh, the sorrow-laden laugh, the laughter that spirts from the careless, thoughtless soul, that murmurs from the calm, deep soul, that snaps and crackles from the selfish, unfeeling soul, that gasps" and grunts from the soul that is indifferent, phlegmatic. Weakness or strength, love or hate, cowardice or courage, joy or sorrow, whatever is in the soul, will impregnate its laughter. Let me hear a man laugh, and I will tell you what sort of a man he is, not in detail, but in general plan of construction, and in general quality of fiber. I will give you in round metaphysical numbers, his heighth and depth and breadth. I will carry away a spray of human laughter in my memory, as you might carry a vial of water from some bubbling mineral spring, and analyze it, and tell you from what sort of a soul it flowed."
The Island Lily, An Idyl of the Isles of Shoals, the first of the " Sunset Series,"—alas, how significant now becomes the name !—is her last published volume, though among the MSS. finished shortly before her death is a companion, Mildred, which will soon be given to the world. The touching little tale, the bright pictures of child-life on the sunny beach, the ocean in storm, call forth the varied powers of her facile pen. The closing lines give an insight into the beauty of expression and depth of feeling which are fully sustained throughout the poem :
"Ere the sun went down
Out of the harbor silently
Glided a little boat.
A tender glow
Was on its shining sails, and fell in gleams
Of mystic glory on the snow-white locks
Of the old man and woman that it bore
Out on the shimmering sea.
The wind was hushed,
And white innumerable angels flocked
About them on the waves, attending them
Into the sunset glory, but men saw
Only a trail of mist across the sea."
Genius without amiability was to her a dearly-bought attribute—one dwarfed in the sphere of usefulness. Her whole aim in life was to make the most of herself,—yea, and of her fellowmen. Schoolmates lovingly bear witness to her generosity, recount how she was always ready to give her time, or whatsoe'er she had that would in any way assist them. Gentle in person, loyal to friends, she was firm in her convictions, and ever ready to defend what seemed right. In short, her brief life was an embodiment of her words:
"Let our chief est mission be
To make ourselves the noblest that we may;
And second, to ennoble other men;
Because the great Christ-passion to redeem
Burns in our hearts; and life is but half lived
Unless we feel that men have touched our robes,
And virtue has gone out from us."

Research Note
By some accounts, Ada H. Kepley, who graduated from Union College of Law in 1870, was the first woman to graduate from an American law school. In 1886, still another woman, Catherine Van Valkenburg (married to Judge C.B. Waite) graduated from Union College. [A short biographical sketch of Valkenburg appears in American Women. Fifteen Hundred Biographies, id. at 737]
The Illinois Political Journal (The Institute for Public Affairs, University of Illinois, Springfield) reports that: