Francis Miles Finch



(1827-1907)
New York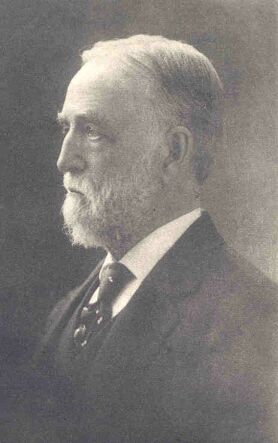 frontis photograph
Francis M. Finch, The Blue and the Gray and Other Verses
(New York: Henry Holt and Co., 1909)
Francis M. Finch was born at Ithaca, New York, on 1827. He was educated at Yale and was the Yale class poet for his graduating class in 1849 and was editor of the Yale Magazine. He received honorary degrees from Hamilton College in 1880 and Yale in 1889. He married Eliza Brooke in 1853; she died in 1892. Finch returned to Ithaca to study law. He was admitted to the bar a year later. Finch was appointed Collector of Internal Revenue for the Twenty-sixth District, New York by President Grant, an office he held for four years. Fitch was a close friend of Ezra Cornell and took an active interest in the establishment of Cornell University in 1868. He served as one of its early trustees and its counsel.
In May, 1880, Finch was appointed Judge of the Court of Appeals of the State of New York, to fill a vacancy, and in 1881 was reappointed. In the fall of 1881, he was elected to a full term of fourteen years which ran until December 31, 1895.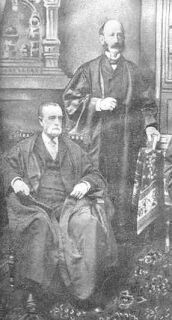 Francis M. Finch (left) with his judicial colleague, John Clinton Gray
(from a larger photograph which includes all the Judges of the
New York Court of Appeals, First Division, 1890)
[Source: Irving Browne, The New York Court of Appeals (pt. II), 2 Green Bag 321 (1890)
From the foundation of Cornell's College of Law, in 1887, he gave lectures at the law school and became dean of the College of Law in 1892.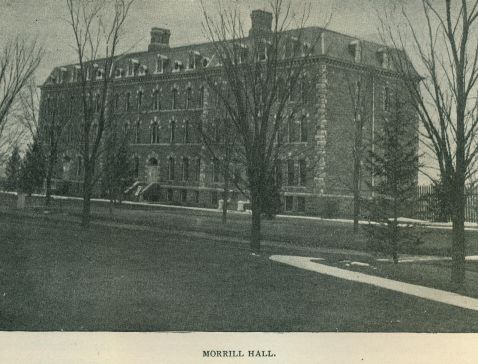 source: Harry B . Hut6chins, The Cornell University School of Law
1 The Green Bag 473 (1889)
Finch was invited to teach rhetoric literature at Cornell but decided against doing so because so much of his time had been devoted to law rather than literature. Indeed, he referred to his poetry as "only incidents along the line of a busy and laborious life." [Kunitz & Haycraft]. His poetry was published only after his death. [Sources: Harry B. Hutchins, The Cornell University School of Law, 1 Green Bag 473-489, at 478 (1889); Stanley J. Kunitz & Howard Haycraft (eds.), American Authors 1600-1900: A Biographical Dictionary of American Literature 272 (New York: H.W. Wilson Company, 1938)]
Poem
Francis Miles Finch, "Nathan Hale," 5 The Green Bag 36 (1893)
Poetry
Francis M. Finch, Poem pronounced before the senior class in Yale College, July 3, 1849 (New Haven: J.H. Benham, 1849)
_____________, Linonia (New Haven: Linonian Society, 1853)
_____________, Psi Upsilon Lyrics (New York: De Vinne Press, 1896)
_____________, The Blue and the Gray, and Other Verses (New York: H. Holt and Company, 1909)
Orations
William Maxwell Evarts & Francis Miles Finch, An Oration, By William Maxwell Evarts, and a Poem By Francis Miles Finch (New Haven: Linonian Society, 1853)("delivered Before the Linonian Society of Yale College")
Writings
Francis M. Finch, The Life and Services of Ezra Cornell (New York: W.G. Smith & Co., 1887)(an address delivered at Cornell University on Founder's Day, January 11th, 1887)
____________, Thirty Notches (Ithaca, New York: Norton & Conklin, 1897)
____________, Address on Legal Education (Ithaca, New York: 1901)(16 pgs.)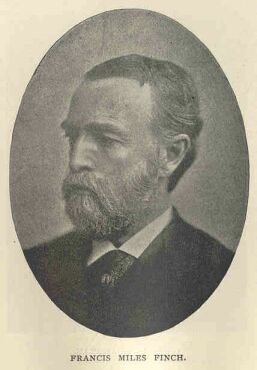 Harry B. Hutchins, The Cornell University School of Law
1 Green Bag 473-489, at 478 (1889)
Research Resources

Ezra Cornell Papers
Collection Description
Cornell University
Ithaca, New York
Autobiography of Andrew Dickson White
history of Cornell University and Finch's associations with the school
Cornell University

James Grant Wilson & John Fiske, Appleton's Cyclopaedia of American
Biography 741 (New York: D. Appleton and Company, 1886)(vol. 1)