Charles Fraser



(1782-1860)
South Carolina
"Charles Fraser was a lawyer, author, poet, and orator in Charleston. He retired from the law in 1818 to devote himself to painting, producing miniatures of Charleston's leading citizens. By 1846, Fraser's account book recorded 633 works. His early portraits follow his friend Malbone's luminous style and delicate cross-hatching. But Fraser eventually developed an energetic technique more in keeping with the boldness of contemporary oil paintings."
[Source: Love and Loss: American Portrait and Mourning Miniatures] [Edward Greene Malbone]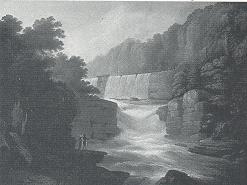 "Trenton Fall, West Canada"
"Known for his miniature portraits and picturesque landscapes, he was born in South Carolina of Scottish descent. He took drawing lessons from Thomas Coram but achieved a much greater reputation for his neat, delicate and lyrically stylized works. His coloring was relatively flat and had much linear detail. From the 1820s to 1840s, he did watercolor sketches and small oil paintings of Northern landscapes including Niagara Falls." [AskArt: Biographies] [Thomas Coram] [Thomas Coram]
Sketches
Charles Fraser, Reminiscences of Charleston (Charleston, South Carolina: J. Russell, 1854)(Rutland, Vermont: Charles E. Tuttle, 1959)
___________, A Charleston Sketchbook, 1796-1806; Forty Watercolor Drawings of the City and the Surrounding Country, including Plantations and Parish Churches (Charleston, South Carolina: Carolina Art Association, 1940)(Alice R. Huger Smith introd.)