Hanford Lennox Gordon



(1836-1920)
New York & Minnesota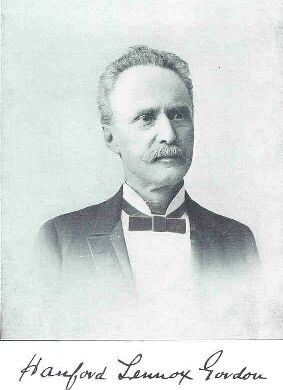 frontispiece

Hanford Lennox Gordon, Indian Legends and Other Poems
(Salem, Massachusetts: The Salem Press Company, 1910)
"Hanford L. Gordon, was born in the town of Andover, Alleghany County, N.Y., of the 30th day of December, 1836. He is of Scotch descent, his people being descendants of the line of Gordons in Scotland. His father, William B. Gordon, removed to Wellsville, Alleghany County, when he was a very young boy, and at that place he received a very good common school education. His father carried on an extensive lumbering business . . . .
Being given to study he picked up some Latin in select school in Wellsville, and afterwards became his own teacher, and studied Latin, German, French and Spanish, Geometry, History and Law. He began courting the muses about the age of fifteen, and perpetrated some very good articles at that time. After the death of his mother, which event occurred when he was eighteen, he went to study law with an uncle, Hon. Samuel Gordon, at Delhi, Delaware County, N.Y., who was for two terms a member of Congress from his district. His uncle's partner, Hon. J.A. Hughston, then M.C., and now Consul to China, procured for him an appointment to the Naval Academy at Annapolis, Md., in 1856. At the time he was to report, however, he was taken very ill, and being unable to attend, sent in his resignation. . . .
He was admitted to the bar at the age of twenty-one, at Ithaca, N.Y., and began the practice of law at Scio, shortly after.
He married in February, 1858, a Miss Sylvia Smith, of Ceres, Pa., and in the autumn of 1859, caught the Western fever, and came 'out west,' travelled sometime through the different States, and finally located at Clearwater, Minnesota.
He cast his first presidential vote for Abraham Lincoln, and when the rebellion broke out he endeavored to induce the 'Clearwater Guards,'—militia—of which he was a member, to enlist in the first Minnesota Regiment. Failing to do so, he with a number of others, enlisted in that regiment about the time it was ordered South, and he served in it at Bull Run and Edward's Ferry. At Bull Run he was taken prisoner and put under guard of two rebels, one of whom he managed to dispose of by means of his musket, which his captors had taken away from him and laid down near a log upon which he was sitting. He then took to flight, ran the gauntlet of bullets and made his escape. He received a shot in his haversack, and the balls whistled all around him, yet he managed to dodge them . . . . He was honorably discharged from service in November, 1861, at Camp Stone, Md., and came home sick with long disease and rheumatism. He engaged in and helped to raise the second Minnesota Battery, and has been untiring in his efforts to promote the cause of the Union.
In 1863 Mr. Gordon was elected County Attorney of Wright County, and removed to the County seat in the spring of 1864, where he is now practicing law."
["H.L. Gordon," in W.J. Arnold (ed.), The Poets and Poetry of Minnesota 113-127, at 113-115 (Chicago: S.P. Rounds, Books and Job Printers, 1864)][online text]
Poetry
Hanford Lennox Gordon, Pauline and Other Poems (New York: G.P. Putnam's Sons, 1878) [online text]
___________________, The Feast of the Virgins and Other Poems (Chicago: Laird & Lee, Publishers, 1891) [online text]
___________________, Indian Legends & Other Poems (Salem, Massachusetts: Salem Press Co., 1910) [online text]
___________________, Laconics (Salem, Massachusetts: Salem Press Co., 1910) [online text] ( New York: Shakespeare Press, rev. ed., 1912)(Los Angeles: Hanford L. Gordon, 1913) [online text] (Los Angeles: H.L. Gordon, rev. 4th ed.,1914)
Writings
Hanford Lennox Gordon, Legends of the Northwest (St Paul: St. Paul Book and Stationery Co., 1881) [online text] [online text]
Research Resources
Hanford Lennox Gordon Papers
Minnesota Historical Society
Division of Library and Archives
St. Paul, Minnesota
Union Regimental Histories: Minnesota

"Edward's Ferry, Md., below Harrison's Island, on the Potomac River, the place
of the passage of General Banks's division, October 22nd, 1861."
[Frank Leslie's Illustrated Famous Leaders and Battle Scenes of the Civil War
(New York: Mrs. Frank Leslie, 1896)]
[Used with permission of the Florida Center for Instructional Technology]