William John Grayson



(1788-1863)
South Carolina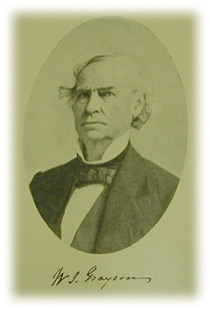 Used with permission of the editors of Palmetto Poets
Department of English, Coastal Carolina University
Evert A. & George L. Duyckinck, 1 The Cyclopaedia of American Literature 800 (Philadelphia: William Rutter & Co., 1880)(2 vols):
[William J. Grayson was] born in November, 1788, in Beaufort, S.C. His father, a descendant of one of the earliest settlers in that portion of the state in which the colonists under Sayle first landed, was an officer in the Continental army to the close of the Revolution. The son was educated at the South Carolina College; in 1813 was elected to the State House of Representatives, and was subsequently admitted to the bar at Charleston. In 1831 he was elected to the Senate of his state . . . . In 1833 he was elected a member of Congress from the districts of Beaufort and Colleton, holding his seat for four years. In 1841 he was appointed collector of the port of Charleston by President Tyler, was re-appointed by President Polk, and removed by President Pierce from party considerations.

In 1850, at the height of the secession agitation, Mr. Grayson published in a pamphlet a Letter to Governor Seabrook deprecating the threatened movement, and pointing out the greater evils of disunion.

Mr. Grayson was a lover and cultivator of literature. He had been for some years an occasional contributor to the Southern Review, and a frequent writer in the daily press.
W.P. Trent, in his biographical sketch of Grayson in Southern Writers: Selections in Prose and Verse (1905) notes that Grayson:
After receiving a classical education he devoted himself to the law. He practised in Beaufort, was a member of the state legislature, and from 1833 to 1837 served in Congress. He was also from 1841 to 1853 collector of the port of Charleston. In politics he was conservative and on the whole opposed to disunion, although he was far from adopting a position antagonistic to slavery. He was a man of culture and of some turn for verse, as is proved by "The Hireling and the Slave" (1854), a poem defending slavery in the style of the school of Pope, and by "Chicora," an Indian legend in the manner of Scott's narrative poetry, but showing a study of later models. He was also the author of another old-fashioned poem, "The Country" (1858), and a contributor to local magazines and newspapers. Although some of his verse has merit, his most significant work is a biographical sketch of James Louis Petigru, published posthumously (1866). Mr. Petigru (1789-1863) was one of the blest members of the Charleston bar, a friend of Hugh S. Legaré, and a leading opponent of Calhoun and Hayne in the Nullification crisis. He was unpopular on account of his devotion to the Union, but was respected both for his ability and for his honesty and courage. In his old age he bitterly opposed the secession of South Carolina. His greatest achievement as a lawyer was his codification of the laws of his state.
[W.P. Trent, Southern Writers: Selections in Prose and Verse 116 (New York: MacMillan Company, 1905)]
Grayson was born at Beaufort, South Carolina on November 10, 1788 and died at Newberry, South Carolina, October 4, 1863. [George Armstrong Wauchope, The Writers of South Carolina: With a Critical Introduction, Biographical Sketches, and Selections in Prose and Verse 175 (Columbia, South Carolina: The State Co., Publishers, 1910)]
Palmetto Poets: William J. Grayson
William John Grayson
Biographical Directory of the United States Congress
Poetry
William J. Grayson, The Hireling and Slave (Charleston: J. Russell, 1854)(2nd ed., 1855)
______________, Hireling and the Slave Chicora, and Other Poems (Charleston, South Carolina: McCarter & Co. 1856)(Miami, Florida: Mnemosyne Pub. Co., 1969)
______________, The Country (Charleston: Russell and Jones, 1858) [online text]
______________, Selected Poems by William J. Grayson (New York: Neale, 1907)(selected and compiled by Mrs. William H. Armstrong, his daughter) [online text]
Autobiography
Richard James Calhoun (ed.), Witness to Sorrow: The Antebellum Autobiography of William J. Grayson (Columbia: University of South Carolina Press, 1990)
Writings
William J. Grayson, Letters of Curtius (Charleston, South Carolina: A. E. Miller, 1851) [online text]
______________, James Louis Petigru: A Biographical Sketch (New York: Harper & Row, 1866) [online text]