Leigh Buchner Hanes



(1894-1967)
Virginia

"Leigh Hanes was born at Montvale, Va., Dec. 24, 1894. He holds a B.A. degree from Hampden-Sydney College, and an LL.B. degree from Washington and Lee University. He has published in various of the leading magazines . . . . His remarkable poem 'Song of the New Hercules' which was originally printed in Harriet Monroe's magazine 'Poetry' where it attracted wide attention . . . . A member of the Poetry Society of America, and secretary of the Poetry Society of Virginia, Mr. Hanes is also editor of the Lyric." [biographical sketch, dustjacket, Song of the New Hercules (Boston: Four Seas Company, 1930)]
Hanes graduated from Hampden-Sydney College in 1916. Hanes obtained his L.L. B. from Washington & Lee in 1920. He was named Poet Laureate of Virginia in 1949; he taught poetry at Hollins College and the University of Virginia Extension, and for twenty years (1929-1949), edited The Lyric, a magazine of poetry.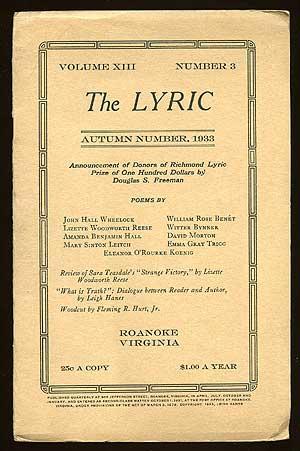 Imaged used with the permission
of
Between the Covers Rare Books,
Merchantville, New Jersey
Hanes practiced law and made his home in Roanoke, Virginia.
[Source: "A Bibliographical Dictionary of Poets," in William Stanley Braithwaite (ed.), Anthology of Magazine Verse for 1926 and Yearbook of American Poetry 19 (Boston: B.J. Brimmer Co., 1926)(Dictionary at pp. 1-43, separate pagination)]
Poems
Poetry
Leigh Hanes, Song of the New Hercules, and Other Poems (Boston: Four Seas Company, 1930)
_________, Green Girdle (Roanoke, Virginia: The Lyric Press, 1939)
_________, The Star That I See (Roanoke, Virgina: Brenburn Press, 1950)
_________, Wide the Gate-Poems, 1925-1957 (Francetown, New Hampshire: Golden Quill Press, 1957)
Research Resources
Leigh Hanes Collection
Alderman Library
Special Collections
University of Virginia
Charlottesville, Virginia