Charles Fenno Hoffman



(1806-1884)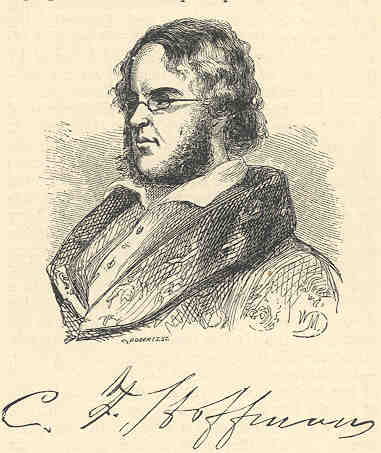 Evert A. & George L. Duyckinck, The Cyclopedia of American Literature 319
(Philadelphia: William Rutter & Co., 1880)(Vol. 2)
"Charles Fenno Hoffman, the son of Judge Hoffman by a second marriage, was born in the city of New York in 1806. At the age of six years he was placed at a Latin Grammar School in the city, and three years after was sent to the Poughkeepsie Academy, a celebrated boarding-school on the Hudson. Owing, it is said, to harsh treatment, he ran away. His father not wishing to coerce him unduly, instead of sending him back, placed him in the charge of a Scottish gentleman in a village of New Jersey. While on a visit home in 1817 an accident occurred [and he lost one of his legs]. At the age of fifteen he entered Columbia College, where he was more distinguished in the debating society than in the class. He left College during his junior year, but afterwards received the honorary degree of Master of Arts from the institution. He next studied law with the law Harmanus Bleecker, at Albany, at the age of twenty-one was admitted to the bar, and practised for three years in New York. He then abandoned a professional life for a literary life, having already tried his pen in anonymous contributions while a clerk to the Albany newspapers, and while an attorney to the New York American . . . .
The Knickerbocker Magazine was commenced in 1833 under the editorship of Mr. Hoffman. It was conducted by him with spirit, but after the issue of a few numbers passed into the hands of Timothy Flint. He was subsequently connected with the American Monthly Magazine, and was for a while engaged in the editorship of the New York Mirror. His continuous novel of Vanderlyn was published in the former in 1837. His poetical writings, which had long before become widely and favorably known, were first collected in a volume entitled The Vigil of Faith and Other Poems, in 1842."
[Evert A. & George L. Duyckinck, The Cyclopedia of American Literature 319-324 (Philadelphia: William Rutter & Co., 1880)(Vol. 2)] [1856 ed.]
Charles Fenno Hoffman
Early American Fiction
University of Virginia Library
Charles Fenno Hoffman
Cambridge History of English and American Literature
Charles Feeno Hoffman
Wikipedia
Charles Feeno Hoffman
Rufus Wilmot Griswold, The Poets and Poetry of America 306-316
(Philadelphia: Carey and Hart, 1848)

1834 Journey Through The Hills Of Southeastern Kentucky
Hoffman's 1834 Travels End at Cumberland Gap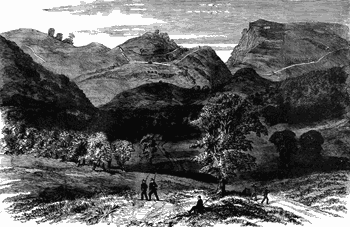 "Cumberland Gap and Heights, Tenn., from the Kentucky side."
[Frank Leslie's Illustrated Famous Leaders and Battle Scenes of the Civil War
(New York: Mrs. Frank Leslie, 1896)]
Cumberland Gap "is a natural gap in a mountain, 80 miles long, or rather the only natural gap, although other points bear that name. Cumberland Gap is 150 miles southeast of Lexington, Ky. The mountain is here 1,200 feet high, but the notch is a cut nearly two-thirds of this, the road through the gap being only 400 feet high. On the southern or Tennessee side this mountain is abrupt, and in some places perpendicular, and the summit almost inaccessible, except through the gap. The northern or Kentucky side is more irregular, breaking off in a sucession of smaller mountains and hills to the Valley of the Cumberland. Our sketch shows the Kentucky side." [Frank Leslie's Illustrated Famous Leaders and Battle Scenes of the Civil War (New York: Mrs. Frank Leslie, 1896)][Cumberland Gap image used with permission of the Florida Center for Instructional Technology]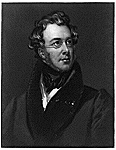 Library of Congress
Poem

[The Mint Julep]
Poetry
Charles Fenno Hoffman, The Vigil of Faith, and Other Poems (Philadelphia: Thomas Cowperthwaite & Co., 1842)(New York: S. Coleman, 1842)(New York: Harper & Brothers, 1845) [online text]
__________________, The Echo, or, Borrowed Notes for Home Circulation (Philadelphia: Lindsay & Blakiston, 1844) [online text]
__________________, Love's Calendar, Lays of the Hudson, and Other Poems (Philadelphia: Geo. S. Appleton, 1847)
Edward Fenno Hoffman (ed.), The Poems of Charles Fenno Hoffman (Philadelphia: Porter & Coates, 1873) [online text] [online text] [online text]
Charles Fenno Hoffman, Select Poems (London: W. Tweedie, [18__])
Writings
Charles Fenno Hoffman, A Winter in the West (New York: Harper, 1835)(2 vols.) [vol. 2: online text] (London: R. Bentley, 1835)(2 vols.) [vol. 2: A Winter in the Far West: online text]
__________________, Wild Scenes in the Forest and Prairie (London: R. Bentley, 1839)(Upper Saddle River, New Jersey: Gregg Press, 1970)(2 vols.) [vol.1 :: online text]
__________________, Greyslayer: A Romance of the Mohawk (New York: Harper & Brothers, 1840)(2 vols.) [vol. 2: online text] (New York: Baker & Scribner, 4th ed., 1849)
__________________, Wild Scenes in the Forest and Prairie: With Sketches of American Life (New York: William H. Colyer, 1843)
Bibliography
Homer Francis Barnes, Charles Fenno Hoffman (New York: Columbia University Press, 1930)(New York: AMS Press, 1966)
Research Resources

Henry William Herbert
business associate