Charles Louis Holstein



(1843-1901)
Indiana
Charles L. Holstein was born at Madison, Indiana. At age fourteen he entered Hanover College but left college at age seventeen to enlist in the Indiana volunteers when Fort Sumter was under siege. He became a sergeant-major, re-enlisted in another Indiana regiment and was promoted to lieutenant and by war's end was an assistant adjutant general by appointment of President Lincoln. He is reported to have "distinguished himself" in the battle of Pea Ridge in Arkansas.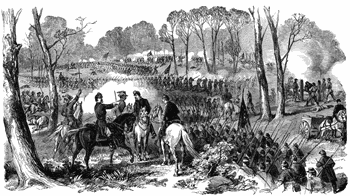 [Pea Ridge-- Frank Leslie's Illustrated Famous Leaders and Battle Scenes
of the Civil War (New York: Mrs. Frank Leslie, 1896)]
He left the army because of bad health and resumed his studies at Hanover College. After graduation, he entered Harvard Law School, obtained his L.L.B. degree, and returned to Indiana to study law. He was admitted to the bar in 1866 and joined a law firm guided by Thomas A. Hendricks. He thereafter joined Byron K. Elliott in the practice of law, who went on to serve on the Indiana Supreme Court. Holstein continued in solo practice until August, 1871, when he was appointed Federal district attorney at Indianapolis. At this time he was junior partner in the law firm of Hanna, Kneffler and Holstein. Holstein was later named Federal district attorney by President Hayes but gave up the position in 1885 when Grover Cleveland became President.
After serving as District Attorney, Holstein established a legal practice in Indianapolis, and in 1887 joined a Chicago firm. He stayed only three years and then returned to Indianapolis to again practice in that city.
In a biographical profile that appeared in the Green Bag in 1898, Holstein is identified as a poet, although there seems to be no published collection of his poetry. [Source: Charles L. Holstein, 10 Green Bag 365 (1898)(a biographical profile)][In Benjamin S. Parker & Enos B. Heiney (eds.), Poets and Poetry of Indiana 9, 10 (New York: Silver, Burdett and Company, 1900), we find more clear evidence that Holstein was a poet.][For a short bio of Holstein see the Biographical Note to the Charles L. Holstein Scrapbooks, Indiana State Library]
Biographical References
Donald E. Thompson, Indiana Authors and Their Books, 1967-1980: Biographical Sketches of Authors Who Published During the First Century of Indiana Statehood with Lists of Their Books (Crawfordsville, Indiana: Wabash College, 1981)
Benjamin S. Parker & Enos B. Heiney (eds.), Poets and Poetry of Indiana 436 (New York: Silver, Burdett and Company, 1900)
Research Resources
Charles L. Holstein Scrapbooks
Manuscript Section, Indiana Division
Indiana State Library

Battle of Pea Ridge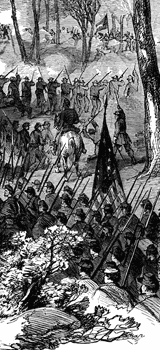 "Battle of Pea Ridge, Ark., fought March 6th, 7th and 8th, 1862, between the Federal forces, 13,000 strong, under Generals Curtis, Sigel, and Asboth, and the combined Confederate army of the Southwest, 25,000 strong, under Generals Van Dorn, Price and McCulloch- total defeat of the Confederates. The official report of this battle by General Curtis is as follows: "On Thursday, March 6th, the enemy commenced an attack on my right wing, assailling and following the rear guard of a detachment under General Sigel to my main lines on Sugar Creek Hollow, but ceased firing when he met my re-enforcements about 4 P.M. Early on the 7th I ordered an immediate advance of the cavalry and light artillery, under Colonel Osterhaus, with orders to attack and break what I supposed would be the re-enforced line of the enemy. This movement was in progress when the enemy commenced an attack on my right. The fight continued mainly at these points during the day, the enemy having gained the point held by the command of Colonel Carr at Cross Timber Hollow, but was entirely repulsed, with the fall of the commander, McCulloch. At sunrise on the 8th my right and centre renewed the firing, which was immediately answered by the enemy with renewed energy. I immediately ordered the centre and right wing forward, the right turning the left of the enemy and cross firing on his centre. This final position of the enemy was in the arc of a circle. A charge of infantry extending throughout the whole line completely routed the entire Confederate force, which retired in great confusion, but rather safely through the deep, impassable defiles of cross timber." [Frank Leslie's Illustrated Famous Leaders and Battle Scenes of the Civil War (New York: Mrs. Frank Leslie, 1896)]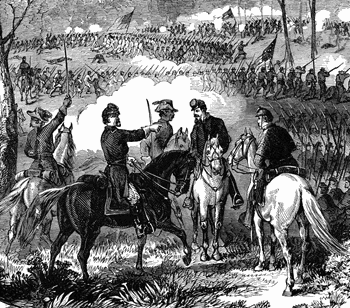 Frank Leslie, Famous Leaders and Battle Scenes of the Civil War
(New York: Mrs. Frank Leslie, 1896)
[Images used with permission of the Florida Center for Instructional Technology]