Alvin Peterson Hovey



(1821-1891)
Indiana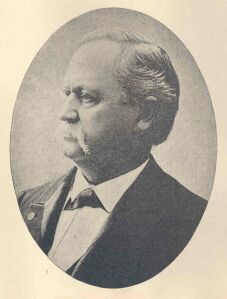 W.W. Thorton, The Supreme Court of Indiana I.
4 The Green Bag 207, 219 (1892)
Alvin P. Hovey was born in Posey County on September 6, 1821. "His father was a native of Vermont, and died before Alvin was three years of age, leaving seven small children in poor circumstances. He received little education in the schools, being almost wholly a self-education man. . . . At twenty-one he was admitted to the bar."
In 1851 Hovey was a member of the constitutional convention and in 1852 was named Circuit Judge. He was appointed to the Supreme Court of Indiana on May 8, 1854 but he served only a year. In 1855 he was appointed by President Pierce to be U.S. District Attorney for Indiana.
During the Civil War, Hovey "was at the battles of Pittsburgh Landing, Vicksburg, and Jackson. For meritorious service he was made a major-general, although he did not receive his commission until two years after it was granted,—being one of the four men of the State who rose to that rank. General Grant found occasion to speak highly of his service and skill in the command of his troops.
By command of Secretary Stanton he prosecuted, under the rules of military law, a number of Indiana's leading Southern sympathizers who were aiding and abetting the cause of the Southern Confederacy, and secured the pronouncement of the death sentence upon them. They probably would have suffered that penalty if President Lincoln had not interfered.
After the war President Johnson, upon the recommendation of General Grant, tendered him the mission to Buenos Ayres; but he declined it. He was then tendered the mission to Peru, and accepted it, and resigned in 1870."
Hovey was elected to Congress in 1886 and then in 1888 elected Governor of Indiana, serving from 1889 to 1891. He died, in office, on November 23, 1891.
"Governor Hovey was a good Latin scholar, and spoke German and Spanish fluently. . . . He was a frequent contributor to general magazine literature, and a poet." [Source: W.W.Thorton, The Supreme Court of Indiana. II. 4 Green Bag 249, 257-58 (1892)]
Alvin Peter Hovey
Biographical Directory of the United States Congress
Alvin P. Hovey
Wikipedia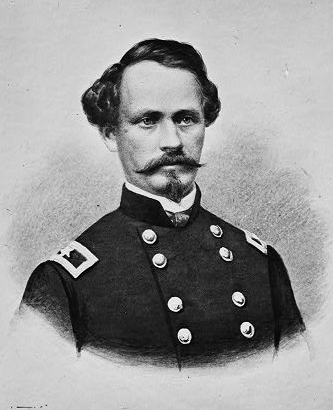 Library of Congress
Wikipedia
Poetry
Alvin P. Hovey, Mary, Queen of Scots and Her Favorite Rizzio (Indianapolis: Bowen-Merrill, 1892)
Writings
Alvin P. Hovey, Centennial Historical Sketch of Posey County, Indiana ([S.l.]: Printed and sold by T. Collins, 1876)