John James Ingalls



(1833-1900)
Kansas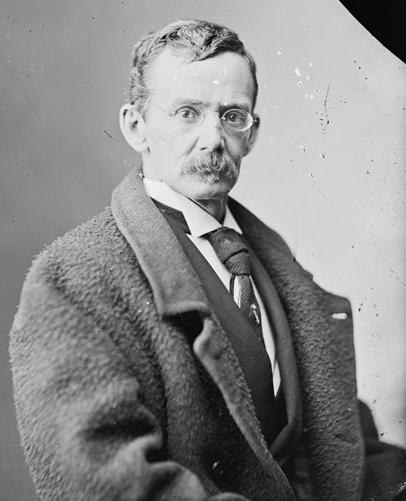 Source: Library of Congress :: Wikipedia

"INGALLS, John James, b. Middleton, Mass., 1833. After admission to the bar, 1857, he removed to Atchison, Kan., [in 1858] where he edited the 'Atchison Champion' from 1862 to 1865. He was elected to the State Senate, 1862, and to the United States Senate, 1873, 1879, 1885." [Edmund Clarence Stedman (ed.), An American Anthology 1787-1899 802 (Boston: Houghton, Mifflin and Company, 1900)]
Ingalls was born at Middleton, Essex County, Massachusetts, December 29, 1833. He graduated at Williams College, studied law, and was admitted to practice in Massachusetts in 1857, and in 1858 moved to Kansas.
He was the author of the famous single-stanza poem "Opportunity." He died at Las Vegas, New Mexico, August 16, 1900.
[See generally, Robert S. La Forte, "John James Ingalls," in American National Biography]
John James Ingalls
Biographical Directory of the United States Congress
John James Ingalls: A Kansas Portrait
Kansas State Historical Society
Topeka, Kansas
John James Ingalls
Wikipedia
Poem
"Opportunity" — "Opportunity"
Writings
John James Ingalls, America's War for Humanity, related in story and picture, embracing a complete history of Cuba's struggle for liberty ... (New York & St. Louis: N.D. Thompson Pub. Co., 1898)
William Elsey Connelley (ed.), A Collection of the Writings of John James Ingalls: Essays, Addresses, and Orations (Kansas City, Missouri: Hudson-Kimberly Pub. Co., 1902)
John James Ingalls, Blue Grass (Atchison, Kansas: M.W. Tennal, 1904)
______________, Selections from the Writings of John J. Ingalls (Kansas City, Missouri: Hudson Press, 1907)
Bibliography
"John James Ingalls," in Henry W. Scott, Distinguished American Lawyers: With Their Struggles and Triumphs in the Forum 457-472 (New York: C.L. Webster, 1891)(introduction by John J. Ingalls)
John James Ingalls, Kansas, 1841-1891, 86 (515) Harper's New Monthly Magazine (April, 1893)
Research Resources
John J. Ingalls Papers
Kansas State Historical Society
Topeka, Kansas