Lawrence Joseph



(1948- )
Michigan & New York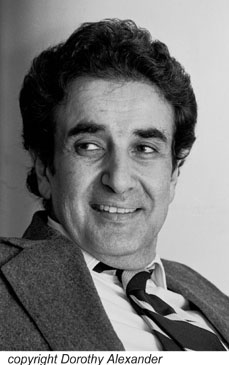 Photograph used with the gracious permission
of Dorothy Alexander
Lawrence Joseph was born in Detroit in 1948. He was educated at the University of Michigan, where he received a B.A. in English Literature (1970), Cambridge University, where he received a B.A. and and M.A. in English Language and Literature, and the University of Michigan Law School. He clerked for Chief Justice G. Mennen William of the Michigan Supreme Court, taught at the University of Detroit School of Law, and practiced law with the firm of Shearman & Sterling in New York City (1981-1984). Since 1987, he has taught at St. John's University School of Law. Joseph has also taught in the Council of the Humanities and Creative Writing Program at Princeton University.
Joseph's poems, essays and critical writings have appeared in various journals and are widely anthologized. In 2009, the University of Cincinnati Law Review published a symposium, "'Some Sort of Chronicler I Am": Narration and the Poetry of Lawrence Joseph" (vol. 77).
Joseph is married to the painter Nancy Van Goethem; he lives in New York City.
Lawrence Joseph
Wikipedia
Point Blank Verse
David Skeel, Legal Affairs
What is American About American Poetry?
Interview: Poetry Society of America
Poems
[Over Darkening Gold] [Stop Me If I've Told You] [Sand Nigger]
Poetry
Lawrence Joseph, Shouting at No One (Pittsburgh: University of Pittsburgh Press, 1983)
_____________, Curriculum Vita (Pittsburgh: University of Pittsburgh Press, 1988)
_____________, Before our Eyes (New York: Farrar, Straus and Giroux, 1993)
_____________, Into It (New York: Farrar, Straus and Giroux, 2005)

_____________, Codes, Precepts, Biases, and Taboos: Poems 1973-1993 (New York: Farrar, Straus and Giroux, 2005)
Writings
Lawrence Joseph, Lawyerland: What Lawyers Talk About When They Talk Law (New York: Farrar, Straus and Giroux, 1997)
Writings: Articles
Lawrence Joseph, Theories of Poetry, Theories of Law, 46 Vand. L. Rev. 1227 (1993)
______________, The Voices Behind the Law, 27 Mich. Q. Rev. 503 (1988)(reviewing Joseph Vining, The Authoritative and the Authoritarian (1986))
_____________, The Morning of the Poem, 32 Poetry East 157 (1992)(an essay on James Schuyler's poetry)
_____________, The Real Thing, 254 The Nation 531 (1992)(reviewing John Ashberry's book of poems, Flow Chart and Adrienne Rich's An Atlas of the Difficult World)
______________, Men of Irony, Village Voice 78 (March 20, 1990)(reviewing Tony Harrison's poems, V. and Other Poems, and Michael Hofmann's Lakeland: New and Selected Poems)
_____________, War of the Worlds, 251 Nation 314 (1990)(reviewing two books of poetry by Frederick Seidel)
______________, Poetry and Audience, Hungry Mind Review 21 (September, 1989)(an essay on modernist poetry)
Bibliography
David A. Skeel, Literature, Music, and the Law: Practicing Poetry, Teaching Law: Before Our Eyes (book review), 92 Mich. L. Rev. 1754 (1994)(review of Before Our Eyes)
Michael Stanford, The Cyclopean Eye, The Courtly Game, Admissions Against Interest: Five Modern American Lawyer Poets, 30 Legal Studies Forum 9 (2006) [online text]
Richard Tillinghast, Five Poets of Our Time, 23 Mich. Q. Rev. 596 (1984)(reviewing several books of poetry including Joseph's Shouting at No One)
Lee Upton, As Memory Serves Them: Joseph and Revell, Northwest Rev. (July 1989)(reviewing Joseph's Curriculum Vitae)