Crammond Kennedy



(1842-1918)
Washington, D.C.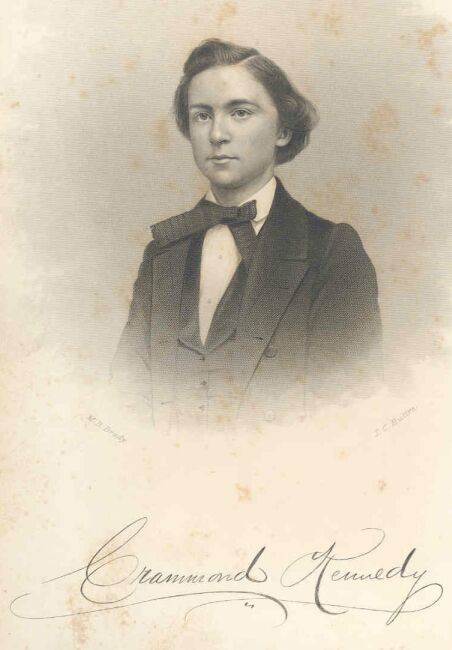 frontispiece

Crammond Kennedy, Corn in the Blade. Poems and Thoughts in Prose
(New York: Derby & Jackson, 1860)
"A lawyer of Washington."

[Oscar Fay Adams, A Dictionary of American Authors 216
(Boston: Houghton, Mifflin and Company, 1899)]
Crammond Kennedy was born in North Berwick, Scotland, on December 29, 1842. He attended school in Scotland, and came to New York in 1856. He became known as the "boy preacher" and from 1857 to 1860 delivered sermons and talks on religious matters to large audiences in New York City and beyond. He took up studies at Madison University from 1861 to 1863, and in 1863 was ordained as a chaplain of the "Highlanders"—the 79th New York Regiment. He was a brevet major in east Tennessee.
In 1864-65, he toured England and Scotland lecturing on the Civil War. And upon returning to the United States, became associated with the Freedmen's Commission from 1865 to 1867. He then became editor and owner of the Church Union in 1869 and became associated that same year with Henry Ward Beecher in establishing the Christian Union, for which he became managing editor in 1870.
He then studied law and graduated from Columbia Law Cchool in 1878, and took up the practice of law in New York and then in Washington, D.C.
[Source: Crammond Kennedy, Appleton's Cyclopedia of American Biography, (New York: D. Appleton and Company, 1887-1889)(James Grant Wilson & John Fiske eds.)(6 vols.)]
Poetry
Crammond Kennedy, Corn in the Blade. Poems and Thoughts in Prose (New York: Derby & Jackson, 1860) [online text]
Writings
Crammond Kennedy, Close Communion, or Open Communion: An Experience and an Argument (New York: American News Co., 1868) [online text]
________________, The Venezuelan Awards: review of the report of the Hon. W.W. Rice, from the Committee on Foreign Affairs and of the debate in the House of Representatives, being also a review of the controversy from the beginning (New York: Russell Brothers, 1883)
________________, Before the Congress of the United States, in the matter of the award of the United States and Mexican claims commission in favor of La Abra Silver Mining Company: facts of "the Gardiner case" showing it is not a precedent for the proposed judicial review of La Abra award (Washington, D.C.: Shellabarger & Wilson, 1886)
________________, The Liberty of the Press: Its Uses and Abuses: An Sssay (Washington, D.C.: [s.n.], 1887)
________________, Before the Department of State. In the matter of the accretions of the Venezuelan Indemnity Fund. Application on behalf of the owners of the awards of the Washington Commission, under the Treaty of Dec. 5, 1885 (Washington, D.C.: McGill & Wallace, Printers 1893)
________________, Some Phases of the Hawaiian Question ([Washington?: s.n.], 1893)
________________, Spanish Treaty Claims Commission: Should its judgments be final or should there be an appeal from them to the Supreme Court of the United States?: memorandum in support of House bill 12,764 now before the United States Senate, Calendar no. 2024 ([New York?: [s.n.], 1902)
________________, Capture of Aguinaldo A review of the facts and the law, with some observations on the question whether Aguinaldo owed allegiance to the United States before he took the oath (Washington, D.C.: McGill & Wallace, 1902)