Richard Krech



(1946- )
California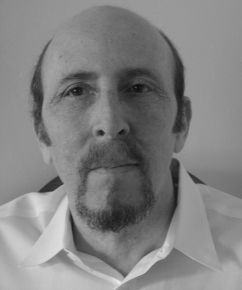 [Photo by Briana Miller, used with the gracious permission of Richard Krech]

Richard Krech was born in 1946 and grew up in Berkeley, California. He started writing poetry in 1965, and in 1966 founded, The Avalanche, a poetry magazine which lasted five issues. Along with the The Avalanche, Krech published several chapbooks under his Undermine Press imprint and sponsored weekly poetry readings at a Telegraph Avenue bookstore in Berkeley from 1966 to 1969. Krech's first poetry chapbook was published in 1967. His poetry appeared in various small magazines around the country including Work (from John Sinclair's Artists Workshop Press in Detroit), Ole, Manhattan Review, City Light's Journal for the Protection of all Beings, and Kauri.

Krech stopped writing poetry in the mid-1970s. In 1976, The Incompleat Works of Richard Krech ( Litmus Press) was published and he started law school. Krech graduated from New College of California School of Law, and in 1980 began criminal defense work in Oakland where he maintains his practice today. He has also done pro bono work for the past twenty-five years for those arrested during the course of protest and anti-war demonstrations. In his criminal practice, Krech's cases involve everything from shoplifting to murder. His practice also includes appellate work.
In 2001, Krech started writing poetry again. His second generation poems have appeared in Exit 13, Ecstatic Peace Poetry Journal, Van Gogh's Ear (Paris), California Defender (publication of the California Public Defender's Association), and the Legal Studies Forum, among other magazines and journals.
Krech's travels took to Europe, Africa, Asia & Latin America, to Laos, Burma, Nepal, Algeria, Iran, Libya and more prosaic destinations like Jamaica, Mexico, Great Britain, and France. Somewhere along the way he took up Buddhist teachings, which he at one time told us, he finds relevant and helpful in his life. [Source: Personal communication with Richard Krech, 2005-2010]
Poems
[Two Poems] [Four Poems]
Poetry
Bibliography of Richard Krech's Published Poetry
Richard Krech, We Are On the Verge of Ecstacy (Cleveland, Ohio: 7 flowers press, 1967)
___________, How Easily Your Mind Can Slip Off (Sacramento, California: Runcible Spoon, 1967)(cover illustration of the author by Martha Krech).
___________, The Hashish Scarab (Sacramento, California: Runcible Spoon, 1968)

___________, Poems From the Interrputed Journal (Milwaukee, Wisconsin: Gunrunner Press, 1968)

___________, Mythology for the People's Liberation (Berkeley: Undermine Press, 1968)
___________, Poems from the Free World (Berkeley: np [privately printed], 1972)
___________, The Incompleat Works of Richard Krech: Poems 1966-1974 (Walla Walla, Washington: Litmus, 1976)
___________, The 1932 3AF Claret (Sebastopol, California: Dpress, 2002)
___________, The Location of the Triple Jewel (Sebastopol, California: Dpress, 2003)
___________, Poems for Mary's Garden (Sebastopol, California: Dpress, 2005)
___________, The Devout Man's Late Night Prayer (Berkeley, California: Low & Outside, 2005)
___________, Second Opinion (Dover, Delaware: Bottle of Smoke Press, 2006)

___________, Rumors of Electricity (Somerville, Massachusetts: sunnyoutside, 2006)
___________, Some Global Positioning Dharma (Santa Rosa, California: Round Barn Press, 2007)
___________, We Are On the Verge of Ecstacy: Selected Early Poems, 1965-1970 (Cleveland Heights, Ohio: Green Panda Press, 2007)
___________, From Both Sides of the Line Break (Forence, Massachusetts: glass eye books, 2007)
___________, In Chambers: the Bodhisattva of the Public Defender's Office (Somerville, Massachusetts: sunnyoutside, 2008)
___________, Within The Curtilage (Dover, Delaware: Bottle of Smoke Press, 2008)
___________, At the End of Time: The Incomplete Works of Richard Krech, Volume II: Poems 2001-2009 (Buffalo, New York: Sunnyoutside Press, 2010)

Misc. Publications
Community Libertarian # 1, 1965, Berkeley [Mimeographed magazine]
Printed Educational Material, circa 1965-66, NYC, # 1-3 [four page mimeographed poetry freesheets]

Unpaid Bills, Monson broadside, 1966, Berkeley [1 page folded photo-offset broadside by poet Monson, drawing of author by Martha Krech]
Avalanche, #1, 1966, Berkeley [Richard Krech, editor] [photo-offset, cover art by Martha Krech]
Avalanche, #2, 1967, Berkeley [Richard Krech, editor] [photo-offset, cover art by Patricia Oberhaus]
Avalanche, #3, 1967, Berkeley [Richard Krech, editor] [photo-offset, cover art by Patricia Oberhaus]
Avalanche, #4, 1968, Berkeley [Richard Krech, editor] [photo-offset, cover art by Martha Krech]
Avalanche, #5, 1969, Berkeley [Richard Krech, editor] [large sheet, four folds]
7 Songs of Morning, Michael Upton, 1966, Berkeley [Cover drawing of author by author]
Footprints, Martin P. Abramson, 1967, Berkeley [Internal photo of author]
Book for Barb, D.r. Wagner, 1967, Berkeley [Cover by Barb]

Mythology for the People's Liberation, Richard Krech, 1968, Berkeley [Collage cover by author]
Deadflowers, John Thompson & John Thomson, 1968, Berkeley [Graphic poems collaboration]

The Anthology; of Poems read at COSMEP, Berkeley, 1968, edited by John Oliver Simon & Richard Krech, Berkeley, 1968. [Photographs, reproductions of leaflets announcing readings in connection with the Conference of Small Magazine Editors and Presses, held in Berkeley in May, 1968]

The Anarchist Papers, Paul Xavier, 1969, Berkeley [Pick-Pocket Poet Series 25]
Dancing Bear, John Oliver Simon, 1969 [a.k.a. Avalanche #6, + 2nd 1970 printing], Berkeley [Cover photo of Berkeley Street Fighting, photo of author]

Poems from the Free World, Richard Krech, 1972, Berkeley [Cover collage by author, internal drawings and maps by author]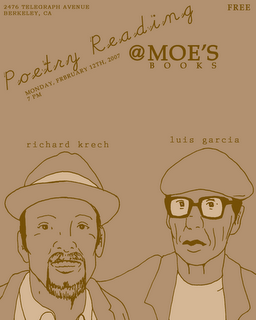 Richard Krech Reading at Moe's Books
Berkeley, California
February 12, 2007

Published Opinions in Appellate Cases
People v. Aho, 166 Cal.App.3d 984, 212 Cal.Rptr. 686 (1985)

People v. Diggs, 177 Cal.App.3d 958, 223 Cal.Rptr. 361 (1986)

People v. Cooper, 7 Cal.App.4th 593, 8 Cal.Rptr.2d 912 (1992)

People v. Gbadebo-Soda, 38 Cal.App.4th 160, 45 Cal.Rptr.2d 40 (1995)

People v. Mowatt, 56 Cal.App.4th 713, 65 Cal.Rptr.2d 733] (1997)

People v. Price, 120 Cal.App.4th 224, 15 Cal.Rptr.3d 904 (2004)

People v Lazalde, 120 Cal.App.4th 858, 15 Cal.Rptr.3d 904 (2004)