Sidney Lanier



(1842-1881)
Georgia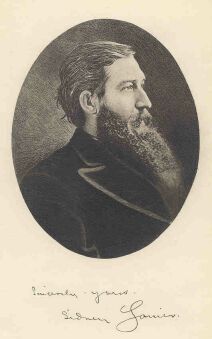 frontispiece

Poems of Sidney Lanier
(New York: Charles Scribner's Sons, New ed., 1913)(Mary D. Lanier ed.)
Sidney Lanier was born in Macon, Georgia on February 3, 1842. He attended a Macon academy in 1857 took up studies at Oglethorpe University in Milledgeville, Georgia. He graduated from Oglethorp in 1860 and
after a brief period as a tutor there (1860-61) joined the Macon Volunteers to fight for the Confederacy.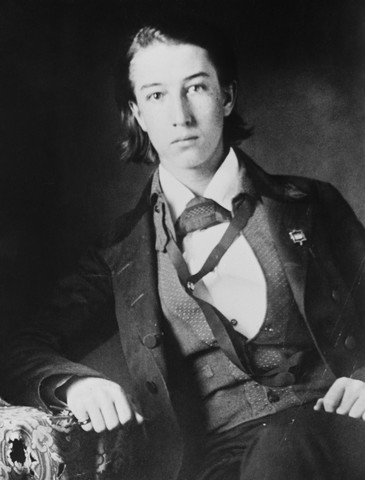 | Sidney Lanier as a young man |

During the war he began writing his first novel Tiger-Lilies (which was published in 1867). In 1864 he was captured and imprisoned at Point Lookout, Maryland where he contracted tuberculosis. He was released in February 1865 and returned to Macon where he worked as a tutor, hotel clerk, and principal of an academy in Prattville, Alabama and studied law with his father. In bad health he attempted to practice law from 1869 until 1873 but finally decided to devote himself to literary efforts.
In 1873 Lanier moved to Baltimore and played first flute in the Peabody Orchestra. It was during this period that he devoted much of his writing to poetry and the study of poetry. While he lived during the orchestra season in Baltimore he returned to Georgia each way to spend time with his family.
Lanier did not finally move his family to Baltimore until 1877. He began to teach at private schools and in 1878 Lanier presented a course on Shakespeare at the Peabody Institute. His studies and writings of the period resulted in lectures at Johns Hopkins University on English poetry, Chaucer and Shakespeare, and the English novel.
Lanier's health began to decline in 1881 and he took up residence in North Carolina where died that same year. Lanier had four sons, all whom survived him.
[Sources: Webster's American Biographies 607 (Springfield, Massachusetts: Merriam-Western Inc., 1974)(Charles Van Doren, gen. ed.); Archivist Biographical Sketch, Sidney Lanier Papers, Johns Hopkins University, Baltimore, Maryland]
Sidney Lanier
Perspectives in American Literature
Sidney Lanier
The National Cyclopaedia of American Biography
Sidney Lanier
Wikipedia
Wilson | Youth & Education | The Confederate Army | Tiger Lilies | Law
Music | Peabody Orchestra | Poems | Johns Hopkins & His Death
Hackwork | Critical Writings | The English Novel | Science of English Verse
Letters | Commentary on His Poetry | More Commentary | Music & Metrics
| Idealism | Love & Nature | The South | Voice of the New South
Cambridge History of English and American Literature

The New South: Lanier
A Brief Sketch of Lanier's Life
Homeplace
postcard
Bibliography
[scroll to the Lanier bibliography]
Poems
["Evening Song"; "The Waving of the Corn"; "The Mocking Bird"; "Hymns of the Marshes"; "Song of the Chattahoochee"; "From the Flats"; "The Dying Words of Stonewall Jackson"; "Life and Song"; "Owl and Robin" — online text] [The Marshes of Glynn] [The Marshes of Glynn] [A Ballad of Trees and the Master] [The Mocking Bird] [Song of the Chattahoochee] [Song of the Chattahoochee] [The Revenge of Hamish] [How Love Looked for Hell] [Song for "The Jaquerie"] [Night and Day] [The Stirrup-Cup] [The Harlequin of Dreams] [Sunrise]
[Sidney Lanier Poems] [Select Poems of Sidney Lanier] [Selected Poems of Sidney Lanier] [Selected Sonnets]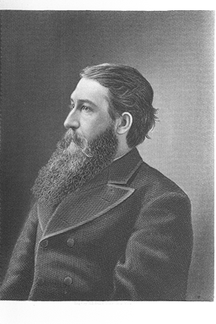 Poetry
Sidney Lanier, Poems (Philadelphia: J. B. Lippincott & Co., 1877)
__________, Poems of Sidney Lanier (New York: Charles Scribner's Sons, 1884)(Charles Scribner's Sons, New ed., 1913)(edited by his wife, Mary D. Lanier, with a memorial by William Hayes Ward)(New York: Charles Scribner's Sons, 1928)[online text]
___________, Select Poems of Sidney Lanier (New York: Scribner, 1895)(Morgan Callaway ed.) [online text] [online text]
___________, Hymns of the Marshes (New York: Charles Scribner's Sons, 1907) [online text]
___________, Poem Outlines (New York: Charles Scribner's Sons, 1908) [online text]
___________, The Centennial Edition of the Works of Sidney Lanier (Baltimore: Johns Hopkins Press, 1945)
Correspondence
Charles R. Anderson (ed.), Sidney Lanier: Poems and Letters (Baltimore: Johns Hopkins Press, 1969)
Margaret Lee Wiley (ed.), Letters of Sidney Lanier to Col. John G. James (Austin: University of Texas Press, 1942)
George Herbert (ed.), Some Reminiscences and Early Letters of Sidney Lanier (Macon, Georgia.: Burke, 1907)
Henry W. Lanier (ed.), Letters of Sidney Lanier: Selections from His Correspondence 1866-1881 (New York: Charles Scribner's Sons, 1899)
Collected Works
Charles R. Anderson (ed.), Centennial Edition of the Works of Sidney Lanier (Baltimore: Johns Hopkins Press, 1945)(10 vols.)
Writings
Sidney Lanier, Tiger-Lilies: A Novel (New York: Hurd & Houghton, 1867)
__________, Florida: Its Scenery, Climate, and History (Philadelphia: J. B. Lippincott & Co., 1876) [online text] [online text]
__________, The Boy's Froissart. Being Sir John Froissart's Chronicles of Adventure, Battle, and Custom in England, France, Spain, etc (New York: Charles Scribner's Sons, 1878)
__________, The Science of English Verse (New York: Charles Scribner's Sons, 1880) [online text]
__________, The Boy's King Arthur. Being Sir Thomas Malory's History of King Arthur and his Knights of the Round Table (New York: Charles Scribner's Sons, 1880)
__________, The Boy's Mabinogion. Being the Earliest Welsh Tales of King Arthur in the Famous Red Book of Hergest (New York: Charles Scribner's Sons, 1881)
__________, The Boy's Percy. Being Old Ballads of War, Adventure, and Love, from Bishop Thomas Percy's Reliques of Ancient English Poetry (New York: Charles Scribner's Sons, 1882)
__________, The English Novel and the Principles of its Development (New York: Charles Scribner's Sons, 1883)
__________, Shakspere and His Forerunners: Studies in Elizabethan poetry and its development from early English (New York: Doubleday, Page & Co., 1902) [vol. 2: online text]
Bibliography: Law
Steven M. Richman, Sidney Lanier and the Poetry of Legal Morality, 25 Cumb. L. Rev. 309 (1995)
Bibliography
J.W. Abernethy, The Southern Poets: Selected Poems of Sidney Lanier, Henry Timrod, Paul Hamilton Hayne with Biographical and Critical Introductions and Explanatory Notes (New York: Maynard, Merrill, & Co. 1904)
Jack De Bellis, Sidney Lanier: Poet of the Marshes (Atlanta: Georgia Humanities Council, 1988)
___________, Sidney Lanier, Henry Timrod, and Paul Hamilton Hayne: A Reference Guide (Boston: G.K. Hall, 1978)
___________, Sidney Lanier (New York: Twayne, 1972)
___________, "Sidney Lanier and the Morality of Feeling," dissertation, 1964
Jeanetta Boswell, Spokesmen for the Minority: A Bibliography of Sidney Lanier, William Vaughn Moody, Frederick Goddard Tuckerman, and Jones Very (Metuchen, New Jersey: Scarecrow Press, 1987)
George Herbert Clarke (ed.), Letters of Sidney Lanier (New York: Charles Scribner's Sons, 1899)
Jane S. Gabin, A Living Minstrelsy: The Poetry and Music of Sidney Lanier (Macon, Georgia.: Mercer University Press, 1985)
Philip Graham & James Jones, A Concordance to the Poems of Sidney Lanier (Austin: University of Texas Press, 1939)
Lincoln Lorenz, The Life of Sidney Lanier (New York: Coward-McCann, 1935)
Edwin Mims, Sidney Lanier (Boston: Houghton Mifflin, 1905) [online text]
Edd Winfield Parks, Sidney Lanier: The Man, the Poet, the Critic (Athens: University of Georgia Press, 1968)
Aubrey H. Starke, Sidney Lanier: A Biographical and Critical Study (Chapel Hill: University of North Carolina Press, 1933)
Richard Webb & Edwin R. Coulson, Sidney Lanier: Poet and Prosodist (Athens: University of Georgia Press, 1941)
John Walter Wayland, Sidney Lanier at Rockingham Springs: Where and How the "Science of English Verse" Was Written—a New Chapter in American Letters (Dayton, Virginia: Ruebush-Elkins, 1912)
Essays & Biographical Sketches
Joseph Beaver, Lanier's Use of Science for Poetic Imagery, 24 American Literature 520-533 (January 1953)
Kenneth England, "Sidney Lanier in C. Major," in William W. Walker & Robert L. Welker (eds.), Reality and Myth: Essays in Memory of Richard Croom Beatty (Nashville: Vanderbilt University Press, 1964)
Jane S. Gabin, "Sidney Lanier," in Eric L. Haralson (ed.), Encyclopedia of American Poetry: The Nineteenth Century (Chicago: Fitzroy Dearborn, 1998)
Elizabeth Haley Moore, Sidney Lanier, 5 (1) Alabama Historical Quarterly 35 (1943)
"Sidney Lanier," in F.V. N. Painter, Poets of the South 81-101 (New York: American Book Co., 1903)(Freeport, New York: Books for Libraries Press, 1968)
Edd Winfield Parks, "Lanier as Poet," in Clarence Gohdes (ed.), Essays on American Literature in Honor of Jay B. Hubbell (Durham: Duke University Press, 1967)
"The Passion of Sidney Lanier," in Louis D. Rubin, Jr., William Elliott Shoots a Bear: Essays on the Southern Literary Imagination (Baton Rogue: Louisiana State University Press, 1975)
Robert Penn Warren, "The Blind Poet: Sidney Lanier," in Harold Bloom (ed.), American Poetry to 1914 (New York: Chelsea House, 1987)
Bruce Weirick, "Sidney Lanier and the South," in Bruce Weirick, From Whitman to Sandburg in American Poetry: A Critical Survey (New York: Biblo & Tannen, reprint, 1967)(1924)
Stanley T. Williams," Experiments in Poetry: Sidney Lanier and Emily Dickinson," in Robert E. Spiller et. al. (eds.), Literary History of the United States (New York: Macmillan, 3rd ed., 1963)
Thomas Daniel Young, "Lanier and Shakespeare," in Philip C. Kolin (ed.), Shakespeare and Southern Writers (Jackson: University Pres of Mississippi, 1985)
Research Resources
Sidney Lanier Papers
Johns Hopkins University
Baltimore, Maryland
Middle Georgia Archives
Washington Memorial Library
Macon, Georgia