Edwin Gray Lee



(1836-1870)
Virginia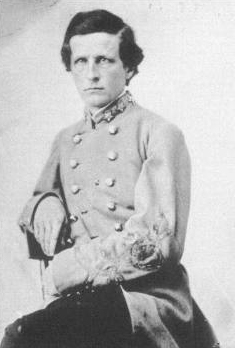 Source: Wikipedia
Edwin Gray Lee was born in Jefferson County, Virginia on May 27, 1836. He attended school in Alexandria and graduated from William and Mary College in 1852, and his law degree in 1859 from Washington College. [Washington College would become Washington and Lee, and its first law school came as a result of the affiliation of Judge John White Brockenbrough's Lexington Law School, which he had founded in 1849, with Washington College in 1866.]

Lee is reported to have practiced law in Shepherdstown (in what is now West Virginia). He entered the Confederate Army with the a Virginia Infantry, and following the Battle of Bull Run, was promoted to major and then lieutenant colonel. Gray was involved in the Seven Days battles, Second Manassas and Cedar Mountain. He was captured at Sharpsburg. Paroled on September 26, 1862, he rejoined his unit and led the Virginia Infantry at the Battle of Fredericksburg on Dec. 13, 1862. He resigned soon thereafter due his bad health.
When his health recovered he rejoined the Confederate cause as a colonel where he served on the staff of Gen. Robert Ransom Jr., who was in charge of the defense of Richmond. In late spring, 1864, he took up command at Staunton and with troops he recruited for the defense of the Shenandoah Valley, he fought at the Battle of Piedmont, June 5, 1864. For his efforts at Staunton, Lee was promoted to brigadier general on Sept. 23, 1864. He then served with Gen. Rosser, but his health again failing, Lee and his wife made their way to Canada where he lived in Montreal until the spring of 1866.
Lee found no cure for his persistent lung disease and he died at Yellow Sulphur Springs on Aug. 24, 1870. He was 34 years old. He is buried at Stonewall Jackson Cemetery.
[This biographical sketch was drawn from Bob Driver, "Brigider General Edwin Gray Lee," The News-Gazette, Dec. 13, 2002 and is used here with the gracious permission of The News-Gazette] [online text]
Edwin Gray Lee
Wikipedia
Bibliography
Alexandra Lee Levin, "This Awful Drama": General Edwin Gray Lee, C.S.A., and His Family (New York: Vantage Press, 1987)
________________, The Canada Contact: Edwin Gray Lee, 18 (3) Civil War Times Illustrated, 1979)
"Edwin Gray Lee," in Ella May Turner, Stories and Verse of West Virginia (1923), republished as 19 West Virginia Heritage Encyclopedia 132-136 (Richwood, West Virginia: Jim Comstock, 1974)(Supplemental Series)