Solomon Levy Long



(1864- )
Kansas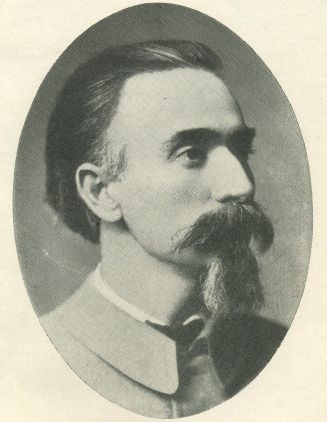 Sol. L. Long, Child Slaves & Other Poems
(Winfield, Kansas: The Courier Press. 1909)
We learned about Solomon L. Long's association with poetry by way of J. Wesley Miller's introductory essay on "Legal Poetry" in Ina Russelle Warren (ed.), The Lawyer's Alcove: Poems by the Lawyer, for the Lawyer and about the Lawyer i-xii, ix (Buffalo, New York: William S. Hein & Co., reprint ed., 1990)(New York: Doubleday, Page & Company, 1900).
Our first efforts to learn more about Long came by way of an acquisition of a collection of letters compiled by David G. MacLean (ed.), The Long Family Letters: 1910-1937—Correspondence File of Solomon L. Long Relating to Famiy History (Decatur, Indiana: Americana Books, 1991) wherein we learned that as of 1910: "Solomon L. Long was, variously, a contributor to a metaphysical journal, "New Thoughts," a lawyer representing the National Association of Suggestive Therapeutics, the editor of the Association's journal, 'Popular Therapeutics' which was published by Long Bros. & Co. of which he was also manager, and General Counsel for The Weltmer Institute of Suggestive Therapeutics of Nevada, Missouri, which offered every known disease cured without drugs or surgery,' through the suggestive powers of the mind." [Introduction, at v.]

Several years after recording the above entry on Solomon L. Long, we located Thomas W. Herringshaw (ed.), Poets and Poetry of Kansas 197 (Chicago: American Publishers' Association, 1894), and found the following:
After receiving a common school education, Sol L. Long attended the Academy at Bellville, Ohio; and the High School of Lewis, Iowa. He then learned telegraphy, which profession he followed for some time. He then became a country editor, but finally began the study of law, and was admitted to the bar in 1893. Sol L. Long is the author of about two hundred poems, which occasionally appear in the periodical press. In 1884 he was married to Miss Maggie Lilly Hall, and has four children: Earl Leslie, born in 1885; Harry Lee, 1887; Sarah Lillian, 1889; and Abraham Loel, born in 1891. He resides in Grenola, Kansas, engaged in the active practice of his profession.
Poetry
Sol. L. Long, Child Slaves & Other Poems (Winfield, Kansas: The Courier Press. 1909) [online text]
__________, The Bulwark of the Law (Sol. L. Long, 1915)
__________, The Hanging of the Parson's Son, and Other Crimes (Kansas City, Missouri: S.W. Anderson Printing, 1916)
Writings
Sol. L. Long, Recollections of a Country Lawyer (Winfield, Kansas: Courier Print. Co., 1906)
_________, Rights, Legal and Ethical of Practitioners of Drugless Systems of Healing (Oklahoma City, 1912)
_________, Self Cure by Mind, Manipulation, Medicine (Chicago: S.L. Long, 1928)
_________, People's Campaign Songster: A Collection of Comic, Sentimental and Patriotic Songs, adapted to suit the times (Winfield, Kansas: P.W. Craig, 1890)
Bibliography
Brian Moline & M.H. Hoeflich, Some Kansas Lawyer-Poets, 55 U. Kan. L. Rev. 971, 978-980 (2007)