Alexander Martin



(1740-1807)
North Carolina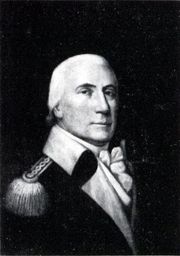 [Source: Independence National Historical Park]
Governor of North Carolina
1782-1785, 1789-1792

Alexander Martin succeeded Thomas Burke, North Carolina's 3rd governor, who was not only a lawyer and a poet, but a physican as well.
Martin was a North Carolina delegate to the Constitutional Convention in 1787 which adopted the U.S. Constitution. He participated in the Constitutional Convention but was not a signer of the U.S. Constitution.
Martin was born in New Jersey in 1740. He graduated from Princeton in 1756, studied law, was admitted to the bar, and, after a brief stay in Virginia, settled in Guilford County, North Carolina, in 1772. He serveed in the colonial assembly, participated in the conventions of 1774-1775 and in 1776 was appointed a colonel in the 2nd North Carolina Regiment engaged at Germantown and the Brandywine. He was elected to the state senate in 1779, served until 1782, and was reelected in 1785, serving until 1787, and elected again in 1788. He was acting governor of the state in 1781, and the following year was chosen governor, and re-elected in 1789. After his 2nd term as governor he was elected to the United States Senate, where he served from December, 1793, until March, 1799.
Martin received the degree of LL.D. from Princeton in 1793, and in 1790 became a trustee of the University of North Carolina, a position he held until the time of his death.
Martin published poetical tributes to General Francis Nash and Governor Richard Caswell in the North Carolina University Magazine. [Source: Appleton's Encyclopedia]
Alexander Martin
Biographical Directory of the United States Congress

Alexander Martin
Wikipedia
Alexander Martin | Alexander Martin
The Founding Fathers: North Carolina
Alexander Martin, A New Scene Interesting to the Citizens of the United States of America, Additonal to the Historical Play of Columbus (Philadelphia, 1798)

Bibliography
Richard Walser, Alexander Martin, Poet, 6 (1) Early American Literature 55 (Spring, 1971)
J.A. Leo Lemay, A Note on the Canon of Alexander Martin, 7 (1) Early American Literature 92 (1972)
Lindley S. Butler, Governor Alexander Martin: Biography of a North Carolina Revolutionary War Statesman (McFarland & Company, 2004)