William Gibbs McAdoo



(1820-1894)
Tennessee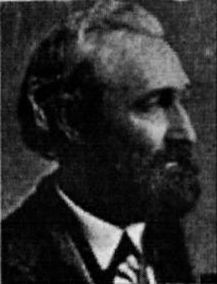 Thomas William Herringshaw, Herringshaw's National Library
of American Biography 80 (Chicago: American Publishers' Association, 1914)(vol. 4)

"A jurist of Tennessee."
[Oscar Fay Adams, A Dictionary of American Authors 13 (Boston: Houghton, Mifflin and Company, 1899)] [Adams indicates a work of poetry entitled, Poems, but provides no other information on McAdoo, his poetry, or his work as a lawyer.]

"McAdoo, William Gibbs, soldier, lawyer, jurist, legislator, author, poet, was born April 4, 1820, near Knoxville, Tenn. He was elected to the legislature of Tennessee; and the following year led a compaany from Tennessee in the Mexican war. In 1851 he was elected attorney general of the Knowville judicial district of Tennessee. After the civil war he became county judge of Baldwin county, Ga.; and for nine yers filled the chair of history and English literature. He is the author of Elementary Geology of Tennessee; and a volume of poems. He died in Knoxville, Tenn."
[Thomas William Herringshaw, Herringshaw's National Library of American Biography 80 (Chicago: American Publishers' Association, 1914)(vol. 4)]
Writings
W.G. McAdoo, American Geographical Nomenclature (Milledgeville, Georgia: Federal Union Book and Job Office, 1871)
____________, Elementary Geology of Tennessee. For the use of the public schools and other institutions of learning (Nashville: Tavel, Eastman & Howell, 1875)(New York: D. Appleton, 1881)(New York: American Book Company, 1881) [online text]
Orations
W.G. McAdoo, Address Delivered Before the Apollonian and Euphronian Societies of Franklin College, Davidson County, Tennessee, October 18th, 1848 (Nashville: John T.S. Fall, 1848)
Biographical Profile
"Hon. William Gibbs McAdoo" in William S. Speer (ed.), Sketches of Prominent Tennesseans 202-208 (Baltimore: Genealogical Publishing Co., 2003)