William Munford



(1775-1825)
Virginia
William Munford was born in Mecklenburg County, Virginia, on August 15, 1775. His father, Robert Munford, was also a literary man. The young Munford attended William and Mary at twelve years of age and was befriended by George Wythe, a professor law, and John Randolph. Wythe was Munford's tutor in law.
"A lawyer of Richmond, Virginia, who beside several volumes of Law Reports, published a volume of Poems (1798) and a scholarly blank-verse translation of the Iliad." [Oscar Fay Adams, A Dictionary of American Authors 265 (Boston: Houghton, Mifflin and Company, 1899)]
Munford died June 21, 1825 in Richmond, Virginia. [Thomas William Herringshaw, Herringshaw's National Library of American Biography 260 (Chicago: American Publishers' Association, 1914)(vol. 4)]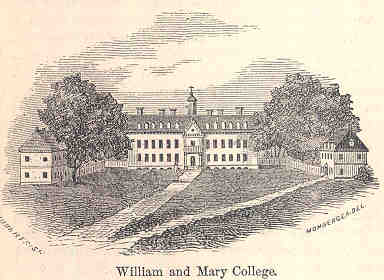 Evert A. & George L. Duyckinck, The Cyclopedia of American Literature 87
(Philadelphia: William Rutter & Co., 1880)(Vol. 1)
Munford lived with the Wythe family and was exposed to Wythe's sophisticated literary taste and devotion to classical Greek writings. Munford accompanied Wythe to Richmond upon his appointment as chancellor of the University but returned to William and Mary to finish his studies. At William and Mary he attended the lectures of St. George Tucker and at the age of twenty was admitted to the bar. He took up the practice of law in Mecklenburg County and was elected to the House of Delegates in 1797 at the age of twenty-one and was then elected to the senate where he served for four years. He went on to become the Clerk of the House of Delegates, a position he held until his death. Munford was also a law reporter for the decisions of the Virginia Supreme Court of Appeals, for which he prepared six annual issues per year. Munford worked for most of his adult life on a translation of the Iliad which was ublished posthumously in 1848.
Munford died at Richmond, Virginia on June 21, 1825.
[Source: Rufus Wilmot Griswold, The Poets and Poetry of America 75 (New York: James Miller, 1872)]
William Munford
Appleton's Cyclopedia of American Biography
(New York: D. Appleton and Company, 1887-1889)(James Grant Wilson & John Fiske eds.)(6 vols.)
Poetry
William Munford, Poems and Compositions in Prose on Several Occasions (Richmond: Pleasants, 1798)
Research Resources: George Wythe (1726-1806)

[George Wythe] [George Wythe: Signer of the Declaration of Independence]
[Short Biographical Sketch] [George Wythe] [George Wythe] [Portrait Sculpture Bust]