Theodore O'Hara



(1820-1867)
Kentucky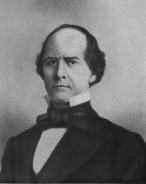 frontispiece
George W. Ranck, The Bivouac of the Dead and Its Author
(Cincinnati: The Robert Clarke Company, 1898)
Theodore O'Hara is generally reputed to have been born in Danville, Kentucky, February 11, 1820, the son of Kane O'Hara, an Irish political exile, and a teacher and proprietor of a local academy. (It is possible, according to one biographer, that he was actually born in Frankfort, Kentucky.) Wherever he may have been born, O'Hara spent his early years in Frankfort. O'Hara "was fitted for college by his father, and his preparation was so far advanced that he was enabled to join the senior class of St. Joseph's college, a Roman Catholic institution at Bardstown, Kentucky. Upon his graduation O'Hara was offered the chair of Greek, but he declined it in order to study law." [John Wilson Townsend, 1 Kentucky in American Letters 1784-1912 218 (Cedar Rapids, Iowa: Torch Press, 1913)(2 vols.)].
Those were the days when an aspirant for the bar studied law under the direction of some noted lawyer, and received training of a practical kind. Young Theodore read law with Judge William Owsley (1782-1862) of the Kentucky Supreme Court, who in 1844 was to become governor of Kentucky. Theodore's fellow student was John Cabell Breckinrdige, a year his junior, and their friendship was to last to the end of their lives. O'Hara was destined to serve on the staff of his friend when the latter became a general officer of the Confederate Army, having been Vice-president of the United States under President Buchanan. In 1842 O'Hara was admitted to the bar, and for a short time practiced his profession, but soon gave it up. His was not a nature to be content with so colorless an existence as that seemingly offered by the practice of law, and he turned to journalism as a field where his literary tastes and ability might find expression. [Edgar Erskine Hume, Colonel Theodore O'Hara Author of The Bivouac of the Dead 8
(Charlottesville, Virginia: The Historical Publishing Co., 1936)]
O'Hara served in the Mexican war and ended the war a brevet major. After the war O'Hara practiced law, edited newspapers, and "led a somewhat wandering life." [W. H. Venable, Beginnings of Literary Culture in the Ohio Valley: Historical and Biographical Sketches 283 (Cincinnati: Robert Clarke & Co., 1891)] [online text]
In the Civil War, O'Hara was again a soldier, serving with the Confederate Army and fighting at Shiloh. After the war O'Hara practiced law in Washington, D.C., edited newspapers in Louisville, Kentucky and eventually moved to Alabama where he edited the Mobile Register and became a cotton broker. He died on an Alabama plantation on June 7, 1867. Originally buried in Columbus, Georgia, his remains were later moved to the Frankfort Cemetery, in Frankfort, Kentucky.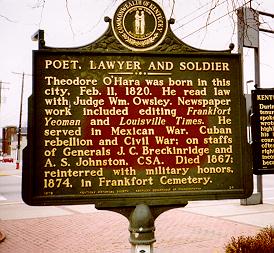 O'Hara Commemorative Marker, Boyle County, Kentucky

[with the gracious permission of Grover Hibberd / Signs of History]
Theodore O'Hare
Wikipedia
Civil War Monuments of Connecticut
The Bivouac of the Dead.

THE muffled drum's sad roll has beat
The soldier's last tattoo;
No more on life's parade shall meet
The brave and daring few.
On Fame's eternal camping-ground
Their silent tents are spread,
And Glory guards with solemn round
The bivouac of the dead.

No rumor of the foe's advance
Now swells upon the wind;
No troubled thought at midnight haunts
Of loved ones left behind;
No vision of the morrow's strife
The warrior's dream alarms;
No braying horn nor screaming fife
At dawn shall call to arms.

Their shivered swords are red with rust,
Their plumed heads are bowed;
Their haughty banner trailed in dust,
Is now their martial shroud.
And plenteous funeral tears have washed
The red stains from each brow,
And their proud forms in battle gashed
Are free from anguish now.

The neighing steed, the flashing blade,
The trumpet's stirring blast,
The charge, the dreadful cannonade,
The din and shout are past;
Nor war's wild note nor glory's peal,
Shall thrill with fierce delight
Those breasts that never more shall feel
The rapture of the fight.

Like the dread northern hurricane
That sweeps his broad plateau,
Flushed with the triumph yet to gain
Came down the serried foe;
Our heroes felt the shock,and leapt
To meet them on the plain;
And long the pitying sky hath wept
About our gallant slain.

Long had the doubtful conflict raged
O'er all that stricken plain,
For never fiercer fight had waged
The vengeful blood of Spain;
And still the storm of battle blew,
Still swelled the gory tide;
Not long, our stout old chieftain knew,
Such odds his strength could bide.

'T was in that hour his stern command
Called to a martyr's grave
The flower of his beloved land,
The nation's flag to save.
By rivers of their fathers' gore
His first-born laurels grew,
And well he deemed the sons would pour
Their lives for glory too.

Full many a norther's breath has swept.
O'er Angostura's plain,
And long the pitying sky has wept
Above its mouldered slain.
The raven's scream, or eagle's flight,
Or shepherd's pensive lay,
Alone awakes each sullen height
That frowned o'er that dread fray.

Sons of our consecrated ground,
Ye must not slumber there,
Where stranger steps and tongues resound
Along the heedless air.
Your own proud land's heroic soil
Shall be your fitter grave;
She claims from War his richest spoil—
The ashes of her brave.

So 'neath their parent turf they rest,
Far from the gory field;
Borne to a Spartan mother's breast
On many a bloody shield;
The sunshine of their native sky
Smiles sadly on them here,
And kindred hearts and eyes watch by
The heroes' sepulchre

Rest on, embalmed and sainted dead!
Dear as the blood ye gave,
No impious footstep here shall tread
The herbage of your grave;
Nor shall your glory be forgot
While Fame her record keeps,
Or Honor points the hallowed spot
Where Valor proudly sleeps.

You marble minstrel's voiceless stone
In deathless song shall tell,
When many a vanished age hath flown,
The story how ye fell;
Nor wreck, nor change, or winter's light
Nor Time's remorseless doom,
Shall dim one ray of glory's light
That gilds your deathless tomb.
The Old Pioneer
A dirge for the brave old pioneer!
Knight-errant of the wood!
Calmly beneath the green sod here
He rests from field and flood
The war-whoop and the panther's screams
No more his soul shall rouse,
For well the aged hunter dreams
Beside his good old spouse.
A dirge for the brave old pioneer!
Hushed now his rifle's peal;
The dews of many a vanish'd year
Are on his rusted steel;
His horn and pouch lie moldering
Upon the cabin-door;
The elk rests by the salted spring,
Nor flees the fierce wild boar.
A dirge for the brave old pioneer!
Old Druid of the West!
His offering was the fleet wild deer,
His shrine the mountain's crest.
Within his wildwood temple's space
An empire's towers nod,
Where erst, alone of all his race,
He knelt to Nature's God.
A dirge for the brave old pioneer!
Columbus of the land!
Who guided freedom's proud career
Beyond the conquer'd strand;
And gave her pilgrim sons a home
No monarch's step profanes,
Free as the chainless winds that roam
Upon its boundless plains.
A dirge for the brave old pioneer!
The muffled drum resound!
A Warrior is slumb'ring here
Beneath his battle-ground.
For not alone with beast of prey
The bloody strife he waged,
Foremost where'er the deadly fray
Of savage combat raged.
A dirge for the brave old pioneer!
A dirge for his old spouse!
For her who blest his forest cheer,
And kept his birchen house,
Now soundly by her chieftain may
The brave old dame sleep on,
The red man's step is far away,
The wolf's dread howl is gone.
A dirge for the brave old pioneer!
His pilgrimage is done;
He hunts no more the grizzly bear
About the setting sun.
Weary at last of chase and life,
He laid him here to rest,
Nor recks he now what sport or strife
Would tempt him further west.
A dirge for the brave old pioneer!
The patriarch of his tribe!
He sleeps—no pompous pile marks where,
No lines his deeds describe.
They raised no stone about him here,
Nor carved his deathless name —
An empire is his sepulchre,
His epitaph is Fame.
[George W. Ranck, O'Hara and His Elegies 14-18 (Baltimore: Turnbull Brothers, 1875)] [Edgar Erskin Hume, Colonel Theodre O'Hara Author of The Bivouac of the Dead 10-12
(Charlottesville, Virginia: The Historical Publishing Col, 1936)(with minor variations in punctuation)] ["The Old Pioneer" and "The Bivouac of the Dead" also appear in Josiah Henry Combs (ed.), All That's Kentucky: An Anthology 265-265, 240-242 (Louisville: John P. Morton & Company, 1915)] [online text] [See also, "The Bivouac of the Dead," Bennett H. Young (ed.), Kentucky Eloquence. Past and Present. Library of Orations, After-Dinner Speeches, Popular and Classic Lectures Addresses and Poetry 464-(Louisville, Kentucky: Ben LaBree, 1907) [online text]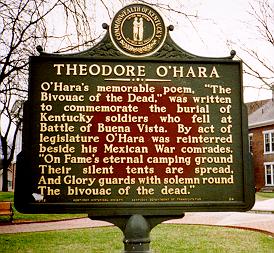 Poetry
Theodore O'Hara, Bivouac of the Dead (Aiken, South Carolina: Ye Palmetto Press, 1900)(Eureka Springs, Arkansas: Palmetto Press, 1913)
______________, Vivouach of the Dead," in Edgar Erskin Hume, Colonel Theodre O'Hara Author of The Bivouac of the Dead 20-22 (Charlottesville, Virginia: The Historical Publishing Col, 1936)
George W. Ranck, O'Hara and His Elegies (Baltimore: Turnbull Brothers, 1875) [online text]
_____________, The Bivouac of the Dead and Its Author (Cincinnati: R. Clarke Co., 1898)(New York: Grafton Press, 1898)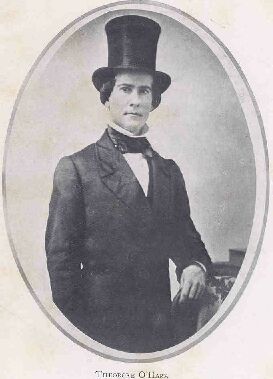 frontispiece

Edgar Erskin Hume, Colonel Theodre O'Hara Author of
The Bivouac of the Dead
(Charlottesville, Virginia: The Historical Publishing Col, 1936)(Southern Sketches, No. 6, First Series)
Poetry Dedicated to O'Hara
Jennie Chinn Morton, "Kentucky's Soldier: O'Hara," in Josiah Henry Combs (ed.), All That's Kentucky 163-165 (Louisville: John P. Morton & Company, 1915) [online text]