Gloria Catherine Oden



(1923-2012)
New York & Maryland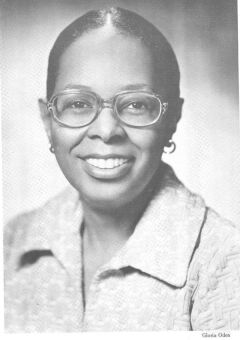 [end page photograph]

Gloria Oden, The Tie That Binds
(Homestead, Florida: Olivant Press, 1980)
Gloria Oden was born on October 30, 1923 in Yonkers, New York. She received her B.A. degree from Howard University in 1944 and her J.D. degree from Howard in 1948.
From 1961 to 1978, Oden served in various editorial and editorial management positions with academic journals and publishing houses. After graduate study at NYU (1969-1971), she joined the University of Maryland-Baltimore County as an assistant professor (1971-1975) and was associate professor from 1975 to 1983. Oden's poetry appears in various journals and anthologies.
Oden wrote under the name GC Oden and Gloria Oden. She did not ever undertake the practice of law. She lived in Cantonsville, Maryland.
[Source: Personal communication with Gloria Oden; Christa Brelin (ed.), Who's Who Among Black Americans 1069 (Detroit: Gale Research, Inc. 7th ed., 1992/1993); Ashyia N. Henderson & Shirelle Phelps, Who's Who Among African Americans 997 (Farmington Hills, Michigan: Gale Group, 1999); Hal May & Deborah A. Straub (eds.), 25 Contemporary Authors 355-56 (Detroit; Gale Research, 1989)(New Revision Series)]
A Profile of Gloria Oden
Julia A. Galbus
Beltway Poetry Quarterly
Gloria Oden Writing About Her Life
Inertia Magazine
Poems
Poems
Inertia Magazine
Poetry
Gloria Oden, The Naked Frame: A Love Poem and Sonnets (New York: Exposition Press, 1952)
_________, Resurrections (Homestead, Florida: Olivant Press, 1978)
_________, The Tie That Binds (Homestead, Florida: Olivant Press, 1980)
_________, Appearances (Seattle & Tucson: Saru Press International, 2003)
_________, Homage ( Catonsville, Maryland: Irving Place Publishers, 2011)