Robert Treat Paine, Jr.



(1773-1811)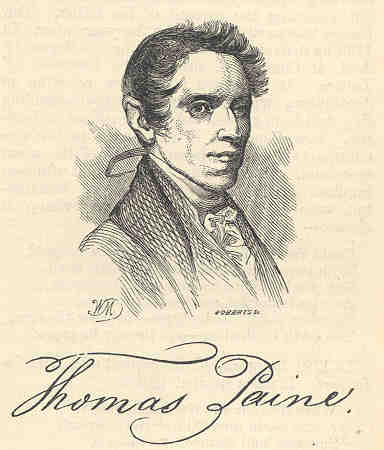 Evert A. & George L. Duyckinck, The Cyclopedia of American Literature 659
(Philadelphia: William Rutter & Co., 1880)(Vol. 1)
"Robert Treat Paine, junior, was born at Tauton, Massachusetts, on the ninth of December, 1773. His father, an eminent lawyer, held many honourable offices under the state and national governments, and was one of the signers of the Declaration of Independence. The family having removed to Boston, when he was about seven years old, the poet received his early education in that city, and entered Harvard University in 1788. His career here was brilliant and honourable; no member of his class was so familiar with the ancient languages, or with elegant English literature; and his biographer assures us that he was personally popular among his classmates and the officers of the university. . . .
While in college he had won many praises by his poetical 'exercises,' and on the completion of his education he was anxious to devote himself to literature as a profession. His father, a man of singular austerity, had marked out for him a different career, and obtained for him a clerkship in a mercantile house in Boston. But he was in no way fitted for the pursuits of business; and after a few months he abandoned the counting-room, to rely upon his pen for the means of living. In 1794 he established the 'Federal Orrery,' a political and literary gazette, and conducted it two years, but without industry or discretion, and therefore without profit. Soon after leaving the university, he had become a constant visitor of the theatre, then recently established in Boston. His intimacy with persons connected with the stage led to his marriage with an actress; and this to his exclusion from fashionable society, and a disagreement with his father, which lasted until his death.
He was destitute of the true courage, and of that kind of pride which arises from a consciousness of integrity and worth. When, therefore, he found himself unpopular with the town, he no longer endeavoured to deserve regard, but neglected his personal appearances, became intemperate, and abandoned himself to indolence. The office of 'master of ceremonies' in the theatre, an anomalous station, created for his benefit, still yielded him a moderate income, and notwithstanding the irregularity of his habits, he never exerted his poetical abilities without success. For his poems and other productions he obtained prices unparalleled in this country, and rarely equalled by the rewards of the most popular European authors. For the 'Invention of Letters,' written at the request of the President of Harvard University, he received fifteen hundred dollars, or more than five dollars a line. 'The Ruling Passion,' a poem recited before the Phi Beta Kappa Society, was little less profitable; and he was paid seven hundred and fifty dollars for a song of half a dozen stanzas, entitled, 'Adams and Liberty.'
His habits, in the sunshine, gradually improved, and his friends who adhered to him endeavoured to wean him from dissipation, and to persuade him to study the law, and establish himself in an honourable position in society. They were for a time successful; he entered the office of the Honourable Theophilus Parsons, of Newburyport; applied himself diligently to his studies; was admitted to the bar, and became a popular advocate. No lawyer ever commenced business with more brilliant prospects; but his indolence and recklessness returned; his business was neglected; his reputation decayed; and, broken down and disheartened by poverty, disease, and the neglect of his old associates, the evening of his life presented a melancholy contrast to its morning when every sign gave promise of a bright career. In his last years, says his biographer, 'without a library, wandering from place to place, frequently uncertain whence or whether he could procure a meal, his thirst for knowledge astonishingly increased; neither sickness nor penury abated his love of books and instructive conversation.' He died in 'an attic chamber of his father's house,' on the eleventh of November, 1811, in the thirty-eight year of his age."
[Source: Rufus Wilmot Griswold, The Poets and Poetry of America 75 (New York: James Miller, Publisher, 1872)]
Biographical Profile: Appleton's Cyclopedia of American Biography
Poem: Elegiac Sonnet
Paine's Father: Robert Treat Paine, Jr.'s father was a signer of the Declaration of Independence. Biographies: Signers of the Declaration of Independence | Signers of the Declaration of Independence | Robert Treat Paine | Robert Treate Paine | Portrait | Wikipedia |
On Paine and other 19th Century Lawyer Poets: M.H. Hoeflich & Lawrence Jenab, Three Lawyer-Poets of the Nineteenth Century, 8 (3) The Green Bag 249 (2005) [online text]
Paine's Writings
Robert Treat Paine, Jr., The Works in Verse and Prose, of the late Robert Treat Paine, Jun., Esq. with notes : to which are prefixed, sketches of his life, character and writings (Boston: J. Belcher, 1812) [online text]