Francis Daniel Pastorius



(1651-1720)
Pennsylvania
German-American, lawyer, teacher, poet, town mayor
Daniel Francis Pastorius was born in Sommerhausen, Germany. He practiced law in Frankfurt, Germany. He eventually decided to leave Germany with other Quaker families because of religious persecution. Pastorius became the agent for a group of Quaker merchants (and their land purchasing company) who purchased 15,000 acres of land in the newly chartered colony called Pennsylvania. Twelve Quaker families sailed on the Concord to America and arrived on October 8, 1683 in Philadelphia. Upon reaching the purchased land, they founded, in 1683, Germantown, one of the first German settlements in the United States. Pastorius became the first mayor of Germantown, the town's schoolmaster, and held other official posts.
"Pastorius was born in Frankenland, Germany, studied at the University of Altorf and later studied law at Strasbourg, Basle, and Jena. He also studied international polity at Ratisbon. He received his degree of doctor of law at Nuremburg." [Francis Daniel Pastorius, German-American History & Heritage]
Pastorius opposed slavery, had it banned in Germantown, and in 1688 organized and wrote one of the first anti-slavery protest in America. Pastorius is also author of one of the oldest extant practical legal treatises in America.
[See, Alfred L. Brophy, "Ingenium est Fateri per quos profeceris:" Francis Daniel Pastorius' Young Country Clerk's Collection and Anglo-American Legal Literature, 1682-1716, 3 U. Chi. L. Sch. Roundtable 637 (1996)]
Francis Daniel Pastorius
Wikipedia
Francis Daniel Pastorius
18 Cambridge History of English and American Literature (1907-21)

Francis Daniel Pastorius
Henry Simpson, The Lives of Eminent Philadelphians, Now Deceased
758-760 (Philadelphia: William Brotherhead, 1859)


Francis Daniel Pastorius: Leader of Germantown Settlement
Historic Germantown, Philadelphia, Pennsylvania
Franz Daniel Pastorins and the Settlers of Germantown
German Corner Website
First German Settlers
German Corner Website
Writing
Francis Daniel Pastorius, Methodical Directions to Attain the True Spelling, Reading and Writing of English (New York, 1698)
__________________, Four Boasting Disputers of this World Briefly Rebuked (New York, 1698)
Bibliography
Marion Dexter Learned, The Life of Francis Daniel Pastorius, the Founder of Germantown (Philadelphia: William J. Campbell, 1908) [online text]
De Ella Victoria Toms, The Intellectual and Literary Backgrounds of Francis Daniel Pastorius (Ph.D. dissertation, Northwestern University, 1953)
Bibliography: Articles, Essays, and Dissertations
Alfred L. Brophy, "Ingenium est Fateri per quos profeceris:" Francis Daniel Pastorius' Young Country Clerk's Collection and Anglo-American Legal Literature, 1682-1716, 3 U. Chi. L. Sch. Roundtable 637 (1996) [online text]
_____________, The Intellectual World of a Seventeenth-Century Jurist: Francis Daniel Pastorius and the Reconstruction of Pietist Thought (Longfellow Institute's Conference on German-American History and Literature in a Multilingual Context, Harvard University, September 1998) [online text]
______________, The Quaker Bibliographic World of Francis Daniel Pastorius' Bee Hive, 122 Penn. Mag. Hist. & Bio. 241-91 (1998) [online text]
______________, "For the Preservation of the King's Peace and Justice": Community and English Law in Sussex Cunty, Pennsylvania, 1682-1696, 40 Am. J. Legal Hist. 167, 199-201 (1996)
Harold Jantz, Pastorius, Intangible Values, 25 American German Review 4-7 (October-November, 1958)
Charles F. Jenkins, Francis Daniel Pastorius, 1 American German Review 22-25, 47 (December 1934)
Margo M. Lambert, "Francis Daniel Pastorius: An American in early Pennsylvania, 1683--1719/20," Ph.D. dissertation, Georgetown University, 2008 [online preview]
"Pastorius, Francis Daniel," in Leslie Stephen & Sidney Lee (eds.), 15 The Dictionary of National Biography (Oxford: Oxford University Press, 1917)
Shirley Hershey Showalter, "Herbal Signs of Nature's Page": A Study of Francis Daniel Pastorius' View of Nature, 71 (2) Quaker History 89-99 (1982)
Beatrice Pastorius Turner, William Penn and Pastorius, 57 Pennyslvania Magazine of History and Biography 66-90 (January 1933)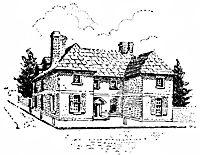 William PennHouse || Philadelphia
[Wilbur F. Gordy, American Leaders and Heroes
(New York: Charles Scribner's Sons, 1905)]
[Used with permission of the Florida Center for Instructional Technology]
Research Resources
Samuel W. Pennypacker, The Settlement of Germantown, Pennsylvania, and the Beginning of German Emigration to North America (Philadelphia: W. J. Campbell, 1899) [online text] [Samuel W. Pennypacker]