Donn Piatt



(1819-1891)
Ohio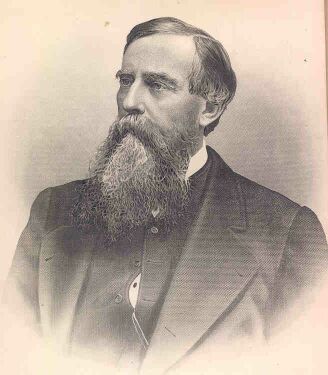 frontispiece

Charles Grant Miller, Donn Piatt: His Work and His Ways
(Cincinnati: Robert Clarke & Co., 1893)
Donn Piatt was born in Cincinnati and made Logan County, Ohio, his home. He attended public schools in Urbana and Bellefontaine and was enrolled for a short time at Athenaeum (Xavier University). He is also reported to have been one of the first students to attend Notre Dame. Piatt then undertook the study of law, but after his marriage to Louise Kirby in 1847, he take up residence at the family estate at Mac-o-cheek. He served as judge of common pleas court in Hamilton County from 1852 to 1853 and during President Pierce's administration joined the Diplomatic Corps and served as Secretary of Legation at Paris from 1853 to 1855.
Returning to the United States, Piatt resumed the practice of law which he continued until the Civil war began. He volunteered as a private, was promoted to captain, and assumed the position of Adjutant General on the staff of General Robert C. Schenck. Before the end of the war he saw duty at Bull Run, Cross Keys, and Bull Pasture Mountains and acted as Judge Advocate.
Piatt lost favor with the Maryland state government after trying to enlist slaves into the Maryland militia during the Civil War.
Piatt was indicted during the election of President Rutherford Hayes for "inciting insurrection" but the charges were dropped after Hayes was elected President.
Piatt took up politics for a few years but finally turned to journalism. He was first employed by the Cincinnati Commercial as its Washington correspondent. After three years in Washington as a correspondent, Piatt, with George Alfred Townsend started the Washington Capitol, a weekly journal.
[Sources: Biographical Sketch & History of Logan County and Ohio (Chicago: O.L. Baskin & Co., 1880); William Coyle (ed.), Ohio Authors and Their Books: Biographical Data and Selective Bibliographies for Ohio Authors, Native and Resident, 1796-1950 497 (Cleveland: World Publishing Co., for the Ohioana Library Association, 1962)]
Poetry
Donn Piatt, Poems and Plays (Cincinnati: R. Clarke, 1893) [online text]
Poetry Anthologies
Donn Piatt, "A Judicial Character," in Ina Russelle Warren (ed.), The Lawyer's Alcove: Poems by the Lawyer, for the Lawyer and about the Lawyer 165-166 (William S. Hein & Co., 1990)(reprint)(New York: Doubleday, Page & Company, 1900)
Writings
Donn Piatt, Life in the Lobby, a comedy in five acts (Washington: Judd & Detweiler, 1875)
________, A King's Love: a tragedy in five acts (Cincinnati: Robert Clarke & Co., 1878)
________, Memories of the Men who Saved the Union (New York: Belford, Clarke & Co., 1887) [online text]
________, The Lone Grave of the Shenandoah, and Other Tales (Chicago: Belford, Clarke, 1888) [online text]
________, Free Trade and Farmers' Rights (Vincennes, Indiana: W.W. Bailey & Co., 189?)
________, The Reverend Melancthon Poundex, a novel (Chicago: Robert J. Belford, 1893) [online text]
________, General George H. Thomas, a critical biography (Cincinnati: Robert Clarke & Co., 1893) [online text]
________, Sunday Meditations and Selected Prose Sketches (Cincinnati: Robert Clarke & Co., 1893)
Writings: Articles
Donn Piatt, Salmon P. Chase, North American Review 599 (December, 1886) [Salmon P. Chase]
Bibliography
Charles Grant Miller, Donn Piatt: His Work and His Ways (Cincinnati: Robert Clarke & Co., 1893)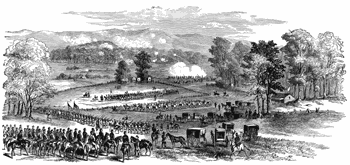 "The Battle of Cross Keys—opening of the fight—the federal troops, under General Fremont, advancing to attack the Confederate army under General Jackson, June 8th, 1862. By one of those singular chances which have made the conventional day of rest the day of famous battles, on the morning of Sunday, June 8th, 1862, the advance of General Fremont's army came up with the Confederate forces at cross Keys, about six miles to the south of Harrisonburg." [Frank Leslie's Illustrated Famous Leaders and Battle Scenes of the Civil War (New York: Mrs. Frank Leslie, 1896)]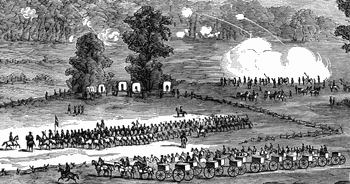 [Frank Leslie's Illustrated Famous Leaders and Battle Scenes of the Civil War (New York: Mrs. Frank Leslie, 1896)]
[used with permission of the Florida Center for Instructional Technology]