Jonah Leroy ("Doane") Robinson



(1856-1946)
South Dakota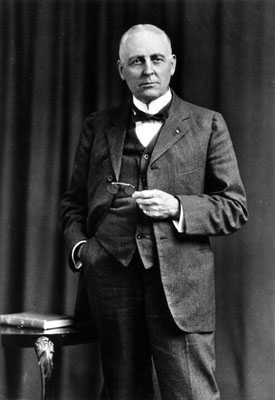 Photograph used with the gracious permission of the
South Dakota State Historical Society and State Archives
Jonah L. Robinson was born at Sparta, Wisconsin on October 19, 1856. "After receiving his education Mr. Robinson taught school for several terms. He was admitted to the bar in 1882. Since 1883 he has maintained a law office at Watertown, Dakota, but has devoted much of his time to newspaper work and politics. He was editor of the Daily Courier in 1884, and has since been Central Dakota editorial corespondent of the Minneapolis Tribune. Mr. Robinson was appointed secretary of the Territoria Railroad and Warehouse Commission in 1889 by the governor of Dakota. Both his prose and verse have appeared in the press since his youth, generally under the name of Doane Robinson." [Thos. W. Herringshaw, Local and National Poets of America 377 (Chicago: American Publishers' Association, 1890]
Robinson served as secretary of the South Dakota State Historical Society from 1901 to 1926 and in 1945-1946 and then as South Dakota's state historian. He is remembered today for his histories of South Dakota and for his efforts in building the collection of the State Historical Society. Robinson is often given credit for being the impetus behind the idea of Mount Rushmore which he thought would be a tourist attraction for the state of South Dakota.
Doane Robinson
Wikipedia
Doane Robinson: A Symmetrical Man
O.W. Coursey, Who's Who in South Dakota
Poems
[Han's Hundred Dollars] [One of the Palls] [Along in June] [Consistency] [Dakota Sketches] [Farm Superstitions] [A Sheaf of Farm Superstitions] [About Sunrise] [A Prairie Heroine] [Money and a Day's Work] [The Home-Makers and the Boom-Makers] [Bunk-Shanty Songs and Tales]
Writings
Doane Robinson, History of South Dakota (B.F. Bowen & Co., 1904)(2 vols.) [online text] ["Early history of the Black Hills courts," a chapter in History of South Dakota]
_____________, A History of the Dakota or Sioux Indians from their earliest traditions and first contact with white men to the final settlement of the last of them upon reservations and consequent abandonment of the old tribal life (Aberdeen, South Dakota: News Printing Co., 1904) [online text] (Minneapolis: Ross & Haines, 1956)(Ross & Haines, 1967)
_____________, A Brief History of South Dakota (New York: American Book Company, 1905) [online text] (American Book Company, 1926)(American Book Company, 1931) [online text of a 1919 edition]
_____________, Doane Robinson's Encyclopedia of South Dakota (Pierre, South Dakota: the author, 1925)
Bibliography
Dakota Images: Doane Robinson, 21 (2) South Dakota History (1991)
James Realfe Jr., "A Poet of the Northwest," in B.O. Flower (ed.), The Arena 308-320 (Boston: Arena Publishing Co., 1895)(vol.12)
Research Resources
Doane Papers Robinson
South Dakota State Archives
Pierre, South Dakota
History of the Black Hills Judicial System
Research Resources: Mount Rushmore
Mt. Rushmore National Memorial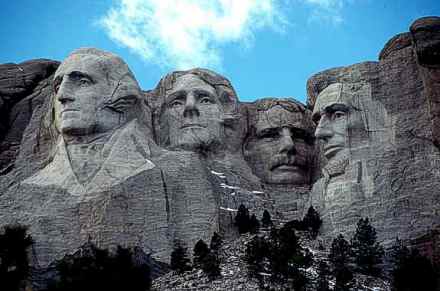 Photograph of Mt. Rushmore appears with the gracious
permission of Rich Riedel
Mount Rushmore is named for a New York lawyer, Charles E. Rushmore, who visited the Black Hills in 1885 and finding that a local prospector did not have a name for the 6,000 foot peak, called it, perhaps jokingly, Mount Rushmore. Or, so the story goes.