Stewart Everett Rowe



(1881-1944)
New Hampshire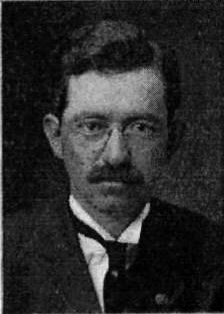 Herny Harrison Metcalf, One Thousand New Hampsire Notables 39
(Concord, New Hampshire: The Rumford Printing Co., 1919)

Stewart E. Rowe was born in Kensington, Jan. 22, 1881. He graduated from Philips Exeter Academy in 1904 and was class poet. He studied law with Gen. Edwin G. Eastman, then attorney general of the state, and attended Boston University LawSchool. He was admitted to the New Hampshire Bar on July 1, 1911. He practiced law in Exeter for 20 years and then moved to Portsmouth where he practiced law until his death. Rowe held various public positions and posts over his lifetime. He was, according to the bio in Metcalf's One Thousand New Hampshire Notables, a "frequent contributor to the press in verse and prose." [sources: The Portsmouth Herald, April 21, 1944, p.1, c.2; Herny Harrison Metcalf, One Thousand New Hampsire Notables 39, 41 (Concord, New Hampshire: The Rumford Printing Co., 1919)]


Elizabeth
As years pass on in swift, unceasing way,
As life's glad morning deepens unto night;
Yes, when I'm old and feeble, weak of sight,
And when my hair from brown has turned to gray:
'Tis then I'll gaze in sweet and sad survey
Upon the future and upon the past,
Gaze backward o'er my life then ending fast,
And dream what I shall find beneath the day.
Then is the time, dear soul, I'll know that you
Were born for me to love, yes, born for me;
I'll know you would have loved me firm and true
Had you not love so fondly to be free;
So I will know, when life is nearly spent,
And knowing, I can live and die content
[from the Granite State Monthly, vol. 43, p. 37, 1911]

When Comes the Last
When Death toward us is speeding sure and fast,
And earthly life for us has almost flown,
When we shall soon have solved The Great Unknown,
'Tis then we'll think and ponder on the past.
And we shall think, not of this world so vast,
With all its glories that we fought to gain,
But of the friend who through both sun and rain
Was loyal unto us until the last.
For, after all, throughout this world so wide,
Wher'er by chance our footsteps we may wend,
'Mid things that are, or things that may have died.
Yes, o'er and through this earth from end to end,
We'll find that when with joy or grief we've cried,
In all the world there's nothing like a friend.
[from the Granite State Monthly, vol. 43, p. 113, 1911]

Faith Forever

Oft' times this world is dark and drear to me
And life does not seem hardl worth the while;
Death's unknown darkness seems to lure, beguile
And tempt me oft' to solve its mystery.
But then I fee that, after all, may be
This world is not so bad, and later on
Life's darksome night will lift--life's day will dawn--
And all my cloulds of doubt will fade and flee!
I can but fee that all is for the best,
And that the right will surely win at last:
I can but feel that when I'm laid at rest
My sorrow and my griefs will all be past;
And so, within my troubled, aching breast,
My heart with hope and love for all beats fast!

[from the Granite State Monthly, vol. 44, p. 29, 1912]

Tell Me! Oh God!
I wonder at the strange, strange things I dream
About this life and all that gives it breath;
Tell me! Oh God of Life and God of Death,
If Life and Death are really what they seem!
When night comes on, shall I still see a gleam
That speaks of days to come without an end,--
Of days on which no darkness will descend?
Tell me! Oh God about these things I dream!
I wonder what it is tht whispers low,
Yes, low and sweet, but still distinct and plain
And seems to say that all is for the best?
Tell me! Oh god! that I may learn and know
Just why I toss in sandess and in pain
And fail so oft to find a peaceful rest!
[from the Granite State Monthly, vol. 44, p. 61, 1912]

True
As through this wold I wend my winding way,
And many different people chance to meet,
I look at them as we each othr greet
And try to guess just that their features say.
I see the faces and the lines that play
Across their surface and they tell me true
Just what that person through his life may do
And how he'll be remembered when he's clay.

Not long ago I met you, and your face
Tells me for sure that you are good and true:
I know wher'er you are you'll fill your place
And what you'll always strive the right to do.
I feel that when death comes to end life's race
With God you'll surely dwell beyond the blue.
[from the Granite State Monthly, vol. 44, p. 346, 1912]