Steve Russell



(1947- )
Oklahoma & Texas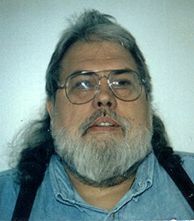 [Photo graciously provided by Steve Russell || November 24, 2002]
Steve Russell was born on February 10, 1947 at Bristow, Oklahoma and is a citizen of the Cherokee Nation. He received his B.S. and J.D. degrees at the University of Texas-Austin, completing his law degree in 1975. Russell obtained a Master of Judicial Studies at the University of Nevada-Reno in 1993. He is now an Associate Professor of Criminal Justice at Indiana University, Bloomington. Professor Russell has authored numerous scholarly articles focusing on criminal justice, American Indians, and colonialism.
Russell practiced law from 1975 to 1978 when he became an Associate Judge on the Austin Municipal Court. From 1980 to 1982 he served as Presiding Judge of that court and from 1982 to 1994 as Judge of the Travis County Court.
Russell is married and has four children. He lives, with his family, in Bloomington, Indiana.
Poetry
Steve Russell, Disruption-1997, Hypatia: A Journal of Feminist Philosophy (forthcoming)
__________, What Indians Want, En'owkin Journal of First North American
Peoples (forthcoming)
__________, Donna's Potsherds, How to Succeed as an Indian Poet, and Chitto Harjo, Messenger, 1 (1) Journal of Cherokee Literature 3-5 (2001)
__________, The Year They Drilled for Oil, Eleven Mile Hill, and Bison Bones, 38 South Dakota Review 15-21 (2000).
__________, Repatriation, 6 (6) Moccasin Telegraph 13 (1996)
Short Fiction
Steve Russell, "Six O'Clock News," in Carolyn Dunn & Paula Gunn Allen (eds.), Hozho: Walking in Beauty 97-103 (2001)
Writings: Articles
Steve Russell, Ethics, Alterity, Incommensurability, Honor, Cream City Review (forthcoming)
__________, Social Control of Transnational Corporations in the Age of Marketocracy. International Journal of the Sociology of Law (co-authored with Michael J. Gilbert)(forthcoming)
__________, Globalization of Criminal Justice in the Corporate Context, 35 Crime, Law and Social Change (co-authored with Micahel J. Gilbert)(forthcoming)
__________, Honor, Lone Wolf, and Talking to the Wind, Tulsa Law Review (forthcoming)
__________, Apples are the Color of Blood, 28 Critical Sociology 65-76 (2002).
__________, The Jurisprudence of Colonialism, 25 Legal Studies Forum 605-617 (2001)
__________, Truman's Revenge: Social Control and Corporate Crime, 32 Crime, Law and Social Change 59-82 (1999)(co-authored with Micahel J. Gilbert)
__________, Critical Criminology at the Trial of Joseph K.: A Trial Judge's Reflections on Asma's Critique, 5 Journal of Postmodern Criminology (1999)
__________, A Black and White Issue: The Invisibility of American Indians in Racial Policy Discourse, 4 Georgetown Public Policy Review 129-147 (1999)

__________, In the Ghetto: Legal Studies in Criminal Justice Programs, 9 Journal of Criminal Justice Education 267-280 (1998)

__________, American Indians in the Twilight of Affirmative Action, 2 Chicago Policy Review 37-45 (1998)

__________, Sacred Ground: Un-Marked Graves Protection in Texas Law, 4 Texas Forum on Civil Liberties and Civil Rights 3-23 (1998)
__________, The Legacy of Thurgood Marshall in Strawberry Season, 23 Thurgood Marshall Law Review 19-43 (1997)
__________, The Legacy of Ethnic Cleansing: Implementation of NAGPRA in Texas, 19 American Indian Culture and Research Journal 193-211 (1995)
__________, "Sacred to All": American Indians Seek Religious Freedom, 58 Texas Bar Journal 362 (1995)
__________, Political Correctness as a Plea for Rhetorical Disarmament, 56 Texas Bar Journal 1144 (1993)
__________, The Futility of Eloquence: Selected Texas Family Violence Legislation 1979-1991, 33 South Texas Law Review 301-375 (1992)(reprinted in 5 Texas Family Law Service 1-17 (1993)
__________, The New Outlawry and Foucault's Panoptic Nightmare, 17 American Journal of Criminal Justice 39-50 (1992)
__________, Commentary on Representative Justice, 16 Thurgood Marshall Law Review 57-74 (1990)
__________, Status of the Texas Necessity Defense in Abortion Clinic Trespass Cases Assuming the Demise of Roe v. Wade, 17 American Journal of Criminal Law 1-17 (1989)
__________, Family Violence: What Lawyers and Judges Can Do, 49 Texas Bar Journal 965 (1986)
Writings: Book Chapters
Steve Russell, "The Jurisprudence of Colonialism," in Anne Waters (ed.), American Indian Thought: A Philosophy Reader (forthcoming)

__________, "Rent-a-Judge and Hide-a-Crime: The Dark Potential of Private Adjudication," in David Shichor & Michael J. Gilbert (eds.), Privatization of Criminal Justice: Past, Present and Future 2000)
__________, "Undercurrents of Judicial Policy: Demystifying the Third Branch of Government and the O.J. Simpson Case," in Gregg Barak (ed.), Representing OJ: Murder, Criminal Justice & Mass Culture (1996)
__________, "Native American Reburial Issues in State Courts," 1 (11) Indian Law Summaries (National Judicial College 1995)
__________, "The New Outlawry and Foucault's Panoptic Nightmare," in Brian MacLean & Harold Pepinsky (eds.), We Who Would Take No Prisoners (1993)(reprinted in John Bonsignore, Ethan Katsh, Peter d'Errico, Ron Pipkin, Steven Arons & Janet Rifkin (eds.), Before the Law: An Introduction to the Legal Process (7th ed. 2002)
__________, "Trials Before the Municipal Court," "Plea Bargaining in Municipal Court," and "Jury Trials in Municipal Court," in Travis County Practice Handbook (Austin Young Lawyers Association, 1982)