Sidney K. Schoenwald



(1912-2007)
New York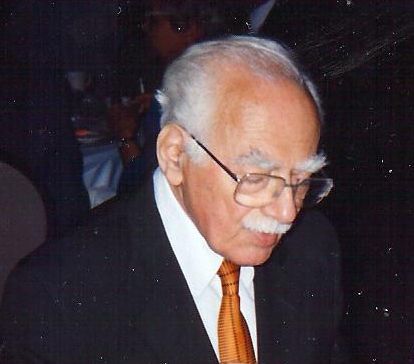 [photo provided by Dahris H. Clair]

Sidney K. Schoenwald was born on December 17, 1912 in New York City and and grew up there. He obtained his law degree at New York University.He married, Evelyn Bancroft, and they had four children. Schoenwald did not practice law immediately after graduating from law school. He purchased 400 acres in Ontario, New York, and operated a dairy farm for several years. He then decided it was time to get his law practice started. He purchased an old mansion at 252 South Plymouth Street in Rochester, and leased space to six other attorneys.

Schoenwald was known as the "grand old man of law," an attorney that other lawyers came to for advice. Still, he rode a Suzuki motorcycle to work in nice weather. He housed, in the basement of his law office, more than fifty years of records; he practiced law until just a few months before his death.

Schoenwald wrote poetry over the years, but so far as is known, he did not seek publication. Some of his work has appeared, however, in The Infinite Writer e-Zine, edited by Dahris H. Clair. Schoenwald also wrote a sci-fi novel, The Identicals, and a children's book, The PS Twins (Vantage Press, 2002), that he self-published.
[The biographical information presented here was graciously presented to us by Dahris H. Clair, the editor-in-chief of The Infinite Writer e-Zine.]
Eulogy
Dahris H. Clair