Gerry Spence



(1929- )
Wyoming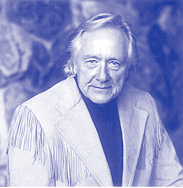 [Photograph used with the gracious permission of Gerry Spence]
Gerry Spence was born, raised and educated in Wyoming. He graduated from the University of Wyoming Law School in 1952 and was awarded an honorary Doctor of Laws degree in May 1990.
Spence spent his early years as a prosecutor and gradually developed an insurance clientele, becoming one of the leading defense attorneys in the intermountain west. After successfully defending insurance companies for many years he quit representing corporations, insurance companies, banks, and big businesses. Representing people became his steadfast commitment.
Spence first gained national recognition when he received a $10,500,000 verdict against Kerr-McGee in the Karen Silkwood case on behalf of her children. Later he earned a $26,535,000 verdict against Penthouse for Miss Wyoming and successfully defended Ed Cantrell in a Rock Springs, Wyoming murder case. He received a $52,000,000 verdict against McDonald's Corporation, the fast-food chain, on behalf of a small, bankrupt, family-owned ice cream company for McDonald's breach of an oral contract. A Utah medical malpractice verdict of over $4,000,000 established a new standard for nursing care in Utah. In 1990 he won acquittal for Imelda Marcos on multiple charges after a three and one-half month trial in New York City. In 1992, he received a $15,000,000 verdict for emotional damages incurred by his quadriplegic client because a major insurance company refused to pay the $50,000 policy more than twenty years earlier. Two weeks later his client received a judgment awarding $18,500,000 in punitive damages. In 1993, Spence successfully defended Randy Weaver on murder, assault, conspiracy, and gun charges in the famous Idaho federal standoff case. He has not lost a jury trial since 1969, and he has never lost a criminal case.
In 1995 and 1996, Spence was the moderator of The Gerry Spence Show on CNBC, aired live on Friday nights. The show focused on legal and social issues. Spence served as legal consultant for NBC television covering the O.J. Simpson trial and has hosted and appeared on Larry King Live and the Rivera Show as well as other national television shows.
Spence is the founder and director of the nonprofit Trial Lawyer's College, where lawyers learn to try cases on behalf of the people. The Trial Lawyers College also conducts a yearly death penalty seminar for public defenders and others defending against the death penalty. Spence also founded the New Judicial College for judges, an annual retreat for judges at Thunderhead Ranch.
Spence practices in Jackson Hole, Wyoming with his partners Edward P. Moriarity, Gary L. Shockey, J. Douglas McCalla, Roy A. Jacobson, Jr., Kent W. Spence, Robert A. Krause, R. Daniel Fleck, and G. Bryan Ulmer, III.
Gerry Spence Homepage — Gerry Spence: Biography
Gerry Spence
Wikipedia
Poetry

Gerry Spence, Gerry Spence's Wyoming: The Landscape: Photographs and Poetry (New York: St. Martin's Press, 2000)

Autobiography
Gerry Spence, Gunning for Justice (Garden City, New York: Doubleday, 1982)(with Anthony Polk)
| | |
| --- | --- |
| | The Making of a Country Lawyer (New York: St. Martin's Press, 1996) |
| | |
| --- | --- |
| | A Boy's Summer: Father and Son Together (New York: St. Martin's Press, 2000) |
Writings
| | |
| --- | --- |
| | Trial By Fire: The True Story of a Woman's Ordeal at the Hands of the Law (New York: Quill/William Morrow, 1986) |
| | |
| --- | --- |
| | With Justice for None: Destroying an American Myth (New York: Times Books, 1989)(New York: Penguin Books, 1990) |
Gerry Spence, From Freedom to Slavery: The Rebirth of Tyranny in America (New York: St. Martin's Press, 1993)(St. Martin's Press Paperback, 1996)
| | |
| --- | --- |
| | Of Murder and Madness (New York: St. Martin's, 1995) |
| | |
| --- | --- |
| | How to Argue and Win Every Time: At Home, at Work, in Court, Everywhere, Every Day (New York: St. Martin's Press, 1995) |
| | |
| --- | --- |
| | Give Me Liberty!: Freeing Ourselves in the Twenty-First Century (New York: St. Martin's Press, 1998) |
| | |
| --- | --- |
| | O.J. the Last Word: The Death of Justice (New York: St. Martin's Press, 1998) |
Half-Moon and Empty Stars
(New York: Scribner, 2001)(New York: Pocket Star Books, 2002)

[Spence's first novel]
| | |
| --- | --- |
| | Seven Simple Steps to Personal Freedom (New York: St. Martin's Press, 2001) |
| | |
| --- | --- |
| | The Smoking Gun (New York: Scribner, 2003)(New York: Pocket Books, 2004) |
| | |
| --- | --- |
| | Win Your Case: How to Present, Persuade, Prevail—Every Place, Every Time (New York: St. Martin's Press, 2005) |
| | |
| --- | --- |
| | Bloodthirsty Bitches and Pious Pimps of Power: The Rise and Risk of the New Conservative Hate Culture (New York: St. Martin's Press, 2006) |
Bibliography
Steve Briley, "Gunning for Rhetoric: Aristotle Meets Gerry Spence," Masters thesis, Department of English, Midwestern State University, 1996
Roberta M. Duncan, "A Descriptive Analysis and Procedures for Assessing Communicative Behavior in a Voir Dire: A Jury Selection by Gerry Spence in the Trial of the State of South Dakota vs. Collins Catch The Bear," Masters thesis, University of Wyoming, 1984