Benjamin Waller



(1717-1786)
Virginia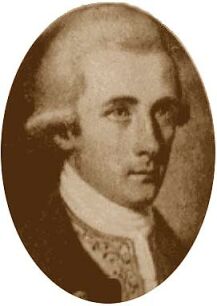 [This image of Waller was made available by the Blow family]
The following biographical sketch of Benjamin Waller's life was prepared by John M. Blow, Fort Lauderdale, Florida, who is a 4th great grandson of Benjamin Waller and graciously made available for use here the information he had assembled on Waller's life.
Waller was born on October 1, 1716 in King William County, Virginia. He died, at age 69, at Williamsburg, Virginia on May 1, 1786. Waller is believed by competent authority to have been a descendant of the English poet, Edmund Waller (other sources say this Edmund Waller was the poet's cousin). His father was Captain John Waller, of "Newport" and sheriff of Spotsylvania county. A brother, William Waller (1714-1760), was for many years a burgess from Spotsylvania County. Their grandfather, Dr. John Waller, of Newport Pagnal, Buckinghamshire, England, is supposed to have been a son of Edmund Waller, the poet.
Waller was a respected and influential lawyer, civil servant, community leader, and land developer. He was a student at the College of William and Mary and later studied law using Sir John Randolph's law library. He passed along his legal knowledge to George Wythe.
Due in part to the influence of his patron, Secretary John Carter, Waller received appointments to a number of important and lucrative positions, including clerk and burgess for James City County, recorder of Williamsburg, and vestryman of Bruto Parish Church.
Benjamin Waller's public life covered the two stirring periods of Governor Dinwiddie's and Governor Dunmore's administrations. He was a burgess from 1744-1761. His name occurs frequently in Hening's statutes. For twenty years (1746-1766), he was intimately associated with the management of the financial affairs of the colony. In 1766 he was made a member of a committee to examine, twice a year, the state of the public treasury.
Waller's services in the beginning of the Revolutionary war are worthy of particular notice, for they mark him as a true patriot. After Dunmore had set Virginia astir by the "Powder Horn" incident, he visited Waller in his home. But the staunch patriot told the governor the people of Williamsburg
had lost confidence in him. This was about the 15th of June, 1775. So, according to the record, the despised Dunmore himself once crossed the threshold of the Waller house.
Benjamin Waller served the community in extra-political matters also. He was on the committee appointed to enlarge Bruton church, in 1752; and later served on the building committee which contracted with Benjamin Powell to build a new steeple on Bruton church tower. He was named as one of the original board of trustees for founding the Eastern State hospital (1769-1770).
Waller various positions include: Judge of the Court of Admiralty, Judge of the Supreme Court of Virginia, King's attorney of Gloucester (1738), Clerk of James City county (1739), clerk of the Court of Oyer and Terminer (1739), and Clerk of the Committees of Propositions and Grievances, and privileges, and Elections (1743). Judge Waller's judicial career extended from 1776 to 1785.
Waller married and had 10 children, 6 daughters and 4 sons. His wife, Martha (Hall), tended to the household, overseeing the children and directing the work of their several slaves. She died on August 4, 1780, at age 51. One of Waller's grandsons, William Waller, married the daughter of U.S. President John Tyler and lived in Benjamin Waller's house in Williamsburg.
Bibliography
Lynda Rees Heaton (ed.), "This Excellent Man": Littleton Waller Tazewell's Sketch of Benjamin Waller, 89 (2) Virginia Magazine of History and Biography 143-152 (1981)
Littleton Waller Tazewell's Sketch of His Own Family, 1823 (Lynda Rees Heaton ed.)(M.A. Thesis, College of William and Mary, 1967)